I call my elder brother Dada and not Bhaiya," Juhi Chaturvedi tells us with a smile when we, straight off the bat, ask her how she understands the world of Bengalis so well without being one herself. Born and brought up in Lucknow, Juhi spent a large part of her childhood years flitting in and out of her neighbours', a Bengali family. "They shaped a lot of what I thought and felt then and what I think and feel now. I picked up a lot of their language, their mannerisms, their quirks," she smiles. 'Quirky' is definitely one way of defining Juhi's writing, which, over the last seven years, has produced films like Vicky Donor, Piku and October, all directed by long-time collaborator Shoojit Sircar — a Bengali — and peopled with Bengali characters, the most memorable being Amitabh Bachchan's Bhaskor Banerjee in Piku. "Bhaskor is one of my most personal characters. When I wrote his death scene in Piku, I actually howled for days. It just felt so personal," says Juhi, with a wry smile.
We are seated at Cal 27, the coffee shop at Calcutta's Taj Bengal, that's packed to the rafters during lunch on a busy weekday. Juhi has flown in in the morning from Mumbai and is all set to take a flight back the same evening. In between, she's scheduled to attend a session on women breaking the glass ceiling in Bollywood at the Tata Steel Kolkata Literary Meet, held in association with The Telegraph last month.
Well, she should know what she's talking about, since the 44-year-old has broken into a Bollywood bastion largely dominated by men. "People who are informed and evolved, irrespective of gender, will never short-change a woman. We are all working towards creating that kind of an environment for our women. I have a daughter and I would feel relatively safer when she decides to go out and work. The situation and environment for women now is safer than it was 10 years ago. There are change-makers and the industry, I feel, is slowly willing to take that onus and that responsibility. Ultimately, you just have to make it liveable for each other," says Juhi, dressed in a simple blue salwar kameez and digging into a quick buffet lunch.
'Life is the best screenplay'
There is an ethereal calmness in the advertising professional-turned-film writer's persona that finds its way into her films. Her plots and players come across as rooted and real because she draws them from her own life experiences. "Life is the best screenplay," she says, sticking her fork into an errant strand of pasta. Assuming the role of a caregiver to her unwell mother for many decades, significantly through much of her growing-up years, gave Juhi not only an insight into the workings of a hospital, but also the emotional connect that was needed to tell a story like October. "Like Dan (played by Varun Dhawan), assuming the role of a caregiver became the focal point of my life. For him, it gave his life purpose… for me, it was something that became an integral part of my life, a routine…" she trails off.
That's also where a part of the filial relationship in Piku emerged. "By the time I wrote Piku, my mom had passed away and my dad started living with us. That situation gave me a slightly deeper understanding of a family where a daughter has to become a mother. Even now, my father refuses to share me with my husband or my daughter!" she laughs.
Juhi's writing has always defied convention. Her pen doesn't define romance and relationships through tried-and-tested broad strokes, but always offers a fresh — and often idiosyncratic — perspective. Like that of a sperm donor — played by Ayushmann Khurrana, on debut — in Vicky Donor. "I agree that was a bit bizarre. But I was still in advertising then, so I could probably blame it on that," she laughs.
She does admit that being a new mother at the time influenced the decision to attempt something like Vicky Donor. "I was spending a lot of time at home with my daughter. I didn't realise it then, but now when people ask me, I think it came from a time and an environment in which I felt so much love, I felt such a high knowing that I was responsible for bringing a new life into this world… my maternal instincts were very high at the time. Those thoughts started coming in, 'What if someone wants to have a baby and can't?'" says Juhi.
"It's not that everything I write comes from life, but there will be some moments that will be trigger points and then you take it forward," she adds.
Juhi admits that she had "zero expectations… even in minus" from the slice-of-life film set in Delhi that became a sleeper hit. "Years later, I went back to the script of Vicky Donor and thought, 'Did I actually write that?!'" She counts Piku as her most satisfying writing experience while penning October was "absolutely cathartic".
Both Shoojit and I are secure in our spaces'
With four much-talked about films — Juhi wrote the dialogues for Madras Cafe — what is it that has worked so well for Juhi's collaboration with Shoojit Sircar? "The first is a very practical reason. He stays in Calcutta and I stay in Bombay and we mostly communicate about our scripts over the phone. That pressure of 'I've to go for a meeting now' doesn't apply to Shoojit because we don't live in the same city. And that works perfectly for me," says she.
Jokes apart, Juhi attributes the magic that she and Shoojit manage to conjure up on screen to the "deep understanding and complete respect" the two have for each other's crafts and understanding of human emotions. "It's been a long collaboration, since 2003, and I started writing films with his Shoebite, which never released.
Our trust in each other is not threatened by a small argument or by 'Yeh scene film mein rahega ya nahin rahega'. We are both secure in our spaces; I don't want to cross the line and poke my nose in his work, and yet he makes sure I am always a part of the shooting process — I am on set, I am in edit, I am there for the colour. Not all directors would want that kind of involvement from writers, and not all writers would want to be that involved," says Juhi.
Such was her contribution to and involvement in October that she was credited, right after Shoojit, in the trailer of October, in what is a rare practice in Bollywood. "That's why Shoojit is who he is, his respect for his technicians is immense," says Juhi.
Though she's done her primary work with Shoojit, Juhi has written the dialogues for a few other films, notably the Fawad Khan-Sonam Kapoor romance Khoobsurat, a project that didn't demand as much of her but one that she thoroughly enjoyed. "It was a chick flick and in a space completely different from what I write. But Rhea (Kapoor, the film's producer) was very clear about what she wanted, and she wanted me to partner in her vision."
Juhi has just written the dialogues for Shonali Bose's tentatively-titled The Sky is Pink, starring Priyanka Chopra, Farhan Akhtar and Zaira Wasim. "Shonali is a writer herself and she had already written the English dialogues. She needed me to make it more massy, more Hindi. If there was a scope to change anything, I did so," she says.
Going forward, she wants to strike a balance between "diving into a project" and "just dipping my toes in the water", she laughs.
Being so involved in the filming process of her projects so far, direction seems to be the next logical step. "I don't really know. I am quite happy where I am now, but if I feel there is a story I need to call the shots totally, then maybe. But otherwise, other than saying 'Cut' and 'Action' and dealing with producers, I already feel I am a director," she signs off before scurrying off to break many more glass ceilings.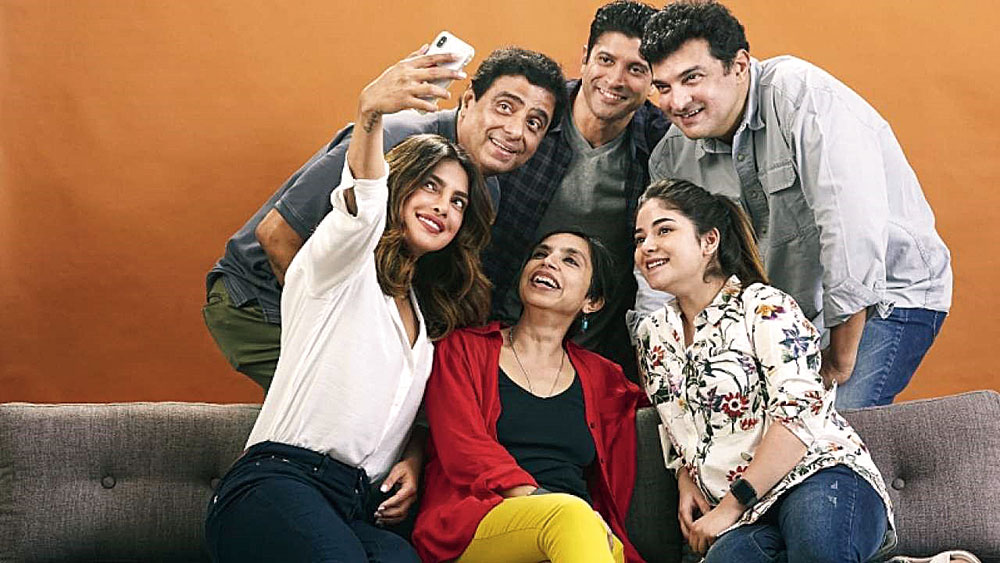 Juhi has written the dialogues for Shonali Bose's The Sky Is Pink, which stars Priyanka Chopra, Farhan Akhtar and Zaira Wasim Source: Farhan Akhtar's Instagram
'I write better in chaos'
Like most working mothers, Juhi juggles a multi-hyphenate life, but she makes sure writing remains a fairly regular — if not daily — task. "I have a fairly routine-driven day, typical of a family that has a school-going child. Within that space, I find some time and space to write, probably from morning to mid-afternoon. I try and do my meetings within those hours. If I can't write during the day, then it's after 8.30-9pm when the day is kind of done for my daughter. I wish I had the luxury of just doing only one thing at a time, but I guess I function like that now. I write better in chaos," she laughs, throwing her head back.
Juhi believes that a film like October can't come from a space of "disciplined writing". "It came from moments of huge emotional ups and downs for me. When you are so involved in a story like that, it does affect you. There is an internalisation that needs to happen and what you want to write may not come that day, it may not come even in the next 10 days. And then there have been days during October when I have completely disconnected and written continuously for days."