Decoding the world of 'Bard of Blood'
Director Ribhu Dasgupta and writer Bilal Siddiqi on the Netflix series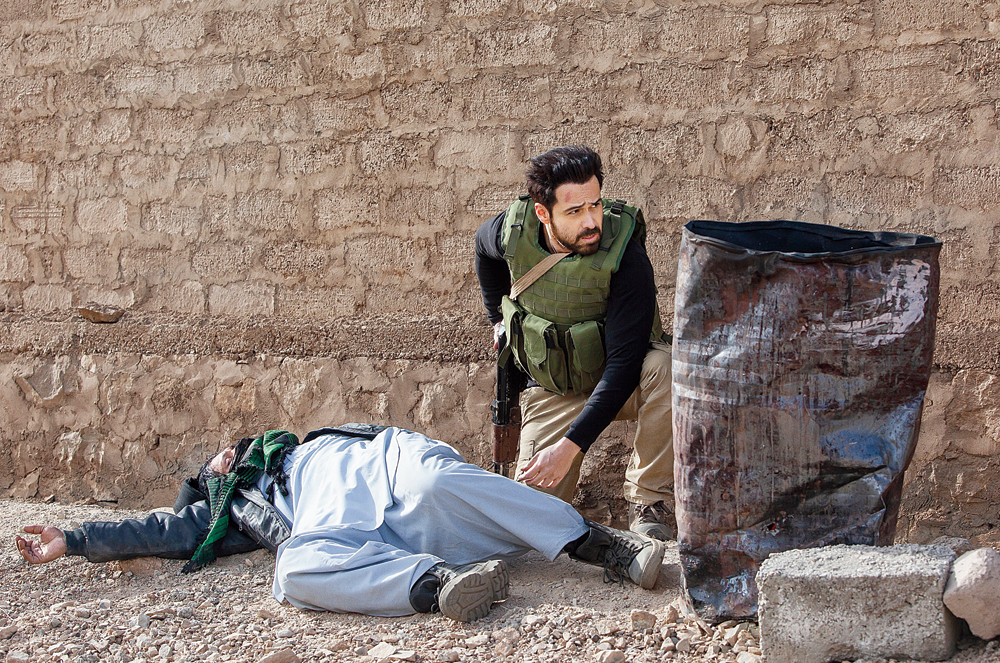 ---
---
As a 20-year-old still studying in college, Bilal Siddiqi wrote a bestseller that seamlessly combined the worlds of espionage and subcontinental politics. Today, Bard of Blood is a seven-part series streaming on Netflix, produced by Shah Rukh Khan's Red Chillies Entertainment and with Emraan Hashmi leading the cast. At Mumbai's The St Regis last week, The Telegraph chatted with Bilal and the show's director — Calcutta boy Ribhu Dasgupta — on the transition of Bard of Blood from page to screen.
The show makes quite a few departures from the book, which anyway lends itself to a cinematic espionage thriller. Was there a need to change things as much?
Ribhu Dasgupta: There's so much material in the book and we have been true to the core of it. We've added and subtracted some things, but that's only been done to add to the narrative and the screenplay.
Bilal Siddiqi: I knew that with Mayank Tewari heading the writing process, my book was in safe hands.
I was very open to starting on a clean slate as long as some things that were immovable in the book were there in the show as well. And then you have the other side of the story — like Jannat, which is Kirti's (Kulhari) character, who really elevates the show and she's not present in the book.
Ribhu: We were all doing a series for the first time — Emraan (who plays secret agent Kabir Anand), me, Red Chillies (Entertainment) — and we had to put our best foot forward. At the end of the day, we had to do what was best for the show. The book is very visual and that helped me in filming it. Writing in a series is key. Everything else starts after that. It was important for us to have Bilal on board to ensure we didn't deviate too much from the book.
Bilal: The best thing about the digital platform is that it's content-driven and not star-centric. Yes, we've got a big star in Emraan, but the writing was done way before the star came into the picture. And when he came in, he only enhanced that. That might not be the case with a Bollywood film. Ribhu has a great visual sense that's elevated the show to another level.
The way we have structured the show is very binge-worthy… every episode ends in a cliffhanger, and that makes you click to the next without much thought. It's not too heavy on the political side of things. It's fiction… it's about the characters' journeys. It's not a docudrama that requires 100 per cent of your concentration or even intelligence. You can watch it in a freer state of mind and space. We've constructed it like that, and that's how the book was also written… it's a lot in the pulp, fun zone. In the book, Kabir Anand was far more heroic than he is in the series. That makes him more human and relatable. I think we've cracked the right tone… we may not be heavy viewing, but we aren't a flippant watch either. And I think that's the right tone for an espionage show.
What made you zero in on Emraan Hashmi to play the lead?
Bilal: It was never a given he would be the lead. He did launch the book in 2015 when we had no idea it would be made into a series. In 2016, I co-wrote his book (The Kiss of Life, chronicling Emraan's son Ayaan's fight against cancer) with him. From an acquaintance, he's now family to me. We chat about the most banal things… he's like a brother. My natural preference was always Emraan because I knew he would only enhance the show. Ribhu and Gaurav (Verma of Red Chillies Entertainment) were on board with the idea. He's a bonafide Bolly star who is doing films actively and for him to take out time for the show would need him to be sold completely on the creative aspect of the show. It had to satisfy him as an actor. So it was as simple as, 'Listen Emi, three episodes are written. Read it and let me know if you want to do it. Even if you don't it's fine' (smiles).
Ribhu: In our first interaction itself, I told Emraan that this series will not cater to the theatrical audience that he has. We wanted to make it the 'non-Emraan' way.
What is the 'non-Emraan' way?
Ribhu: Let me give you an example. When I worked with Mr (Amitabh) Bachchan (in the TV series Yudh and the film TE3N), I told him, 'Sir, I don't need Mr Bachchan!' It was a very tough thing to tell the biggest superstar in the country that I didn't want the persona that makes him the superstar that he is. The idea was to extract the actor and leave out the superstar. That's exactly what I wanted with Emraan in Bard of Blood. I wanted the actor and the character he's playing to shine through.
Bilal: But we didn't want to really disconnect from the fact that he's Emraan. It's just that we didn't focus on the 'serial kisser' aspect and stuff like that (smiles). He is a great actor. Once we had him on board, we revisited the script. There's a certain vulnerability about him as an actor… he's not the conventional action hero….
Ribhu: Which is what actually helped the character. When the show starts, Emraan's agent is a teacher… he's a little out of shape…
Bilal: When you play to a stereotype, then you have an agent who walks into an alley peppered with 10 bad guys and still comes out alive. In this case, he does come out alive but because someone else would have probably helped him.
Ribhu: You shouldn't expect him to win. The grind that he's made to go through to win is what contributes to the show. And to top it, Emraan is a great guy. We were shooting in Ladakh in sub-zero temperatures where there is thin air and even locals come down to the plains below, and every time I was standing at a location like that which demanded so much out of me as a director and Emraan as an actor, I would invariably turn back and find him standing behind me. Such was the support from him.
Did you have to tweak anything of the politics in the book to make it more 'acceptable' for a series?
Bilal: When we were in the writers' room, we didn't think of the world outside… we were only immersed in the world of the story. Telling the story as dramatically engaging as we could was the primary focus. What was happening in the real world didn't really matter to us as much as it would have if our show was taking on the tonality of non-fiction or docudrama. We are in an out-and-out action-adventure kind of zone. We didn't require reality spilling into our characters' journeys. What matters to the character at that point of time is what drove our research. We worked backwards in terms of knowing what we needed to read up on and fictionalise it to tell our story. Politically, who knew what has happened will happen? (Smiles)
Ribhu: We are here to tell a story. The first thing was to make it simple so that it caters to a larger audience. It's a simple story where the layering comes from its characters. The politics is not so much in focus.
The book gives the characters substantial backstories, something which isn't, of course, possible in a seven-part series. Do you think that will limit the viewer from investing in the characters wholly?
Ribhu: For something like this, one needs to know what the main story is. For me, the main story has to start within the first 10 minutes of the first episode. For that, I feel we need to use our characters wisely only to the extent that they are needed. We need to understand who the big players are and bind the story around them.
Bilal: Every genre comes with its own trappings, conventions and tropes, and so does every medium. In the book, I had more space to play with and so I could show Kabir's world a lot more and could also delve into other characters. But that doesn't mean we haven't developed them in the series… it's just that we may have focused on certain other aspects a little more.
Ribhu, do you naturally gravitate towards thrillers, given you have a TE3N behind you and have just wrapped up shooting for The Girl on the Train remake?
Ribhu: Yes, I am inclined towards thrillers. But the story should connect with me first, irrespective of the genre. I personally think that if you bind the drama in a story with a little bit of thrill, it elevates the story.
Bilal: I think it's the adrenaline rush that you get… that really excites me as a writer and a viewer. I don't think any other genre apart from a thriller gives you that.
Pick a seminal spy thriller you keep revisiting…
Bilal: The Kill Artist by Daniel Silva is one of my favourite spy fiction novels. And as escapist as it is, I am a big fan of the Mission: Impossible series. It's great fun.
Ribhu: The genre excites me, it can be slow or fast. There are some slow-burn films that are bonafide thrillers… and I love them.
Bilal: Like Captain Phillips (starring Tom Hanks)… how do you classify that? It's a drama, biopic, thriller… all three.