Led by Emraan Hashmi, team Bard Of Blood talks about motivations and mechanics of the series
The action-packed spy thriller is dropping on Netflix this weekend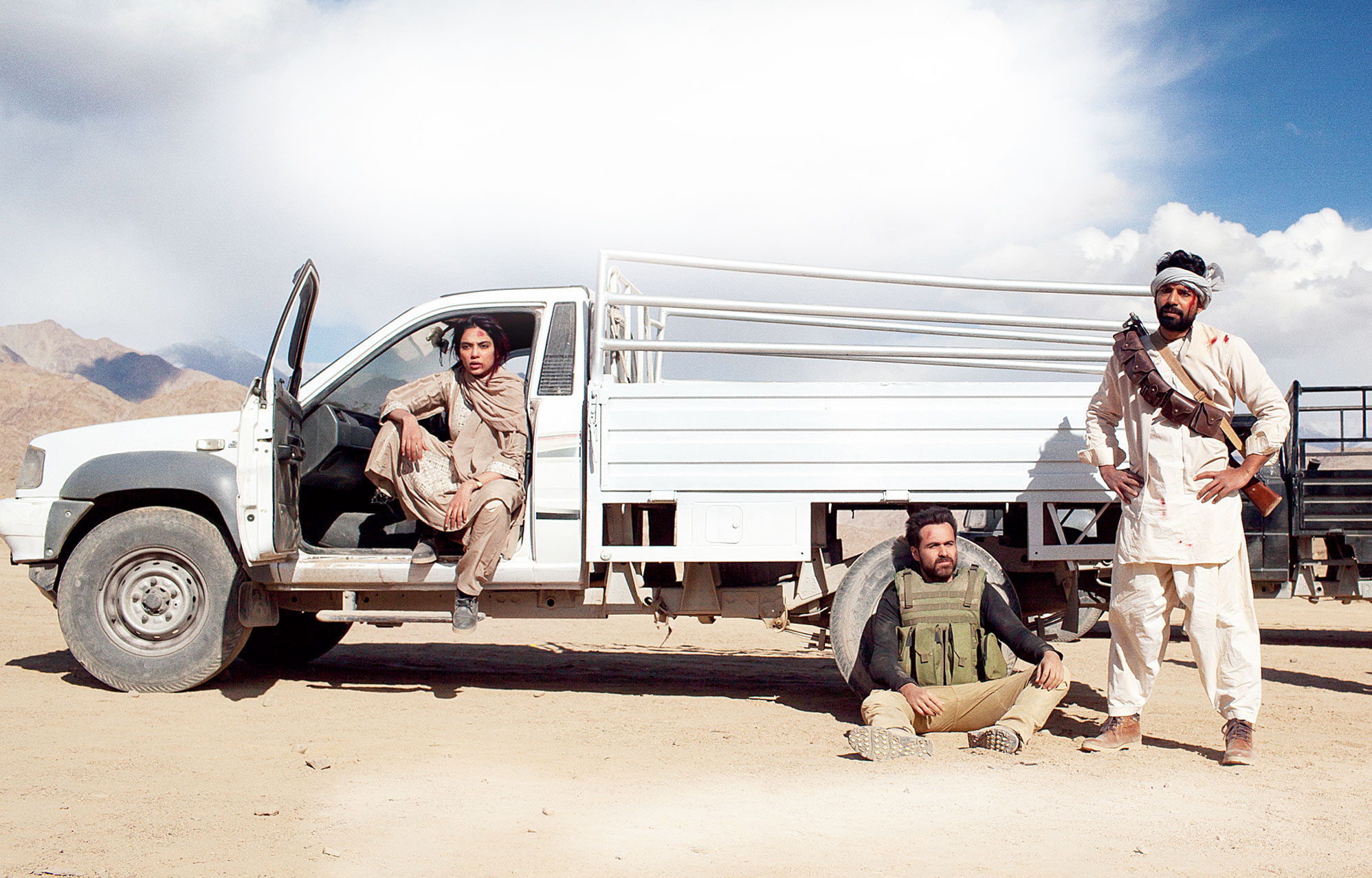 Sobhita Dhulipala, Emraan Hashmi and Viineet Kumar in Bard of Blood
(Netflix India)
---
Published 25.09.19, 04:50 PM
|
---
Bard of Blood, an espionage thriller that travels from the power corridors of Delhi to the dusty terrains of Balochistan and packs in battle and betrayal, murder and mayhem, revenge and retribution, is Netflix India's latest in a line of originals. Starring Emraan Hashmi as Kabir Anand, a Shakespeare-teaching super agent who is forced back into the field for a rescue mission, Bard of Blood — based on Bilal Siddiqi's 2015 novel of the same name — marks Shah Rukh Khan-owned Red Chillies Entertainment's maiden foray into the digital space.
Ahead of its premiere on September 27, t2 chatted with the cast — Emraan, Viineet Kumar (who plays secret agent Veer Singh), Sobhita Dhulipala (who plays Isha Khanna, a RAW analyst on her first field job), Jaideep Ahlawat (as the Pakistani ISA operative Shehzad) and Kirti Kulhari (who plays a spunky Balochi woman called Jannat) — in Mumbai earlier this week on the hows and whys of the show and whether it will steer the Indian spy thriller in a new direction.
Friday onwards, why should a Netflix user stream Bard of Blood?
Emraan Hashmi: We've got a lot of positive feedback, predominantly for how the show has been mounted, as evidenced from the trailer. It has an international feel and certainly looks like a show that will go far and wide and be worthy of a world audience.
It was a very tricky tightrope to walk for all of us because with this show, we are trying to capitalise on a certain mass audience that the country has and also reach out to the global viewer. So there were certain dos and don'ts that came with the territory and we had to be careful with the tonality. I think we've hit the right blend of both sides.
I think the masses will like it for its entertainment as well for the fact that it's relevant and has engaging characters. The global audience, I feel, will relate to the geo-political setting and the subtle performances … there's no jingoism where it's not needed.
Emraan has been associated with the book from the beginning, but had the rest of you read it before or after you signed the show?
Kirti Kulhari: I haven't read the book. When I was given a narration, I invariably ended up asking if any of the characters in the show are not in the book and when I was told my character (Jannat Marri) has no trace in the book, I was like, 'Oh, okay!' (Laughs) That was an interesting starting point. I love my character… irrespective of whether she was in the book or not, I would have anyway taken up the role. When I decided to do the show, I decided to read the book. But Bilal (Siddiqi, who has adapted his book for the screen) told me, 'Ab book rehne do… tum show ki script padh lo' (smiles). He told me that it's anyway been four years since the book came out and that the show was far more detailed.
Emraan: You can read it after the show comes out…
Kirti: No, am not interested! Ab toh show bhi kar liya! (Laughs)
Emraan: Just because your character's not in the book?! How selfish and self-obsessed! (Laughs)
Sobhita Dhulipala: I was told not to read the book because I was told that my character in the book is a little kachcha, a tad underdeveloped as compared to how you see her on screen. This is something I was told by both the director (Ribhu Dasgupta) and the writers (Bilal Siddiqi and Mayank Tewari). I had a certain curiosity to read the book, but I didn't finally because I realised that the book would always be more detailed than the screenplay.
Emraan, considering you have been close to Bilal for years and even launched the book, was it a given you would star in it if the book was made into a series or a film?
Emraan: I was very happy for Bilal when Netflix and Mr (Shah Rukh) Khan had launched the show in 2017. I actually ended up giving Bilal names of actors who could play Kabir Anand (smiles).
I had really liked the book and one day when Bilal casually asked me if I wanted to do it, I didn't bat an eyelid… in two seconds I was like, 'Ya sure!' I've always been enamoured by this format and I think initially the makers didn't know if I was interested in doing a series since I also make films actively. A lot of film actors are now making the transition to the digital scheme of things, but initially there's always a resistance to anything new in the market. In the beginning, there was some sort of a resistance to the OTT platforms and the reaction will be the same when the next paradigm shift happens… we don't like anything new (smiles).
I wasn't resistant, it's just that I didn't give it a thought. But once I made the decision, I was like, 'This is it, man. This will go far and wide… wider than Hindi films have released. This is 190 countries we are talking about, go for it'.
What is the primary hook that made you want to play your respective characters?
Emraan: The simple one line… a spy who is also a Shakespeare teacher (smiles). I found that extremely exciting. It may come off as a little bizarre, but it won't be if one has read the book or plans to watch our series. He's not your typical hero — he's angst-ridden, a bit rusty in the beginning… he's definitely not this cool, six-pack abs guy when you see him at the beginning. He's been out of the job for five years and that's how I had to play him. It's a different take on the average spy. In the Bollywood mould, a spy will invariably have rippling muscles and a slo-mo walk… the superhero who can take all the bullets in the world and can single-handedly kill 100 people (smiles). But Kabir is real… he's vulnerable. I read up a lot on post-traumatic stress disorder that soldiers go through, what spies go through after covert operations.
I was very interested in playing this out on screen.
Kirti: While I have done quite a few of these 'strong' roles, the main selling point for me was the fact that she's Balochi, and also the situation that plays out around her… she's caught in circumstances —physically, mentally and emotionally — that she can't get out of. Most people would have caved in, but Jannat just doesn't give up. She's so fascinating, playing her has even uplifted me as a person, given what her ideals and thoughts are.
Jaideep Ahlawat: I don't see my characters in isolation. The story has to appeal to me and so does the dynamic of my character with the other characters. That's why I am always more interested in the story than my character. If I didn't like the characters of Kabir, Veer or Isha, then my motivation to play Shehzad would have been zero… bhaad mein jao! (Laughs) Itne gadho ke saath nahin ladna! Woh strong hai isliye Shehzad ko mazaa aayega unko pelne mein.
Sobhita: The world of Taliban, of spies, is something that's always been larger-than-life for me… we consume it in movies, books and news. But there's always been a distance and I wanted to play Isha and be a part of Bard of Blood just to get a little closer to that world. I wanted a personal understanding of it. This is the first time I got to do action. Plus, there's a religious context and that intrigued me. The show's packed with credible actors who bring authenticity to the table.
I feel that I should just be grateful for the fact that this is what I want to do and I am getting to do it.
I am an instinctive actor. When I read a script, I form an immediate understanding of the world. I have a mental mapping done beforehand, but on the day of a particular scene, the emotion that I put in it depends on how I felt waking up that morning. Uss moment ki jo honesty hai woh usi moment ki hai that you won't be able to replicate later. Playing Isha brought out that honesty in me.
Viineet Kumar: After Mukkabaaz, I wanted to do work on a streaming platform. I was getting some good offers, but I wanted more. Bard of Blood has Red Chillies (Entertainment) and Netflix attached to it and that's huge. Then my character, Veer Singh, is something I haven't played before. He's a trained commando, an undercover spy, he knows how to speak Pashto, he blends in wherever he goes… there were a lot of new things I got to do here.
It wasn't the easiest show to shoot, given the scale as well as the emotionality. What were the biggest challenges?
Emraan: Tremendous workload, to start with (smiles). It's a huge script… a bible of seven episodes that we had to shoot in 80-90 days. Multiple action set-ups had to be shot every day in a terrain as tough as Ladakh. I would shoot one action sequence and then take the car to travel half-a-kilometre to shoot another stunt because we couldn't have the same topography. That's the kind of craziness we had to deal with, but nothing that couldn't be handled. We had a very sorted director in Ribhu, who was very chill and calm, and that helped. For me, getting the kind of physical agility and acclimatising to Leh-Ladakh was tough.
The rarefied air meant that even running 30 seconds for an action sequence would leave me out of breath.
The Indian spy thriller has either been in the zone of a documentary or in the Bolly mould of a super agent who walks in all guns blazing. Bard of Blood kind of hits the middle ground, humanising the spy. Do you think the audience here will look at the Indian espionage thriller differently after this?
Viineet: Bard of Blood is definitely not Fauda (an Israeli TV series), but the director, while briefing us, told us to watch that show. He wanted us to feel ourselves in that kind of a space. We always knew that this wouldn't be a documentary and yet it also wouldn't be a single-toned, unidimensional jingoistic thriller. It's in the real space, and yet the scale is huge.
Sobhita: I don't know why but I feel I am not responsible towards cinema at large. As long as I am telling a story I believe in and doing it with authenticity, I am happy. I haven't watched Bard of Blood yet, but I enjoyed what I felt when I shot it. I put in what I felt was right. I always feel that a piece of creative work can be dramatic as long as it's honest and authentic. I feel Bard of Blood is that.
I love Harry Potter… my phone cover is Ravenclaw (holds up her phone). There's nothing real about Harry Potter, but what hooks you is its honesty, the emotions that people connect with. So if you give me a sense of authenticity even on the most outlandish set, I will buy a ticket.
Jaideep: I was asked to watch Fauda but I didn't because that's not my space… it's Ribhu's space. It was up to me to develop my character… if I watched Fauda, I felt that would tamper with my approach to Bard of Blood. Jo kaam mera nahi hai usmein main ghusta nahi hoon. I just had to put soul into my character, that was my only job. If you ask whether this will give a new direction to Indian spy films or series, I sure hope so.
Given the turn subcontinental politics has taken in the last few months, do you think the show is now more relevant than ever?
Kirti: I feel that it's more than a coincidence that suddenly all of this is playing out in real as well. Suddenly, we are talking of Balochistan more than ever. I am sure when Bilal wrote it about six years ago, there were some references that he brought in but also a lot of his imagination. The relations between India and Pakistan were different when the book was written and it's so different today. We haven't planned this and I hope people watch the show for what it is rather than being reactive. The intention is never to ignite anything… the names that are involved in this show are not random people trying to gain attention. There's a lot of hard work and thought that's gone into this and I hope it finds its right audience.
I hope people take it in the right spirit.