The heart bleeds on
'Sushant, you were the only star of your generation with whom I had such a deep and emotional attachment'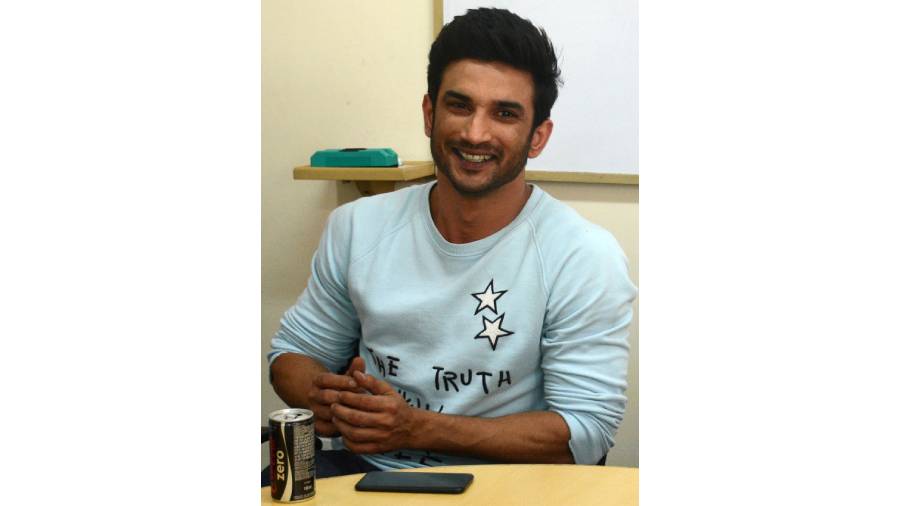 Sushant Singh Rajput
File Picture by Debosmita Bhattacharya
---
Published 13.06.21, 12:53 AM
|
---
Dear Sushant,
On June 14, 2020, when a flurry of calls from Jiten, my CA-cum-lawyer-cum-assistant, brought me up to speed on the unspeakable tragedy, I turned on him and asked him to stop blabbering such nonsense. His only answer to me was, "Bhaiya, switch on the TV and listen to the news." I was stunned.
Over the years, I've had a familial, brotherly bond with Sanju, Salman and Govinda. But Sushant, you were the only star of your generation with whom I had such a deep and emotional attachment.
When I was new to Mumbai in the 90s, I had done a few plays with Nadira Babbar's Ekjute as an actor. And I did blockbuster plays like Laila Majnu with Annu Kapoor which created history at Prithvi Theatre.
When you came to Mumbai in the 2000s, and also started doing theatre with Nadira Babbar, it was uncanny that you did the same plays that I had once done, like Ek Ghoda Teen Savar and Khajur Mein Atka. But little did I know what a close connection you and I would one day share.
In 2019, I was shooting for Chehre in Malad when you came to drop Rhea, your partner, who was working in my film. When you started visiting our sets, you talked of the theatre experiences we had in common and told me that you had grown up dancing to the songs of the films I'd written, like Coolie No. 1, Hero No. 1, Bade Miyan Chhote Miyan and dozens of others.
You were already a huge star by then but when we'd talk about theatre and the wonderful dialogues of Laila Majnu, you were so inspired that you wanted me to make the same play with you. But it would have been impossible to recreate the songs, the ambience without Annu Kapoor, who had directed it. And so, Annu also came into the picture. How many wonderful hours we spent discussing the scenes and dialogues of Laila Majnu. But theatre is a huge commitment in terms of time, so I completely agreed with you when you one day said, "Let's put off Laila Majnu for now and do a film together."
By now, we'd begun visiting each other. You were such a staunch Shiva bhakt that when I came to your bungalow, you showed me the huge murti of Mahadev you had installed in your garden. And the first time you came to my house, you had problem finding parking space because you had driven yourself. But when you walked into my house, you told me, "Sir, bhagwan ne mujhe bheja hai aapke paas." Because the parking you finally found was outside a building called Shiv Parvati.
It's been one year. Investigations continue and the law will take its course. But I know that the free-for-all that ensued after your unfortunate end would have saddened your soul.
You were a rare kind of hero who had no dearth of work. But you had no greed for money, you even lived in a rented apartment. There was an innocence on your face that made you so vulnerable.
I created a film just for you, and scripted it only for you. You always told me how positive you felt when I'd narrate it to you. I still have the text — "Hello, Sir, kaise hain aap? Miss you a lot" with a heart emoji — you sent me on May 31, 2020.
I wrote a really different love story for you, one that would do full justice to you as a performer. In our eternal litany of "if onlys", I wonder, if the lockdown had not happened, we'd have begun shooting in Mumbai in May 2020, gone outdoors, wrapped up the film in the winter, and maybe, this tragedy would have never happened.       
But June 14, 2020, did happen and I haven't opened the file since then. That film was written for you, that character had your name on it. And these lines, this sher is for you, my friend:
Zameen asman ujale andhere zinda rahenge,
Jism chale jayenge, par chehre zinda rahenge.
Missing you, Sushant.
Rumi Jaffrey
(Writer-filmmaker)
Bharathi S. Pradhan is a senior journalist and author