Ajay Devgn on his 100-film journey and being Tanhaji
The actor has been shooting his football film 'Maidaan'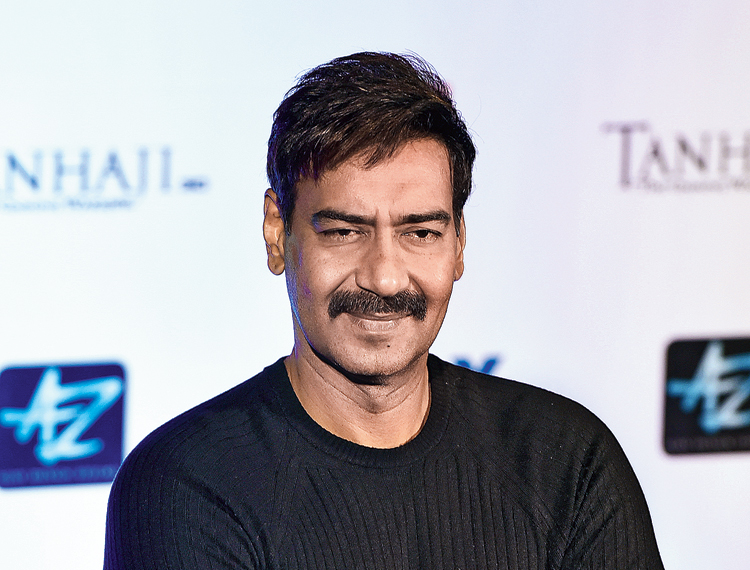 Ajay Devgn in Calcutta on Tuesday evening
Picture: B. Halder
---
Published 04.12.19, 01:55 PM
|
---
He has been in Calcutta for the last 10 days shooting his football film Maidaan. On Tuesday evening, Ajay Devgn strode into INOX (Quest) to showcase the trailer of his January release Tanhaji: The Unsung Warrior — in which he plays the 17th century Maratha braveheart Tanaji Malusare — on the multiplex's new Screen X technology, an immersive and panoramic 270-degree viewing experience. That done, the 50-year-old actor who's just achieved an incredible milestone of 100 films in an almost three-decade-long career, spoke about being Tanhaji, shooting in Calcutta and his biggest learnings over the years.
The 100-film journey
Mentally, I feel Tanhaji is my first film… it's just that two zeroes have been added to it (laughs). I am as anxious as I was when my first film (Phool Aur Kaante, 1991) released. You work so hard on every film and you want the audience to love what you have made. This anxiety always remains, no matter how many films you make. If I had to describe my 100-film journey in one word, it would be 'satisfying'. When I was doing my first film, I never thought even that would get made... ab toh 99 filmein aur bann gaye hain!
The biggest learning over a three-decade-long career
When you work, you learn every day. You learn from your own mistakes, you learn from the mistakes of others. You don't always understand it then but when you have to apply that learning to a situation you are thrown in, then you realise how invaluable it is and how much you have learnt from every film and every role. All I have learnt is to be honest to my work and most importantly, to mind my own business (smiles). You just need to love your work.
Advice to aspiring actors
First, they need to decide whether they want to be a star or an actor. If you want to be an actor, then your talent and dedication is enough. To become a star, maybe things like public relations, attending parties and being seen at the right places are important. An actor can become a star, but if you just concentrate on becoming a star, chances are that you will not make it as an actor.
Being Tanhaji
We had to prep a lot for the war sequences. Apart from that, it was necessary to understand the mindset and psyche of a great warrior-hero who sacrificed his life, his family…. It's not an easy thing to do… you or me will not be able to do it. I needed to understand the mindset of the man. It was a tough film to shoot. Making it was a learning process.
When the director (Om Raut) narrated the script to me and I learnt about the sacrifices that Tanhaji made, I thought that the world needed to know more about him. He's an unsung warrior — as the tagline of the film says — and I feel that the two paragraphs on him that we studied in school don't do him justice. He deserves to be known better. There are so many such unsung heroes, from every state, in our country. The attempt is to start a series of films on unsung heroes so that the whole country knows about them. Like if someone made huge sacrifices for Bengal in history, maybe most people in the south don't know about him or her. I don't know who we will make a film on next, but we are working on a few scripts.
On the allegation that Tanhaji presents history inaccurately
There are many people in this country who just watch the trailer of a film and jump to conclusions and start making assumptions… ki 'yeh aisa hoga, yeh waisa hoga'. We haven't shown much in the trailer… it's anyway an inter-cut of different moments from the film and so it's wrong to assume what the film says or doesn't say.
What we have shown in the film has been gleaned from authentic sources… from historians, from the family members, from historical texts…. Of course, while staying within the limits and parameters of historical accuracy, we have attempted to take certain cinematic liberties to make the film entertaining. When anyone tells a story, the attempt always is to enhance it in a way that the audience gets engaged and entertained.
Saif Ali Khan as co-star
We've got along very well right from our first film, which was Kachche Dhaage (1999) and then we had Omkara (2006) a couple of years later. Unluckily, I would say, we didn't work together as much as we should have. For Tanhaji, we wanted someone (Saif plays Uday Bhan, who is at loggerheads with Tanhaji) who had personality and gravitas and I feel Saif is perfect for the role.
On Kajol playing his wife in Tanhaji
It does feel like home. There is no difference between work and home! (Laughs)
Being in Calcutta
I've come here after a long time. I shot Raincoat (2004) here and then portions of Yuva (2004). I have been waiting to come and shoot here for a long time… it's been 15-16 years, I think. But I must tell you that in the 10 days that I have been here (shooting for Maidaan), I have put on 4kg — I am not kidding! — just eating the lovely sweets you have here. I am really, really upset about that! (Laughs)
Meeting soccer legend P.K. Banerjee
When you meet such people, you can't put the experience into words. He's one of the greats to have played the game and now that he's old and infirm, it's tough for him to even talk, you do feel bad. Meeting him was a very, very emotional moment for me.
Playing Syed Abdul Rahim in Maidaan
Like Tanhaji, he's also an unsung hero. He was the architect of modern Indian football and during the time he was the manager and coach of the Indian football team, the team was known as 'The Brazil of Asia'. Today's generation knows nothing about this. In fact, when the makers of the film first told me about this story and this man, I thought they were lying. I googled and read about him and realised that every word is true.