Ajay Devgn is in good form both as actor and director in Runway 34
This visceral, immersive and sharp film is drawn from real life incident — the perilous landing of a Doha-Kochi flight in 2015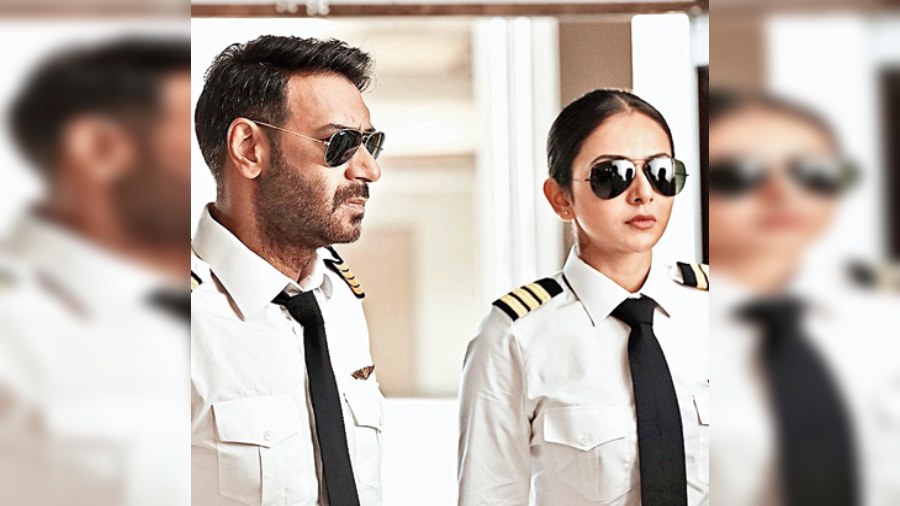 Ajay Devgn and Rakul Preet Singh in Runway 34, now playing in movie theatres
---
Published 30.04.22, 03:38 AM
|
---
The human psyche is strange, often wondrous. We do everything we can to keep ourselves safe. Whether it's keeping an eye on the road when we cross it, going in for regular medical check-ups, not driving after drinking, et al. Well, at least most of us do. But what happens when we get into a plane? We entrust our lives in the hands of someone — the pilot — who we don't know, have never met and will probably never meet. We lose all control over our life and safety, but do we stop flying? No.
"Yeh poori industry yakeen pe chalti hain. Keep the faith alive," Amitabh Bachchan's Narayan Vedant sums this up best somewhere towards the end of Runway 34. Vedant is the chief interrogator in a case investigating the lapses, if any, when a plane makes a miraculous landing, after braving adverse weather conditions and dangerously low fuel levels. The passengers get an unexpected shot at a second life, all thanks to the courage and conviction of the pilot Vikrant Khanna (Ajay Devgn), aided by first officer Tanya Albuquerque (Rakul Preet Singh).
But what is initially hailed as a heroic act increasingly comes under the scanner, with questions being raised about the pilot's attitude and antecedent, correctness and competence.
Drawn from both real life — the perilous landing of a Doha-Kochi flight in 2015, the same year in which this film is set — as well as many a well-known film in this genre, Runway 34 hits the ground running. Devgn, who also directs the film in what is his third venture behind the camera, fashions a first half that keeps the audience engaged, and often, on the edge of one's seat. Edge of the seat, and even worse, is what the passengers of the plane piloted by Vikrant also experience when their flight from Dubai to Kochi gets more than just a little bumpy, finally compelling a precarious landing on a table-top runway. It's nail-biting stuff, with Devgn ensuring that Half One remains a truly immersive experience, taken a few notches higher by Aseem Bajaj's cinematography.
If the first half is visceral, then Half Two is verbose (but not in an exhausting way), with the action shifting from cockpit to court where the pilots are taken through the wringer. Narayan Vedant brooks no nonsense and doesn't spare the whip when it comes to being interrogator. He also espouses a lot in shuddh Hindi, comparing the pilot in front of him to a 'shuturamurg'. That's ostrich for you and me.
It doesn't help that Vikrant Khanna isn't a man easy to like. He's more like Denzel Washington's  William "Whip" Whitaker, the alcoholic pilot who lands his plane upside down in the 2012 film Flight, than the always-in-control Chesley "Sully" Sullenberger, played by Tom Hanks, in Sully. Both these films deal with a theme similar to Runway 34. Vikrant's track record as a pilot may be impeccable, but is often sullied by whispers of cockiness and a certain arrogance in his abilities. A cigarette often dangles at the corner of his lips, even in the cockpit. But he just stops short of saying, "Bolo zubaan kesari".
Runway 34 plays out in a linear fashion, unlike Sully which cast an eye on the event in retrospect. Writers Sandeep Kewlani and Aamil Keeyan Khan craft a crisp and sharp narrative which engages and entertains in equal measure. Devgn is in good form both as actor and director, with Bachchan's presence only elevating the film. Rakul Preet, otherwise a fine actor, has precious little to do, apart from looking harried and correcting the mispronunciation of her character's surname. Popular YouTuber CarryMinati, playing himself, pops in as a passenger for a bit and then vanishes. But all said and done, Runway 34, despite a few bumps, is well worth your time.
Runway 34 (U/A)
Director: Ajay Devgn
Cast: Amitabh Bachchan, Ajay Devgn, Rakul Preet Singh, Boman Irani, Angira Dhar
Running time: 148 minutes