Nawazuddin Siddiqui's wife claims actor has thrown her and children out of house
Actor Nawazuddin and his wife Aaliya Siddiqui have been engaged in a legal battle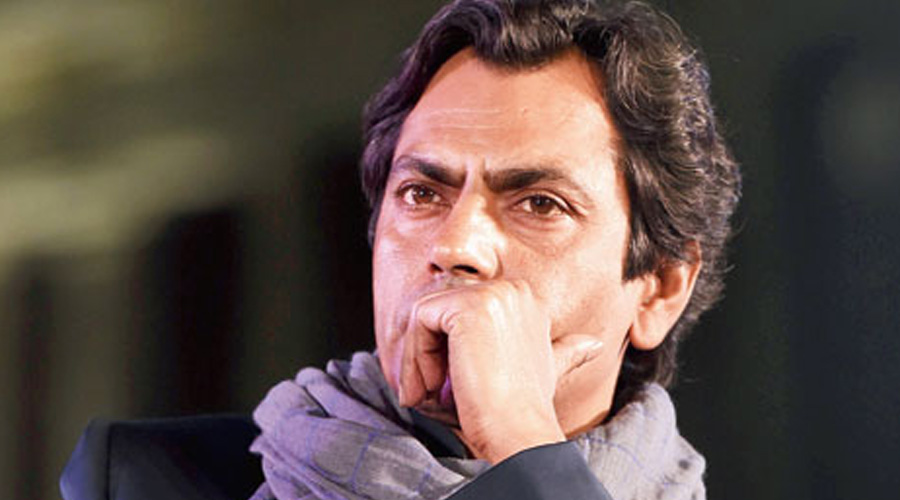 Nawazuddin Siddiqui
File picture
---
Published 03.03.23, 07:02 PM
|
---
Nawazuddin Siddiqui and his wife Aaliya Siddiqui are currently fighting a legal battle against each other. The duo has been hitting headlines for all the wrong reasons.
Earlier today, Aaliya posted a video of herself and her kids, Shora and Yaani on her social media and claimed that they have been thrown out of the house by Nawazuddin. In the video, she was seen standing outside the bungalow with her kids and claiming that she was not allowed to enter the house. Her daughter was seen crying inconsolably. But the latest report suggests that the bungalow doesn't belong to Nawazuddin.
Aaliya shared one more video in which her kids are seen sleeping in a small room. In the caption, she mentioned that she was called at Versova police station urgently. When Aaliya returned to Nawazuddin's house, where she was staying with her kids, she was not allowed to enter.
फिल्म अभिनेता @Nawazuddin_S की पत्नी ने इंस्टाग्राम पर एक वीडियो शेयर किया है जिसमे वो बता रहीं हैं की अभिनेता नवाज ने कैसे अपने दोनो बच्चो और पत्नी को घर से बाहर निकल दिया है , वीडियो में नवाज की बेटी रोते हुए दिखाई दे रही है।#NawazuddinSiddiqui pic.twitter.com/J8m0e3bcQ4

— rajni singh (@imrajni_singh) March 3, 2023
Her Instagram caption reads, "This is the truth of Nawazuddin Siddiqui who did not even spare his own innocent children..when after being in the house for 40 days I stepped out as office bearers at Versova police station called me urgently..but when I went back to the house with my children Nawazuddin siddiqui had deputed a number of guards to not let us in.. me and my children were bruetly left by this man to be on the road.. my daughter could not believe that her own father can do this to her and was howling and crying on the road.. thankfully one of my relatives took us in her one room house..this small mentality and this cruel planning of throwing me and my children out of the house and bringing us to the roads just shows how small this man Nawazuddin Siddiqui is..sharing three videos where you can see the reality of this man. And now as expected from you .. your pr agency is circulating false and deceitful information all around the media.. It is such a joke that people who are appointed by you and who get salary from you are not letting you go inside your own house.. I really suggest that you need a better Pr agency who has more logical plans for you... don't worry Nawazuddin Siddiqui you can not break me our my children ..I am a citizen of a country where justice prevails and I shall get it soon."
Married in 2009, the couple has been in the limelight for the past few weeks hurling allegations at each other on various domestic and personal issues and their children, daughter Shora and son Yaani.
In January 2022, Nawazuddin's mother filed a police complaint against Aaliya for allegedly trespassing into the actor's home and she lodged a counter-complaint against her mother-in-law alleging domestic violence.
Recently, Aaliya charged Nawaz with alleged rape and lodged a complaint with Versova Police Station.