Highlights from the 2018 Emmy Awards
A huge haul by 'The Marvelous Mrs Maisel' and a proposal on stage!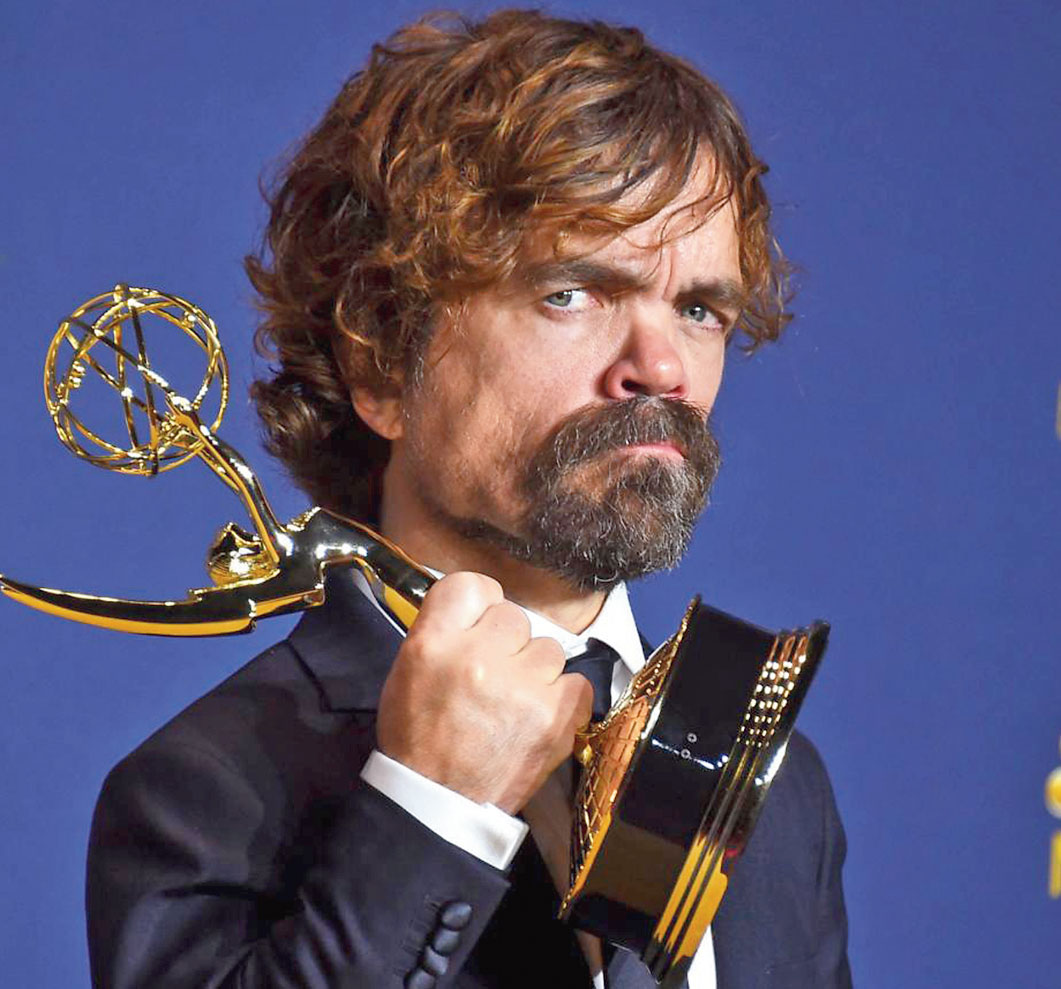 ---
Published 18.09.18, 06:30 PM
|
---
DIVERSITY TO DRINKING ON THE SHOW!
Saturday Night Live comedians Colin Jost (left) and Michael Che did hosting duties for the night, but they didn't open the show at the Microsoft Theater in Los Angeles. A diverse group of actors — Kate McKinnon, Sterling K. Brown, Kristen Bell, Tituss Burgess, Kenan Thompson and RuPaul — put up a skit and song about diversity called We Solved It (above, right) in which they claimed to have "solved" Hollywood's diversity problem, but of course ending their act saying the resolution of the issue had "a long way to go".
The performance set the tone for the rest of the evening, with many winners citing the need for diversity and talking about the #MeToo movement.
The night wasn't without its share of laughs, though. Hosts Jost and Che went all out at Netflix: "How is Netflix getting all that money? It's $9 a month and everyone I know shares an account. Netflix is like that Instagram model that's always in Dubai and you're like, yeah, but what do you REALLY do?" The bit we loved — "This year the audience is allowed to drink in their seats. I hope you're excited about that. Because the one thing Hollywood needs right now is people losing their inhibitions at a work function." The jokes about diversity did kind of fall flat, especially after the first six winners of the night all turned out to be white. #LongWayToGo
GAME (OF THRONES) STRONG
After its absence from last year's ceremony, Game of Thrones returned to the Primetime Emmys to take home the night's biggest award — Outstanding Drama Series.
Peter Dinklage (above), who was nominated a seventh time for his role as Tyrion Lannister on the smash-hit HBO show, won his third Emmy for Best Supporting Actor in a Drama Series. The little big man of television thanked the show for "changing my life" and also put in a word for his wife Erica who he had forgotten to thank the last time he won. The win ties Dinklage with Aaron Paul, who has also won three times in the same category for Breaking Bad.
THE PROPOSAL
This was a first in Emmy history. Glenn Weiss — accepting his Emmy for Outstanding Directing for a Variety Special Emmy — went down on one knee, fished out a ring and proposed to girlfriend Jan Svendson... on stage!
The 57-year-old took everyone — including Jan — by surprise by saying, "You wonder why I don't call you my girlfriend? Because I wanna call you my wife." Jan tearing up on stage as Glenn went "Will you marry me?" brought the audience to its feet, including a certain Benedict Cumberbatch who was among those who cheered and clapped the loudest.
SHE SHOW
The Marvelous Mrs Maisel was the big winner of the night, taking home seven trophies and becoming the first show produced by a streaming media service (Amazon) to win an Emmy for Outstanding Comedy Series. Rachel Brosnahan (above) — who plays the title character, a Jewish housewife living in New York in the 1950 who discovers her talent for stand-up comedy — teared up while accepting her Outstanding Lead Actress in a Comedy Series, urging everyone to find their voice. "One thing I love about this show is it's about a woman who is finding her voice anew. It's something happening all over the country right now. And one of the best ways to find our voice is to vote."
The show that will stream Season 2 this year and has also been renewed for a third season also won Outstanding Supporting Actress in a Comedy Series (Alex Borstein), Outstanding Directing for a Comedy Series (Amy Sherman-Palladino), Outstanding Writing for a Comedy Series (Amy Sherman-Palladino), Outstanding Single-Camera Picture Editing for a Comedy Series (Brian A. Kates) and Outstanding Casting for a Comedy Series.
After last year's snub, Westworld fans had some reason to rejoice. Thandie Newton, who plays Maeve Millay on the popular sci-fi series, won the award for Best Supporting Actress in a Drama Series. "I am so blessed, I am so blessed without this... I am even so f****** blessed," she said, her eyes welling up, before realising she had dropped an F-bomb (in picture top), even as the audience cheered.
Claire Foy scooped the award for Best Lead Actress in a Drama Series for her turn as Queen Elizabeth on the Netflix show The Crown. The actress dedicated her honour to her co-star Matt Smith and the show's new cast, including Olivia Colman who replaces her in Season 3.
RUPAUL'S MOMENT OF GLORY
RuPaul's Drag Race made history, winning Outstanding Reality-Competition Program. The show that also won Outstanding Costumes, Directing and Hairstyling as well as Outstanding Host for a Reality or Reality-Competition Program for RuPaul crowns "America's next drag superstar". RuPaul's fun victory speech? "I would like to thank, on behalf of the 140 drag queens we have released into the wild!"
FINALLY!
Henry Winkler took home his first Emmy — Best Supporting Actor in a Comedy Series for HBO's dark comedy Barry — in his four-decade-long career. The 72-year-old actor was emotional but also quipped that he had prepared his speech "43 years ago!"
HANNAH IN THE HOUSE
Australian comedian Hannah Gadsby, who is still riding the wave of her Netflix stand-up special Nanette, presented the award for Directing for a Drama Series... and managed to pull off some jokes. The loudest cheers came on when she said that presenting was a good gig "for somebody like me, a nobody from nowhere: gets this sweet gig, free suit and new boots…. just because I don't like men!"