Why this is the best time to be a scientist
Big bang ambition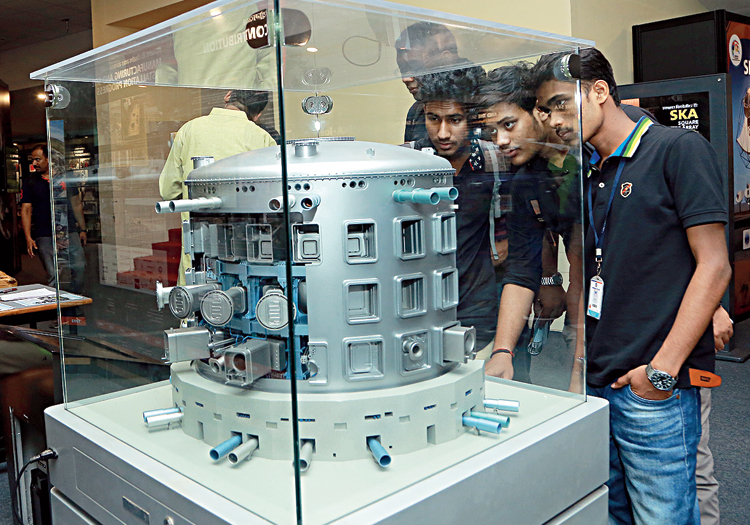 ---
---
Over the last few years, India's ambition in the field of scientific research has grown bigger and bigger. From small, low-budget homegrown projects, the government is venturing into big or mega projects involving many countries — with a clear aim to put India on the world science map.
In 2017, India became an officially associated member of CERN — the European organisation for nuclear research that runs the world's largest particle physics laboratory. In the same year, India joined the global LIGO project and a host of other mega projects.
Recently the department of atomic energy (DAE) organised a multiproject exhibition called Vigyan Samagam — to showcase India's collaborative contribution to all the cutting-edge mega-scale international scientific research — in Calcutta's Science City. One of the goals of the exhibition was to promote awareness of science in the public sphere, with emphasis on engaging young students and to ignite in them deep curiosity and inclination for science.
The exhibition presented fundamental science and research as strong career options. Sahib Chatterjee, a 24-year-old PhD student from Bose Institute, Calcutta, said, "I am excited about FAIR (Facility for Antiproton and Ion Research, Darmstadt, Germany), one of the mega projects in which India is a contributor. It is mainly looking at evolution from the Big Bang onwards." He added the objective of the project is manifold as it starts from understanding physics and expands up to biophysics, material science, chemistry and so on. "Research is underway in terms of using these facilities to cure cancer cells too. This is a great opportunity for us to learn and work at the project," he said.
Arghyadeep Basu and Debajyoti Sarkar, both Presidency University students pursuing MSc in physics, are interested in the Square Kilometre Array, the next generation radio telescope meant to detect radio waves and their sources. The project is supposed to start in 2028. They said that such exhibitions help to know more about such unique projects and they dream to join the project. Said Uttarn Ghosh, a 24-year-old pursuing a PhD from St. Xavier's College, Calcutta, in the field of general relativity, "I am working mainly in theoretical astrophysics but I felt it would be better if I had hands-on experience in some observational astronomy." He added, "The SKA — which is still under construction — will try to analyse if life forms can exist in exo-planets that are being discovered."
The mega science exhibition was a treat for people who are fascinated by the wonders of science. Ashutosh Sharma, secretary of the department of science and technology, said, "India has produced numerous scientists in the past. Through Vigyan Samagam, our primary goal is to expose young minds to the deep mysteries of the universe and various facets of its evolution, so as to excite and encourage them to take up science as a career option and contribute to the nation's intellectual capital and growth."