Sofa, so good
Read more below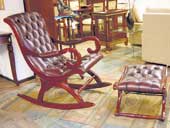 ---
Published 21.11.07, 12:00 AM
|
---
Sandeep Mukherjee, managing director of Quetzel Design, a furniture company in Bangalore, feels vindicated. When the young man from Chandannagore in West Bengal decided in the early 1980s to pursue a career in furniture designing, his peers and family discouraged him and said that he faced a bleak future.
They were proved wrong. The Indian furniture industry boomed and Mukherjee flourished.
Mukherjee joined the National Institute of Design (NID) at Ahmedabad and after passing out in 1985, set up a design consultancy, Tessaract Design, with three other classmates. The firm dealt with product, retail and interior designing. The partners eventually went their own way and Mukherjee floated Quetzel Design. He has 160-odd people working for him and the firm grosses more than Rs 10 crore.
"The growth in the Indian furniture industry has been fabulous. The tremendous demand for home and office furniture is reflected in the annual growth rate of 30 per cent," says Manohar Jhunjhunwala, director, marketing, at furniture importers Durian Industries Ltd, Mumbai.
India's economic boom has led to the mushrooming of offices and homes. That, in turn, has triggered a growing demand for furniture designers. Furniture, industry experts stress, is not just about utility but relies heavily on design. And for a designer, this is a sector that is full of challenges and opportunities.
People no longer confine themselves to Indian models in furniture design. "When someone wants to do their interiors in the Mexican style, we require furniture with a Mexican look. And there arises the need for a furniture designer," explains Deepak Thacker, proprietor, DIA consultants and Interiorarch, a Mumbai firm of architects.
A career in furniture design requires an in-depth knowledge of subjects such as technology (material and structural science), acoustics, performance, management of finance and customer needs and comforts. "But technical knowledge isn't a prerequisite," says John Mathews, head of the department of furniture and interior design, Srishti School of Art, Design and Technology, Bangalore.
Shaping dreams
However, Krishna Shashtry, dean, faculty of design, at the Ahmedabad-based school of architecture, Centre for Environmental Planning and Technology (CEPT), says, "Only those who opt for science in Plus Two can take up the five-year programme as it is necessary for one to understand science to make comfortable furniture."
So what does furniture design as a profession entail? As a designer, one would need to carry out research to develop ideas and monitor what's in vogue. The viability of designs is also considered. "A furniture designer must keep both aesthetic appeal and functionality in mind," says Pooja Sahai Narsinghani, furniture designer, Enhance Design, a Calcutta-based company dealing in both furniture and interior design.
Furniture is not just sofas, tables and beds. Professionals may also have to design furniture-related products such as lamps, figurines or artefacts. "Also, as a designer, one should be able to use materials ranging from commercial plywood and decorative plywood to panel doors with designer PVC sheets and an imported veneer," says Anju Haldar, academics head, International Institute for Fashion Designing (INIFD), Calcutta. One needs commitment and creativity as well as technique to make a mark in this field, stresses Shabnam Alam, furniture designer and owner of Design Studio, Calcutta. "As a designer, one is often supposed to select and assemble furnishings as per the mood and colour scheme of the house, keeping the client's budget and lifestyle in mind," she says.
To bag a degree, you can head for institutes such as the NID, Ahmedabad, CEPT, Ahmedabad, Srishti School of Art, Design and Technology, Bangalore, South Delhi Polytechnic for Women, New Delhi, Apeejay Institute of Design, New Delhi and the Indian Institute of Crafts and Design, Jaipur. For a diploma from any well-known institute, one has to shell out at least Rs 1.5 lakh annually. However, the course fee at CEPT is nominal as it's a government-run institute. Courses are almost free for women at CEPT, in keeping with Gujarat government policy, says Shastry.
In Calcutta, courses are offered at the Birla Institute of Liberal Arts and Management Science (BILAMS) and INIFD. Students get a diploma or a degree in design or interior designing. Armed with a degree, one can opt for teaching, work with architectural or furniture design firms or set up one's own studio. Major firms such as Godrej, IKEA, Durian, Collins India and Design Space employ furniture designers. Companies also take trainees. "While selecting trainees, we have a look at their models, sketches and the institute," says Manjuri Sahai, proprietor, Enhance Design.
"Furniture design is a fairly unknown domain. But one with a feel for material, technical knowledge and a sense of style can make it big. But honestly, it's entrepreneurship that helps one to establish his or her brand," says Mathews, who is also the head of Dovetail Furniture Pvt. Ltd, a Bangalore-based company. Mathews, for instance, set up his firm after passing out of NID.
A furniture designer can earn between Rs 20,000 and Rs 30,000 a month, says Narsinghania. She adds, "Salary varies according to company size but if one has a studio and manages to carve a good reputation, the sky is the limit." Graduates from reputed institutes get better pay and placements, says Sahai.
Since the demand for professional designers is rising, students can make the most of it. This is one way in which they can shape their dreams — literally.