How to win a full scholarship to a US med school
Pampa Mondal cracked five full scholarships for a PhD in the US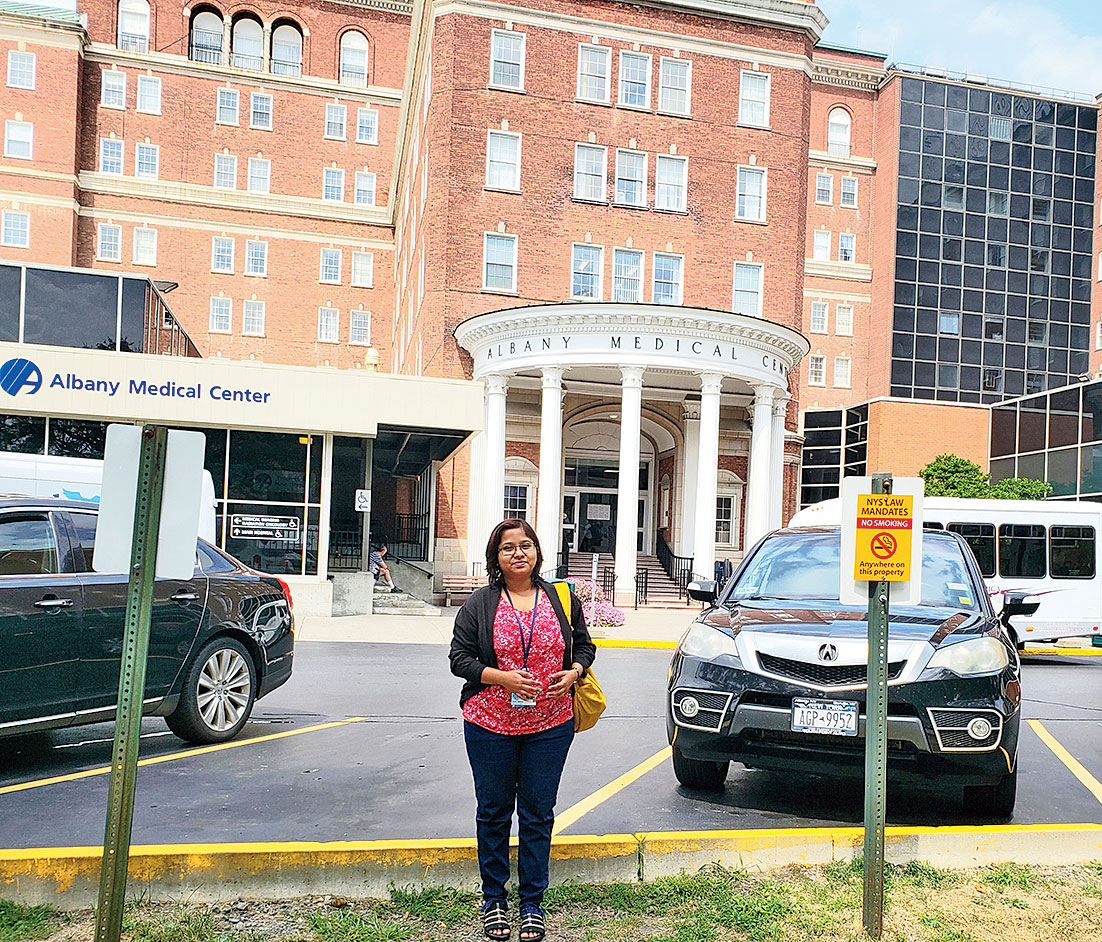 ---
|
Calcutta
|
Published 09.12.19, 07:48 PM
---
I landed at Albany Medical College in New York, US, in July to do a PhD in molecular and cellular physiology. Called Albany Med by locals, it is northeastern New York's only academic health sciences centre. The college and hospital has four departments that facilitate discoveries that translate into medical innovations.
I was able to crack a pre-doctoral fellowship — a full scholarship that covers tuition fees and living cost — because my research topic closely matched my research experience in Calcutta. I had worked on immunotherapy, a type of cancer treatment that boosts the body's natural defences to fight cancer. I had worked on quite a few short projects at the Chittaranjan National Cancer Institute (CNCI) and the last one involved the effect of a glycoprotein extracted from neem leaves on our immune system.
This project appeared to fascinate almost all the US research labs to which I applied. Of the seven universities, five — Kent State, Wesleyan, Louisiana, Southern Illinois and Albany — offered full scholarships. I opted for Albany because of its location in New York and the research topic.
I chose the US because of its good research environment and superb infrastructure. Compared to those in Canada and Europe, US institutes provide more full scholarships to PhD students. In addition, their coursework is flexible, there are more work opportunities and they have lab rotation facility — you can work in a handful of labs in the institution before selecting your PhD thesis lab. If you don't get along with the principal investigator or the project doesn't match your experience, you can shift.
It was the absence of a lab rotation facility in Calcutta that forced me to apply for a PhD abroad. Even though I managed to get a research fellowship, I had to abandon my doctoral research here as I was uncomfortable in the lab.
I started preparation for IELTS and GRE in 2017. Under the guidance of advisers at EdXCare International, I also started looking for PhD positions with full funding in the US. Meanwhile, I joined CNCI for mini research projects.
Before I cleared the CSIR-NET exam in 2015 and got a research fellowship, I did BSc in zoology from Netaji Nagar College for Women in Calcutta, followed by MSc from Calcutta University. Since the beginning of my graduation, I knew that I wanted to get a doctorate degree. I wanted to be a scientist and do research; I didn't want to be a professor.
I am enjoying life in the US. I stay outside the campus because it is cheaper. My fellowship amounts to $28,000 (almost Rs 20 lakh) per year which is more than enough. Every month, I spend around $600 (nearly Rs 43,000) on living expenses and $200 (about Rs 14,000) on food. I love cooking, so I cook for myself on weekends. There are plenty of stores around here that sell Indian food items. Sometimes I visit local restaurants too.
I don't feel homesick, nor did I face any difficulty in adjusting here. I find the local people very helpful. Albany is a beautiful city with vintage houses and I love walking its streets. I often stay out till 11pm and never feel unsafe. I also love to read books. Although young people here party a lot during weekends, it is not something I like to do.
Nonetheless, Albany Medical College has helped me feel at home here.