Life after the lockdown
A to-do list for students confined to their homes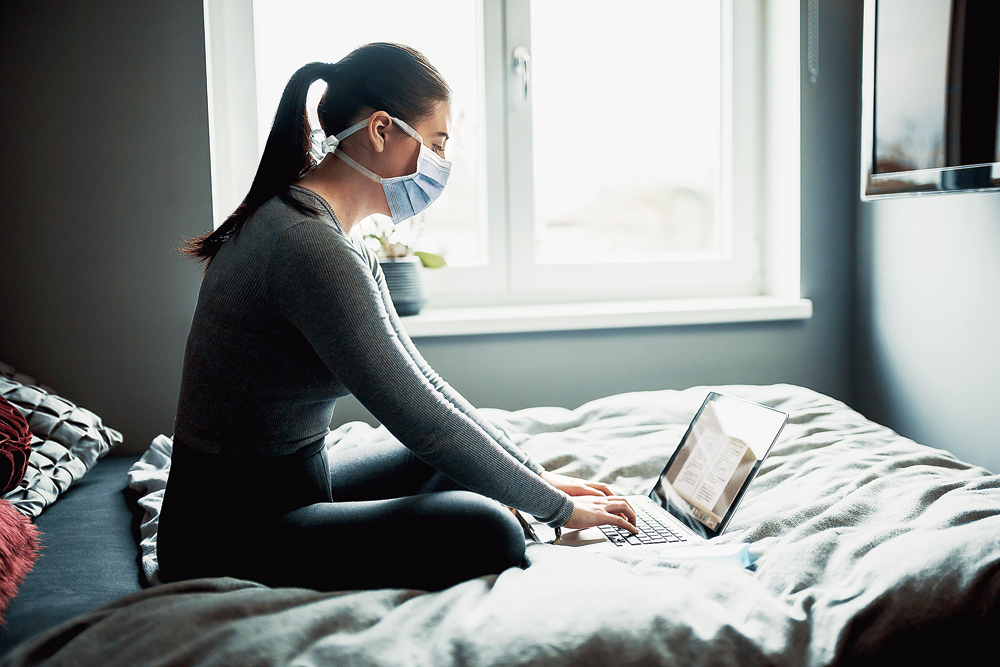 ---
---
A fortnight ago, the government of West Bengal announced that all educational institutions will remain closed until April 15 in the light of the coronavirus pandemic. Later, even the board exams were suspended. And then came the announcement of the 21-day nationwide lockdown.
It is true that in the prevailing circumstances, some schools and colleges have switched to e-classes, but for most students, this is an unprecedented situation.
While a break from studies for three weeks and more under normal circumstances is welcome, the promise of fun pales in the face of the social distancing clause. And yet what must be done must be done, and if done with the right spirit and some imagination, it can be productive even if fun is a long shot.
Here is a list of activities you might want to consider.
Lend a hand
Remember it is an unprecedented situation not just for you, but for the whole family. The first couple of days will be spent just getting used to the idea of a lockdown. And while you acclimatise to the new world scenario, you might want to help other members too.
No one expects you to pick up the entire load, but even a little help making the bed or taking care of the pending dusting or doing the dishes or watering the plants will make a difference.
"Students can do non-fire cooking at this time. Learn how to make sandwiches, salads, basic everyday items such as rotis, rice, dal, khichri and so on. Older children could learn to bake too," says Sucharita Roychowdhury, headmistress of Calcutta's Silver Point School.
You could always capture your expertise on a vlog (video blog) and post it on social media or simply put it all down in a journal and set it aside for posterity. After all, you are living history.
Learn a language
During this time, you are most likely being exposed to a lot of world news updates because of the commonality of the situation. Why not pick a country, other than your own, whose news moved you in particular? Why not proceed to learn the language spoken there? Says Debasis Banerjee, a teacher at St. Thomas Boys' School, Kidderpore, "There are foreign language apps that can help children learn easy phonetics, simple words, sentences and numbers."
Duolingo, Busuu and Memrise are some such free apps which you can use to learn any language from Mandarin to French and Spanish to Japanese. How will this help? One cannot say for sure. But then you would have understood while living through this crisis that the world is a more connected a place than we realise. As an invested world citizen, learning a new language will never go to waste.
Music therapy
Few things can soothe like music. Once again, remember this is not a letting-your-hair-down kind of situation but a time when one needs to be all charged and ready to handle uncertainties. You might be surprised to find that the trippy happy sounds that lifted your mood earlier now seem to jangle the nerves — yours and those of others who are cooped up at home with you.
It is then not a bad idea to pick up whatever instrument you might have access to. Fourteen-year-old Himanshu Agarwal has a guitar. He had intended to learn to play but there never seemed to be any time. Well, he is at it now.
Fortunately, the Internet is full of free information, tutorials and easy guides. In fact, Himanshu points out that tutorial websites that would charge for lessons, such as Udemy, are now giving special discounts. If you are keen to learn but do not have an instrument, there are websites that teach virtual drumming and guitar playing on your PC too.
Virtual trips
Actual public spaces might have shut down, but Google Arts and Culture has partnered with many museums and galleries around the world to offer virtual tours. These include the Van Gogh Museum of Amsterdam, the Louvre in Paris, the National Gallery of Art in Washington DC and the Museum of Fine Arts in Budapest.
Many national parks and zoos around the world are also offering home safaris. A simple search on Google will lead you to the videos, some of which are interactive, some involve a 360 degree video tour and some others, tours with voiceovers. There are zoomable photographs and slideshows as well. You can also visit aquariums or take that field trip to a farm. Check out Nasa's website, which is offering to take you to Mars. Make a list and go globetrotting virtually!
Digital detox
Finally, use this lockdown trial to get real about the virtual. Bring back your lost childhood board games of Ludo, Snakes and Ladders, Chess, Monopoly and have some family activity to keep everyone busy and together. Read a book. Chat with the parents and other family members.
Life is giving you the opportunity to pause and breathe. Instead of wasting time, make the most of it.