Police 'terrorising' north-east Delhi neighbourhoods in name of probe
They are picking up our boys, threatening to infect them with the virus, say women in video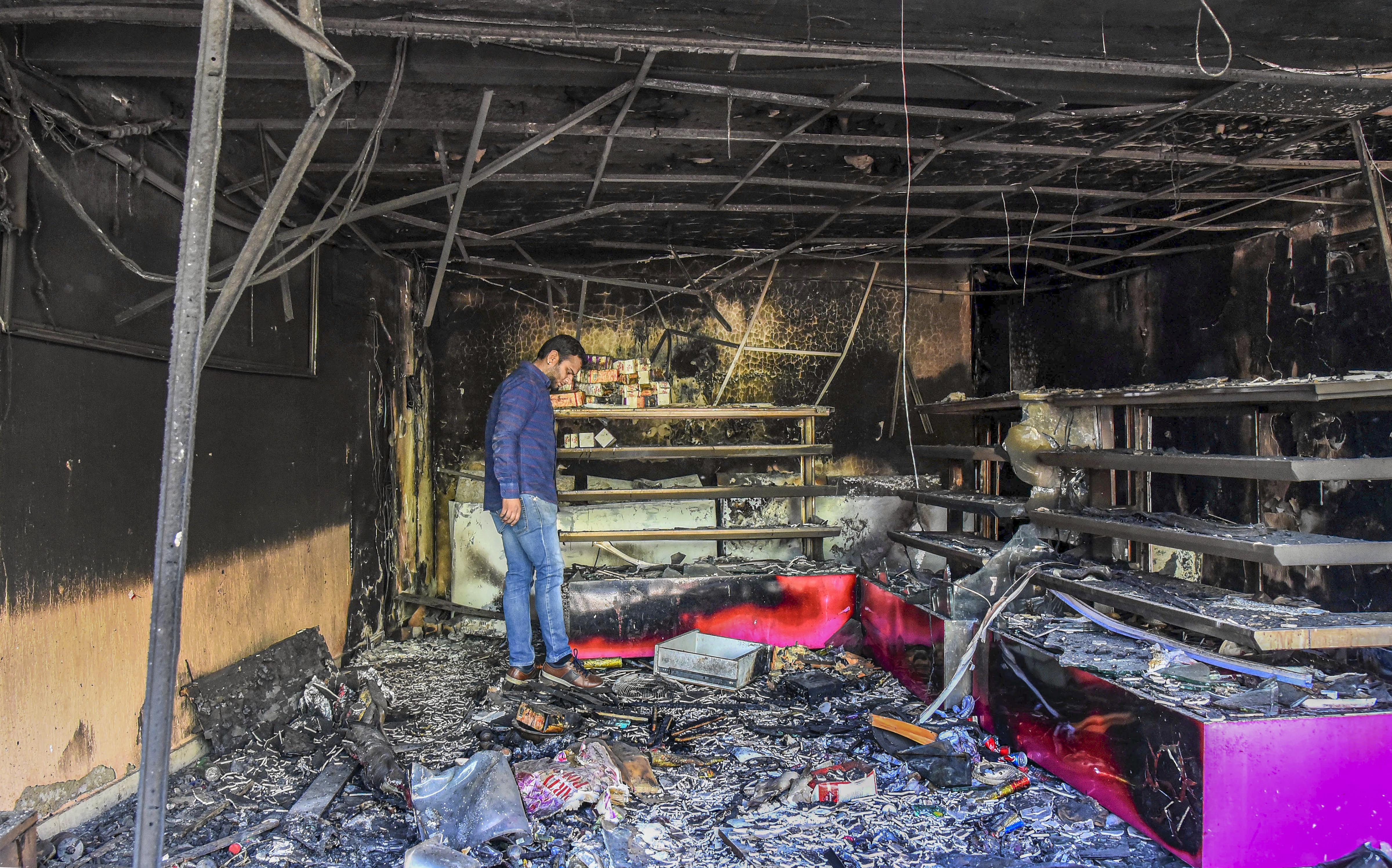 In this Sunday, March 1, 2020, file photo, a man stands in a burnt shop, set ablaze by rioters, in the violence-affected area of northeast Delhi. Muslims in the area have alleged that police were tormenting the community on the pretext of investigations into the riots.
PTI
---
New Delhi
|
Published 07.04.20, 04:22 AM
|
---
Muslims living in north-east Delhi areas that were rocked by sectarian violence earlier this year have alleged that police were tormenting the community on the pretext of investigations into the riots with several young men being picked up form homes and threatened with forced exposure to those with the cononavirus.
Police have, however, vehemently denied charges of bias and harassment, saying they were only doing their job and that investigations into the February violence in the north-east Delhi neighbourhoods would not be called off due to the lockdown that is in place to prevent the spread of the virus.
Khajoori Khas, Chandbagh, Mustafabad, Gokulpuri and Shiv Vihar bore the brunt of the targeted violence in February that left at least 53 dead and several hundred injured.
A video has surfaced in which a group of women, purportedly Muslims, is seen complaining in anger against police high-handedness.
"Yeh kis baat ka lockdown hai, main mahoday pradhanmantriji se poochna chahti hun… Humare ghar me ghuske zabardasti humare bacchon ko le jate hain (What kind of a lockdown is this, I want to ask the respected Prime Minister… They enter our homes and forcefully take our children)," said a woman in the video, apparently recorded on the night of April 3.
The woman, Imrana, a resident of Mustafabad, said her nephews were picked up by 10-15 policemen in civil dress. She said police were blackmailing families like hers, first by threatening to "infect" them with the coronavirus by herding them with infected patients, and then by asking for money, in the range of Rs 1 lakh and Rs 2 lakh, to free them.
"Yeh Mustafabad me sare aam gundagardi chal rahi hai. Hum lockdown ka palan karna chahte hain aur yeh log lockdown ki aad me hum logon ko pareshan kar rahe hain (This is hooliganism in broad daylight in Mustafabad. We want to abide by the lockdown and these people are harassing us on the pretext of a lockdown)," she says in the video.
Police have clarified that they have been ordered not to stop investigations into the February violence.
"Abhi hum ne uthaya aur abhi aapne poochna shuru kar diya (We've just started picking up people and you are already asking us questions)?" Karawal Nagar police SHO Sajeev Kumar told The Telegraph online on Saturday night.
"Yes, we'll pick them up, we'll take action, we'll interrogate them on the offence," Kumar said, adding that the lockdown would not stop them from doing their work.
There has, however, been no let-up in complaints against the police. In Shiv Vihar, one of the worst affected areas in the violence, police were allegedly picking up complainants to dissuade them from filing FIRs.
A local resident, Hashim Ali, whose house was looted before it was set on fire, registered an FIR at the local police station, accusing some of his neighbours. But late night on Saturday, police picked up 54-year-old Ali and accused him of inciting violence.
Ali's lawyer, Mohammad Noorullah alleged the police were trying to scare off victims from filing FIRs. Noorullah, who also represents Jamiat Ulema-e-Hind, is handling several such cases from Shiv Vihar.
"There are people who are ready to file FIRs against specific people but because of the coronavirus pandemic and the lockdown they can't go to register these. These pressure tactics are being used to discourage them," said Noorullah, who represents Jamiat Ulema-e-Hind, and several riot victims of Shiv Vihar.
According to the president of a residents' welfare association in Mustafabad, as many as 14 boys had been picked from his locality.
In Chandu Nagar, near Khajoori Khas, local residents said at least 10 had been picked up by police. According to a news report, Delhi police had picked up close to 2,000 individuals till March 7 to investigate the riots.