Gucci Cosmogonie shines bright with glamour and spunk
For this collection, Michele draws inspiration from Walter Benjamin and Hannah Arendt's touching 1968 essay for him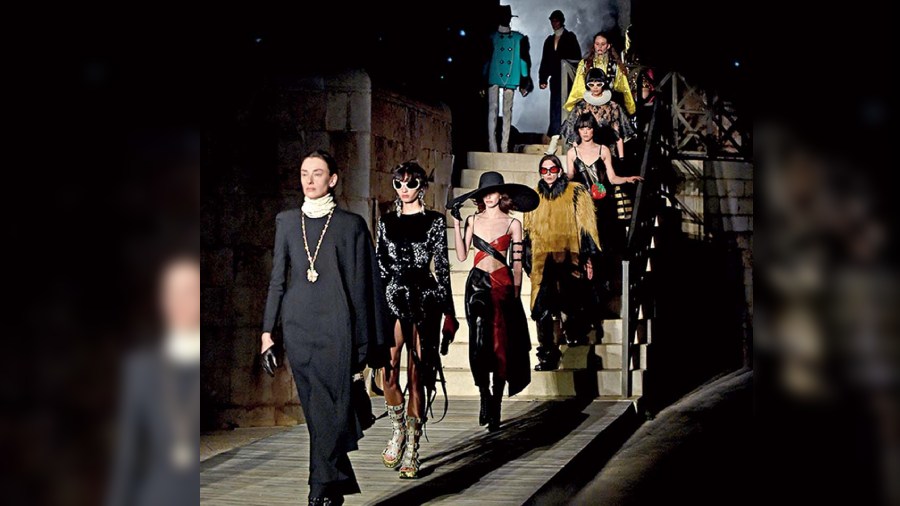 ---
Published 19.05.22, 12:51 AM
|
---
What's a cruise show without a spectacular venue and when it's Gucci's Alessandro Michele, you know it has to be nothing short of exactly that adjective. The chosen venue for this show was the stunning Unesco World Heritage Site-tagged Castel del Monte in Puglia, Italy, which is a 13th-century citadel on a hill in Andria. And from this vantage point, a group of select guests of the House could witness the magic unfurl in the form of Cosmogonie. For this collection, Michele draws inspiration from Walter Benjamin and Hannah Arendt's touching 1968 essay for him. "Benjamin, after all, is a collector of quotations. He discovers them from the depths of the sea and he brings them back on the surface of the water, as rare and precious pearls. He reassembles them, like shreds of thoughts that need to be recomposed, reconstructed, updated. Retying knots through a passionate remodelling, unveiling interrelations and articulations. Such an extraordinary ability to illuminate connections, which would otherwise be invisible, makes Benjamin the paradigmatic figure of those thinking in constellations. A term that he turns into a philosophical concept. What can seem, at first sight, atomised and dispersed, like the stars in the sky, through Benjamin's eyes becomes an assembly of complicity: a connective structure that lights up the darkness through the epiphany of a constellation," says Michele's notes on his inspiration for this collection. "The constellation for Benjamin is a sudden apparition, full of tensions. It is what comes out of the capacity to draw conjunctions between fragments of worlds which would otherwise be dispersed: a feverish dust of quotations that burns in the possibility of a contact," he added. The collection and the venue seemed to be a nod to a glamorous lifestyle studded with style and travel. Yes, the pandemic kept us indoors for a while but it's time to venture out, albeit in style — Michele seemed to postulate. The clothes, therefore, were oozing with glamour. From sleek overcoats and jackets to stripes and chainmail, the clothes made a strong case for going out. Sequins scattered like confetti (or constellations) on designs sparkled like gems while the tailoring played between fluid and structured silhouettes — a testament to Michele's sartorial genius. Denims and puffer jackets also made appearances to show Gucci's versatility. And the accessories were a different story unto itself from the House signatures to metal nose chains. Afterall, nobody does spunk, elegance and style together like Michele.
While the show unfolded under a dramatic red moon, the galaxy of stars at the show had their own shine. Think Dakota Johnson, Lana Del Rey, Elle Fanning and Jodie Turner-Smith dressed in Gucci finery, gracing the FROW. The fact that Gucci gifted (adopted) a star to each guest elevates the experience of #GucciCosmogonie in true-blue Michele style — he is the sartorial showman and we are lucky to be the onlookers in his universe!
Pictures: Courtesy of Gucci