Abhishek Dutta unveils his new resort wear line with an underwater shoot
From tribal-print bikini to chanderi cold-shoulder crop top, designer experimented with his resort wear line and came up with five looks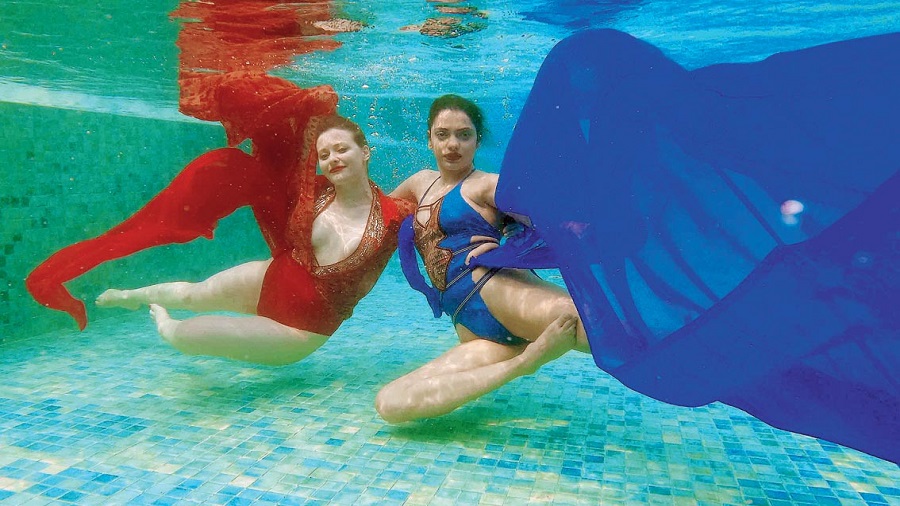 ---
---
From tribal-print bikini to chanderi cold-shoulder crop top, designer Abhishek Dutta experimented with his resort wear line and came up with five looks for Subhamita Banerjee and Solveig O for an underwater shoot at the Swissotel swimming pool. Abhishek decodes the shoot experience as well as the collection for The Telegraph.
The shoot: The surreal and the calmness under water always excited me. Though it was quite challenging at first, but as we started off, the shoot turned out to be a most memorable one. This has been on my bucket list for a long time. Getting the right pool was also important, also the right people and the right attire. All the three things had to fall in place. Till I saw the pictures, I did not know how the shoot will come out. It was trial and error for me. People have seen different shoots but this is something new and it will set a benchmark altogether.
The outfits: I keep on doing resort wear; it is a signature line of mine. This time I have experimented with it. We are calling this collection the Tribal Junkie. The outfits had a lot of tribal prints. Underwater has this fantasy feel and we wanted to do something out of the box. The swimwear and some of the resort wear had a lot of detailing, which is visible. There is a lot of hand-embroidered, metallic sheen, and sequin work. The looks are modern yet have a tribal touch to them. I have used all natural fabrics like cotton, linen, and georgette. The outfits are comfortable and not very fitted. Only the swimwear are body hugging. I have used chanderi as ruffles. This is a fun collection. Whether it is underwater or a day look or resort look, anybody and everybody can wear it. You just need to layer it up differently.
Challenges: The basic challenge was getting the perfect shot. It's not very easy to pose under water, especially because the water was really cold. It takes time to get comfortable inside the water. It took a little longer than usual to shoot this. In a normal shoot you can see the pictures immediately but here you need to wait. That is also a challenge in an underwater shoot.