A lookbook for dressing cool and casual yet oomphy, this Durga Puja
Life has to be effortless, a basic principle which has got lost in the pandemic of social media. There has to be simplicity in how we embrace life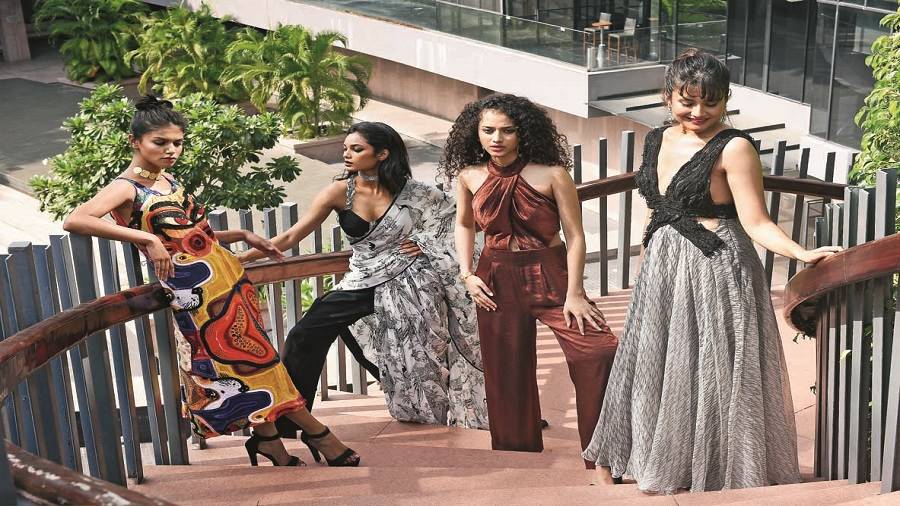 ---
---
One of the biggest takeaways of the pandemic has been striving for a simpler way of life and going back to the basics. We have had to make peace with our vanity and ego and have been made to fall in line. The shopaholic in all of us hasn't filled her cart in so many months. The salonaholic has made peace with the growing bush of the upper lip. Acceptance. And, we are telling ourselves, it's just alright. Life has to be effortless, a basic principle which has got lost in the pandemic of social media. There has to be simplicity in how we embrace life.
So, while planning this shoot at Novotel Kolkata Hotel & Residences, we have done away with everything OTT, keeping it uncomplicated and have gone for practical and easy styles which are DIY. The shoot wrapped up in two hours straight. One of our fastest. We were all back home for lunch.
Back to basics. You get the drift.
Mood: Bringing the house down… with a house party
(L-R)
On Ankita Singh: A A-line dress (Bobo) with a tribal choker (The Atrium).
On Juhi Ghosh: A pre-stitched draped sari with pants (Eshaani Jayaswal) and thick choker (Divinus Creations).
On Diya Palit: A rust jumpsuit with a sexy cut-out and oversized hoops (both from The Atrium).
On Srija Chakraborty: A kind of flowy midi dress (Eshaani Jayaswal) made of organza and sleek earrings (Divinus Creations).
Hair and make-up: Juhi's eyes got more intense as did her mouth for which our make-up pro for the day, Prasenjit Biswas, chose dark plum, and her hair was textured. Ankita got a topknot and Srija a messy ponytail.
Stylist notes: "We have covered all the styles. Ankita's was sleek and slender. Diya's was for the bold woman and someone who loves warm tones in cool styles. Juhi's pre-stitched sari was made special with the small details like the embroidery on the shoulder that added glamour to it. This is for girls who love saris but with a twist. The cut-out on Srija's dress gives it a sexiness and it is great for a house party," said Ankita Banerjee.

Points to remember from Ankita Banerjee
Accessorise. Put in a minimal accessory. Like the satin scarf or belt.
Long pieces of jewellery adds edge.
Go for easy silhouettes.
Subtle make-up.
Go for shimmer but not glitter.
Try using fanny packs.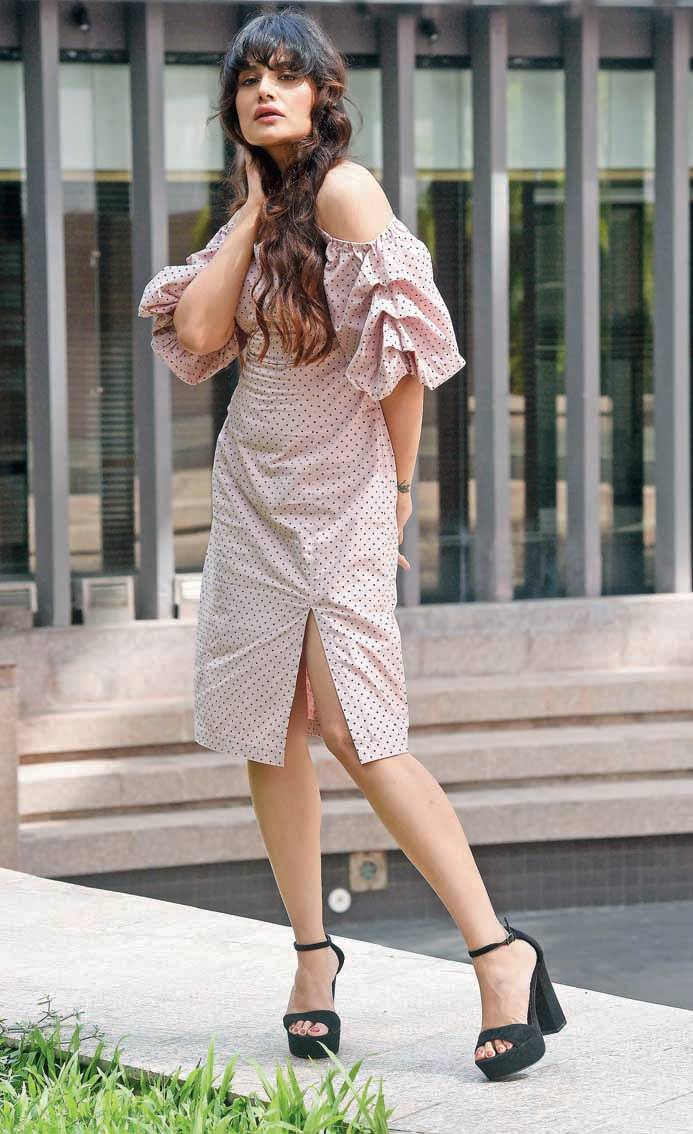 Mood: Brunch beauty
On Srija: A simple polka-dotted dress (Sanchita Saha Label) teamed with heels and minimal jewellery (The Atrium).
On Juhi: A crepe blouse and scrunched-up trousers (Payal Singhal, available at Styleograph by Chikky Goenka) + scarf + beaded neckpiece (Silver Birds).
Hair and make-up: Juhi's eyes got a bold black winged look complemented by nude lipstick. Srija wore "simple nude eyes" with lots of mascara and a nude pink lipstick.
Stylist notes: "Srija's dress is pretty and feminine with a cold shoulder. It's for those who like to keep it understated. Juhi's outfit is simple, but we styled it differently… with a tie-up knot, a nice long neckpiece with the same coloured stones. I kept in mind that colour-on-colour works at times," said Ankita.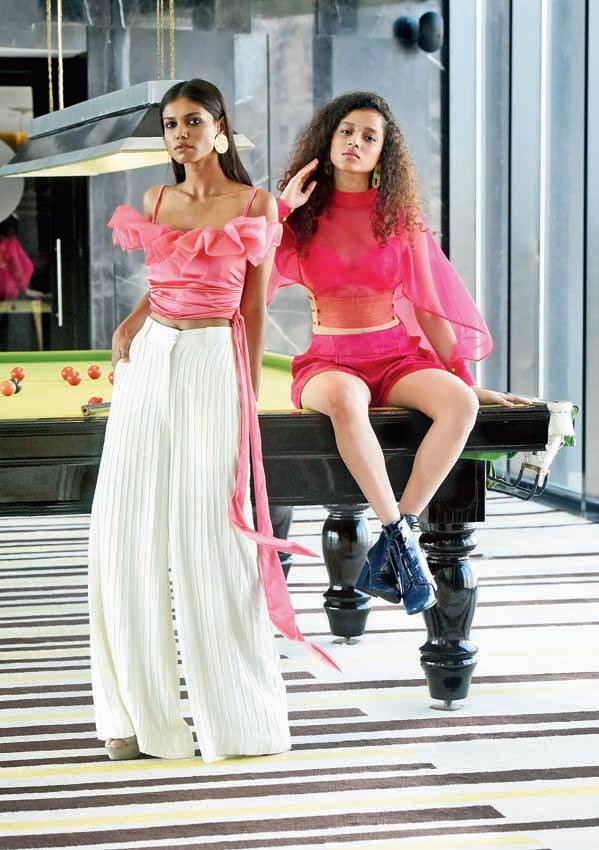 Mood: Pubbing in hot pink
On Diya: Pink box-pleated silk shorts paired with an organza blouse (Sanchita Saha Label), candy yellow earrings and boots.
On Ankita: Satin organza ruffled top teamed with white flared pants (The Atrium) and chunky earrings (The Atrium).
Hair and make-up: Prasenjit gave Diya a touch of a metallic eyeshadow. "It looked fresh as well as a little festive," he said. A very light shade of pink on the lips completed the look.
Ankita's eyes were done up with brown eye pencil. "It was kind of smokey, which was not looking too much but natural," he said. A nude lipstick complemented the look.
Stylist notes: "It's out there. Even though Ankita is wearing trousers, she will stand out in a crowd. Diya's organza pink top is so versatile and great for the heat. The slit makes it easy-breezy," said Ankita.

Points to remember from Prasenjit
Minimal is always more for me. Classic minimal make-up is healthy dewy skin with not too much foundation, nude eyes with lot of mascara. Use a good moisturiser before doing make-up. You can go for a little bit of blush and shades of nude lipstick, but at the same time if you are a lipstick person, you can go for a nice red colour. Very classy. And if you like to play with your eyes, go for the black winged and keep your lips nude.
Put a nude shade of eyeshadow according to your skin tone.
You must have a lipstick, a concealer and mascara on you.