Four new releases to power you through the weekend
Lucky Ones, There Were Bells, Despecha and Hold the Girl make The Telegraph list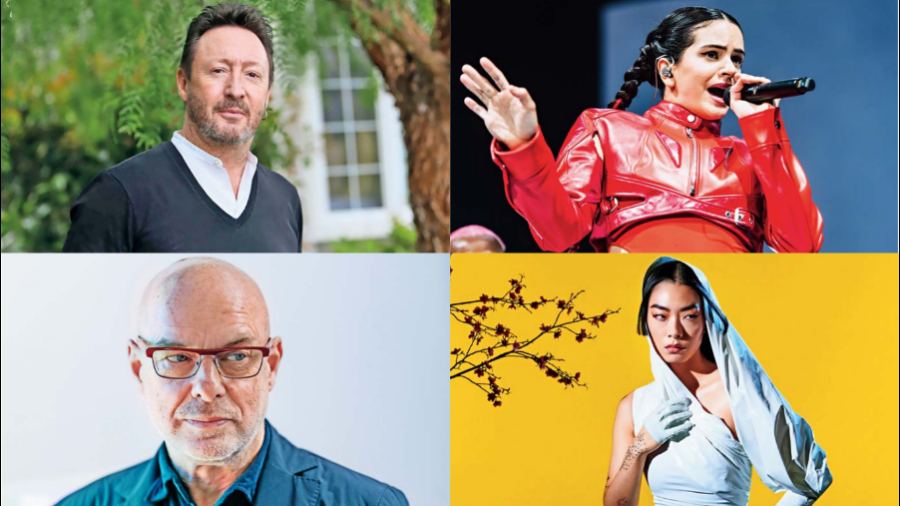 ---
Published 06.08.22, 03:04 AM
|
---
Lucky Ones by Julian Lennon
Julian Lennon's up-tempo track is about his ability to "inspire hope and unity" and comes with an anthemic hook while his passion for climate action comes through with lyrics calling for a revolution. John Lennon's son sings: I feel a change is coming, I know/ A new revolution's knocking on my door/ I feel a change is coming, so strong/ It might not be forever, but I know that we're the lucky ones. His forthcoming album's title is inspired by a Beatles song written by Paul McCartney titled Hey Jude.
There Were Bells by Brian Eno
This is Brian Eno's way of reminding us that global warming is real. Eno wrote the song for a performance by him and his brother Roger at a UNESCO World Heritage site — the Acropolis — in August 2021. It was 45 degrees in Athens on the day of the concert with wildfires raging just outside the city: "I thought, here we are at the birthplace of Western civilisation, probably witnessing the end of it," he said. The legendary musician is also working on a few projects — a new documentary and a series of Earth Day benefit songs while a new album — FOREVERANDEVERNOMORE — is coming this fall.
Despecha by Rosalia
Rosalia has a catchy new song which draws on Dominican merengue and mambo. The verb "despechar" means something like "to spite", the 29-year-old uses it to put forward a theme of revenge and sings: I'm busy forgetting your failings. Meanwhile, her album, Motomami, has received praise from Cardi B and Barack Obama while Lorde wrote in her newsletter: "I've listened to the Rosalia album every day since it came out. F*ck, it's so good, I gagged when I heard that interpolation of Archangel, Hentai is genius, Sakura… projects like this remind me why I live for pop music — at its best, there's nothing better."
Hold the Girl by Rina Sawayama
Rina Sawayama has put out the official video for her new single Hold the Girl while the singer's new album of the same name is set to release next month. In the Ali Kurr-directed video she tries to escape a seemingly haunted home but she's pulled back inside by a mysterious force while she sings: Sometimes I just wanna run away, leave behind the old me, start again. The 31-year-old has earlier said that the song was written after she'd "gone to therapy and had a revelation. I was crying before going into the studio."