Toss up a salad this summer with these simple recipes
Salads are the way to go for nutrition and hydration in the hot months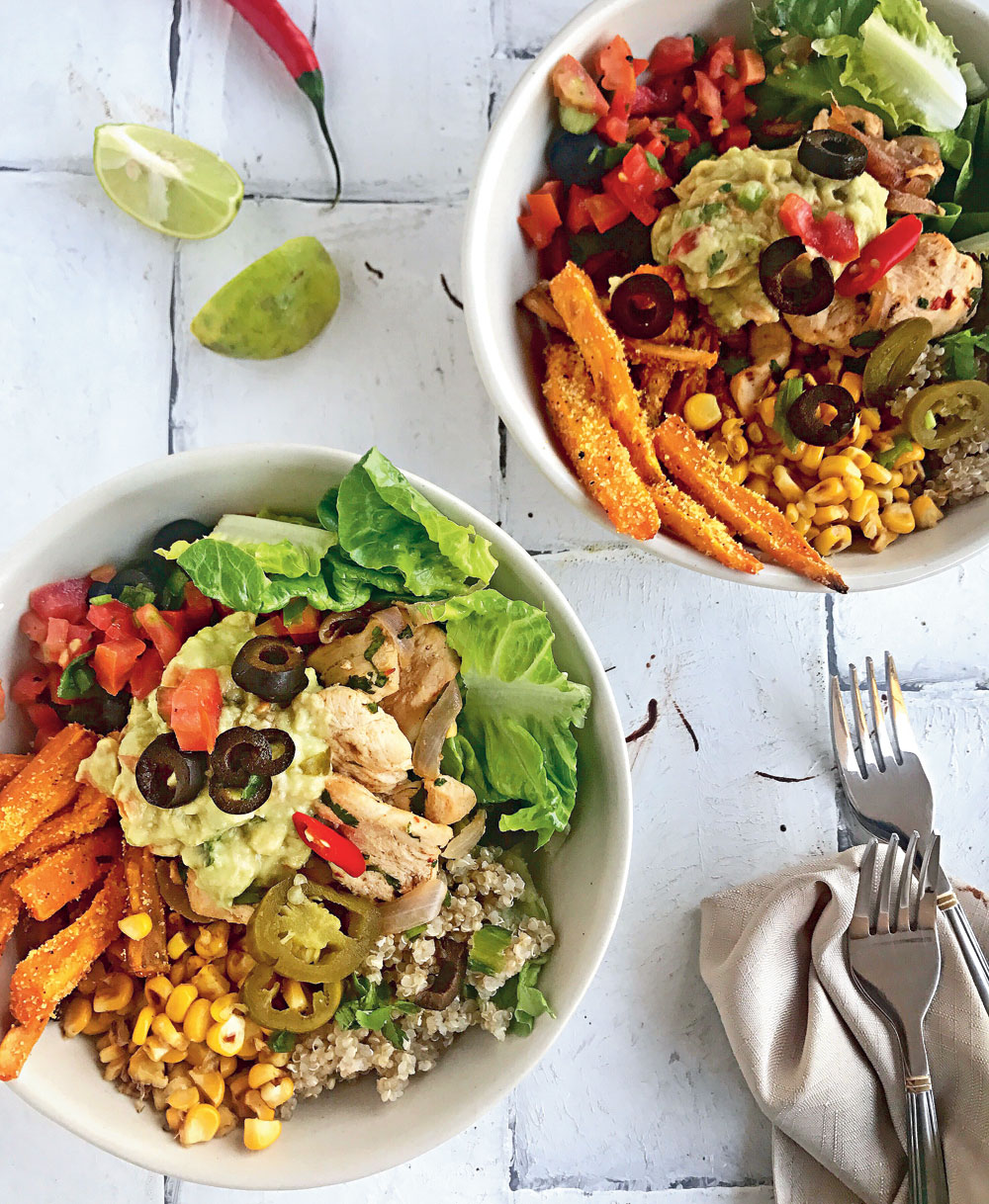 Mexican Salad Bowl
Image credit: Natasha Celmi
---
Published 06.04.19, 02:51 PM
|
---
Summer is here and the mercury will gradually rise over the next few months while you pray for it to stop. In such conditions, it is imperative that you keep yourselves and your families cool, hydrated and healthy to avoid the common issues such as dehydration, upset stomach and heat stroke.
I suggest you forget hot foods for the next few months. You would prefer cold meals of seasonal fruits and vegetables. Downsize your meals and include lots of hydrating foods like watermelon, cucumber, tomatoes, coconut water, mint and lime. Nuts and seeds are great lighter options for snacking and also a powerhouse of energy.
Apart from staying hydrated, you need extra energy in the hot weather to get you through the day with your work and other daily tasks. Hence, the importance of having balanced meals which give you the goodness of each food category. A lot of my readers and students talk about low-carb diets or eating solely fruits and veggies to stay "in shape". That is a myth as you need the carbs and protein to give you energy or you will be tired, lethargic and weak. Don't be lazy! Eat well, nourish yourself and go exercise. Half an hour of any form of exercise daily is good enough to keep you mentally and physically fit. Believe me, I speak from personal experience.
In my opinion, one should focus on salad bowls during this season. Salads do not mean some bits of raw cucumbers, tomatoes and wilted lettuce thrown together. Today, with so many healthy grains and organic ingredients available, you can make a very nutritious and satisfying meal. Cold dips complement salads very well.
Here's how you compose your salad bowl meal using ingredients lying in the fridge and the pantry — it should include a protein, carbohydrate in the form of grains, fresh veggies and fruits of various colours and a light natural dressing just to enhance the flavour of the ingredients and not overpower them. Finally, top it all off with one or more fresh herb and nuts and seeds for crunch, iron, omega 3 and good fats. "Eat the rainbow" is what I preach as the vitamins in each fruit or vegetable vary with the colour. It is not only about eating your greens... your body needs the yellows, reds and purples too!
Vegetarian proteins in the form of cooked lentils, chickpeas, rajma, tofu, paneer, cheese are great to bulk up your salad. Grilled chicken and fish or eggs are other options but given the high temperatures, I would recommend cutting down on the non-vegetarian elements.
In an earlier article I had talked about millets and ancient grains. Add a cup of cooked millets to a bowl of veggies and greens and you have a complete meal fortified with loads of iron and good carbs. Stock up on small bags of quinoa, barley, red or black rice, foxtail millets and others so you have plenty of variety on hand.
Dressings can be made interesting and light. A classic light vinaigrette of good extra virgin olive oil, salt, pepper and fresh lime. Avoid vinegar as it is synthetic and very acidic. I love a dash of orange juice or Dijon mustard for another dimension. If you are one of those who cannot do without chilli, feel free to add some fresh chopped chillies, Tabasco or Sriracha sauce for a kick. Asian-inspired salads are very in these days. All you do is combine all the elements with some thin glass noodles or brown rice and toss it with a dressing of light soya sauce, chillies, lime and honey. If you prefer something creamy and cool, natural yoghurt is a great base for a dressing. Oh and no clumpy, 'filled with preservatives' mayo please!
Here are some of my favourite summer recipes to help you plan your healthy food regimen. You can substitute elements as per your convenience and taste. Simply follow my guidelines above and have fun being creative cooks! Stay tuned for my next article on summer soups, dips and appetisers.
CHICKPEA MILLETS SALAD

You may also add a cup of kidney beans (rajma) in addition to the chickpeas for a protein-packed salad bowl.
Ingredients
1 cup boiled chickpeas
1 cup cooked foxtail millets
1 green chilli, finely chopped
¼ cup chopped spring onions
Chopped parsley or basil
1 cucumber, diced
1 small red pepper, diced
1 tomato, finely diced
Feta cheese, crumbled (optional)
The dressing
Juice of 1 lemon
4tbsp extra virgin olive oil
½tsp minced garlic
Dash of Tabasco
½tsp cumin
Chilli flakes
Salt and fresh pepper
Method
Combine all the ingredients in a bowl.
Mix the dressing and pour over salad. Leave aside in fridge till ready to serve. Adjust the salt, lime and chilli to taste.
Crumble over feta cheese when ready to serve. Natasha Celmi is a culinary specialist and food stylist based in Bangalore. Reach her on Instagram @cucinamiabynatasha or www.cucinamiabynatasha.com. Introducing my YouTube channel cucinamiabynatasha. Do visit and subscribe for easy step-by-step recipe vidoes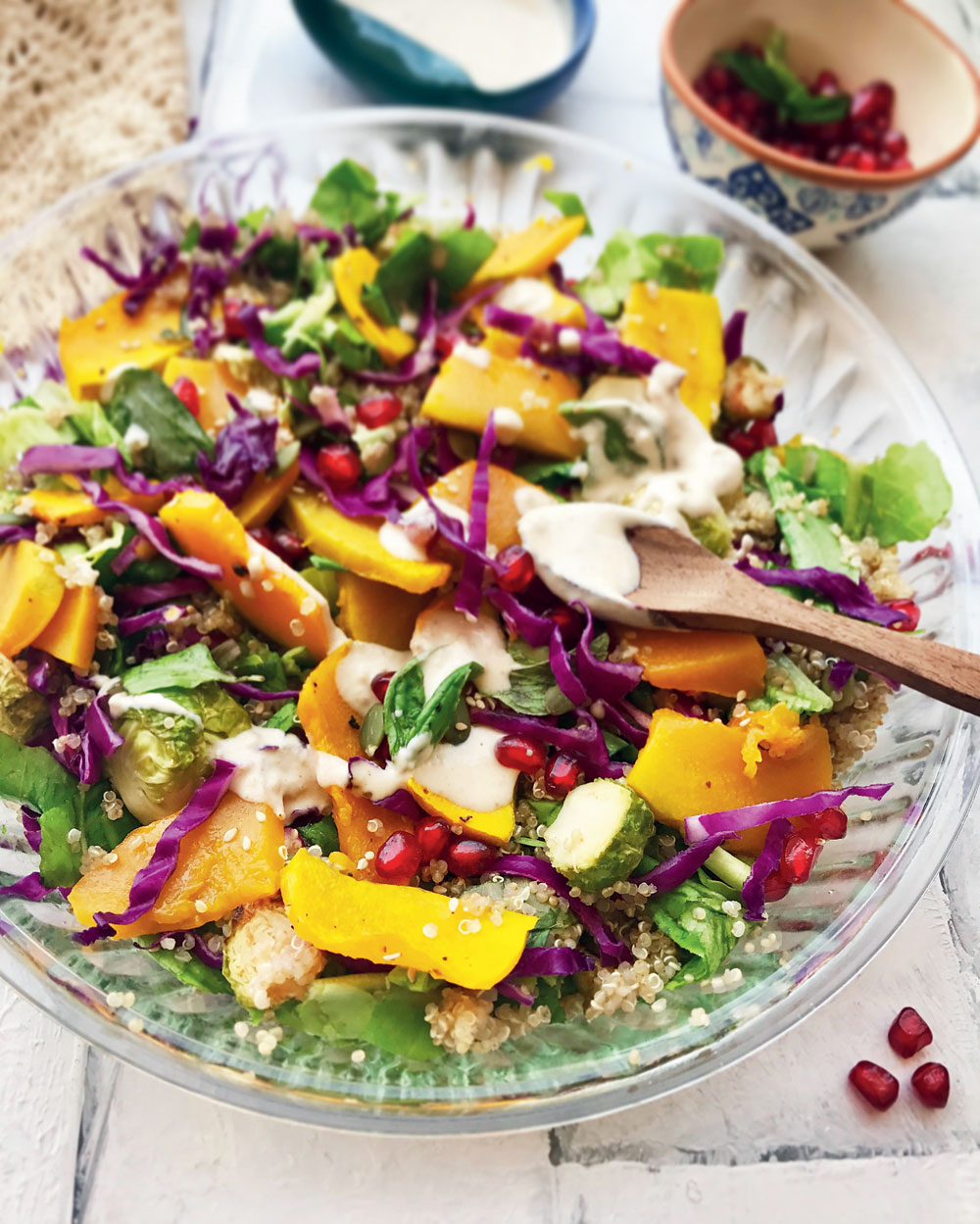 ROAST PUMPKIN, QUINOA & LENTIL SALAD
Ingredients
1 orange pumpkin quarter, sliced thinly
1 cup cooked kala masoor dal
1 cup cooked quinoa
1 carrot, grated
Mixed lettuce leaves, chopped
¼ cup fresh mint leaves, torn
¼ cup fresh parsley, chopped
¼ cup pomegranate seeds
¼ cup toasted walnut, crushed
Handful of purple cabbage
2 tbsp olive oil
The Dressing
¼ cup orange juice
2tbsp honey
2tbsp lime juice
2tbsp extra virgin olive oil
Sea salt and freshly ground pepper
Method
In a roasting pan or baking dish, toss the pumpkin cubes with the 2tbsp olive oil, season generously. Roast in the oven for 25-30 mins at 200°C until the pumpkin is cooked. Leave aside to cool.
In a bowl, add the mint leaves, parsley, pomegranate, purple cabbage, walnuts, quinoa and kala masoor dal and finely chopped lettuce leaves. You can also use baby spinach.
In a small bowl, whisk together all the ingredients for the dressing, adjusting the seasoning and lime juice to your taste.
Combine the dressing with the salad and serve.