Palmyra fritters during the monsoon
Our fritters, unlike revenge, make a dish best served piping hot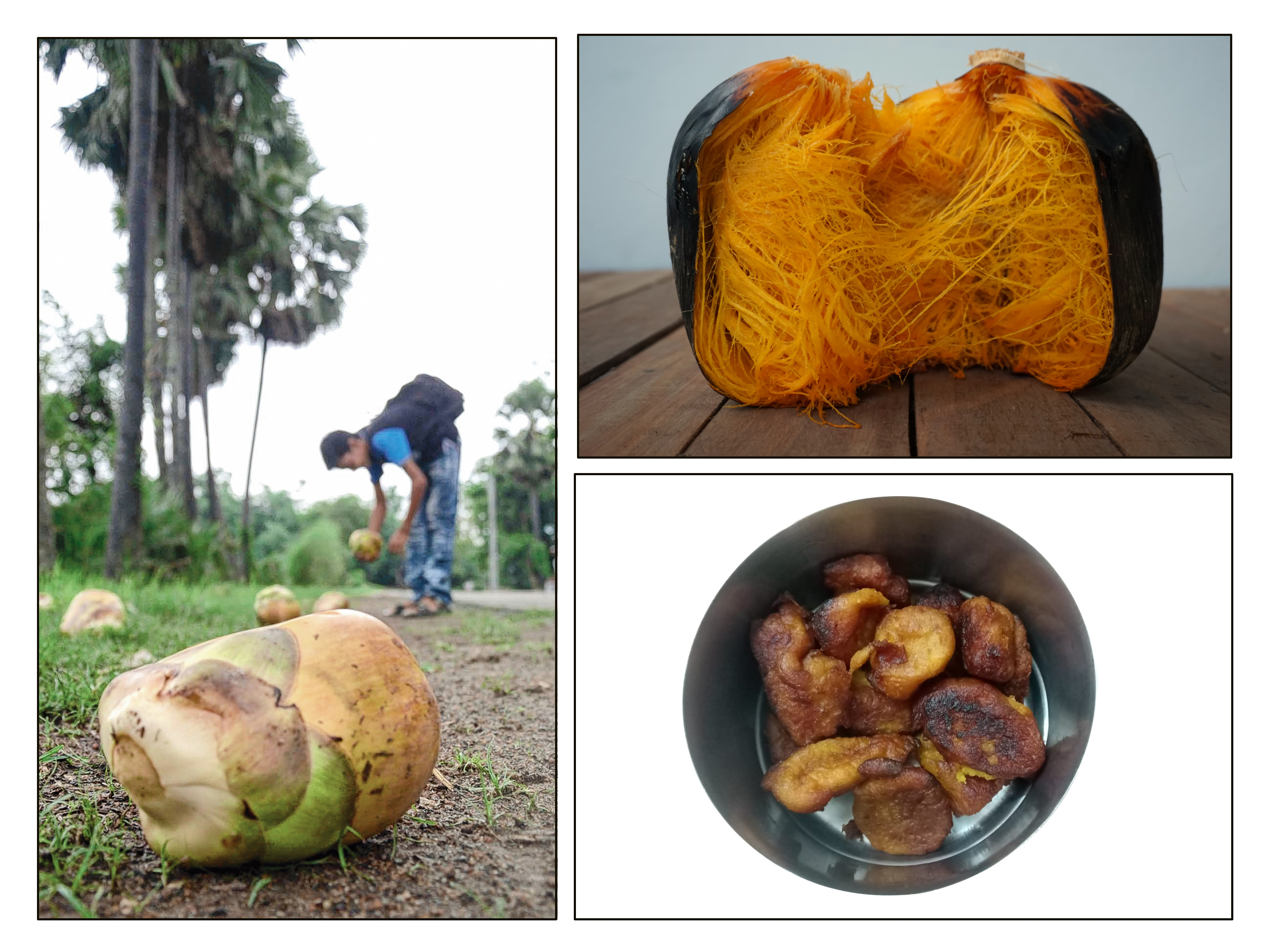 The palmyra fruit, the fibres within and the quintessential taaler bora
Compiled by The Telegraph
---
Published 14.09.19, 06:22 PM
|
---
The monsoon may have come late to Calcutta but when it did hit, it made up for lost time with a vengeance. Especially around the Janmashtami weekend; it was raining just like it was supposed to have done when Krishna was born. All through the night to the accompaniment of thunder and lightning.
It continued to drizzle in the morning, raising ripples on the temporary streams running down the street. I'd have to wade through knee-deep water on my way to the Metro station but even that could not ruin my mood. (The only way I could step into it was if I didn't think about what it might contain.) And all this because there was taaler bora for breakfast; deep fried balls of orange gorgeousness flavoured with grated coconut. A taaler bora tastes like sunshine on a rainy day.
Out of the ceremonial 56 dishes, or chhappan bhog, that is offered to the copper sulphate god on Janmashtami, the taaler bora is a must, at least in Bengal. The taal or palmyra fruit, after all, is found in abundance during the monsoon months.
A friend of mine went the whole hog — she'd be busy from days before, planning and prepping for 108 dishes. Yes, you read right. Her concept of chhappan bhog was its near double or as many dishes as she could cook up. Koftas and curries, dals and puris, kheer and sweetmeats, a dozen different fritters and whole kadhais of taal fritters.
Making taal fritters or any other dish from taal, for that matter, is a rather laborious process. While peeling the fruit is not difficult, extracting the pulp is a whole different story. Shot through with bitter tasting fibre, the pulp surrounds the — usually three — hard seeds. The pulp is either rubbed through a coarse sieve or smooshed into water and then hung up to thicken. Once this tedious and time-consuming process is out of the way, the pulp can be turned into bora or fritters, kheer, roti or puri.
The fritters are made with a batter of pulp, sugar, grated coconut, rice flour and, sometimes, ripe bananas. The kheer is made with milk and sugar, of course. My mother always added grated coconut to it, following her mother's recipe, but many people do not. The dough for taal roti or taal puri is made with the pulp and flour.
As a child, I preferred taal kheer — mellow orange, custardy and luscious. I loved having it mixed with muri or puffed rice, a dish that was a delicious balance of creamy and crunchy.
Eventually, taaler bora displaced it from my heart because the fritters were equally good hot or cold (hot taal kheer has a bitter aftertaste) but more importantly, it would keep for a couple of days and could be sent to moping students in hostels for a taste of home. In fact, my mother had the uncanny ability of figuring out who would be travelling to Delhi at the right time so she could send me my annual taste of taal.
But palmyra fritters, unlike revenge, is not a dish best served cold. They taste heavenly piping hot, just off the kadhai, especially on a rainy day. So one overcast Sunday morning, some years ago, I started the long process of making the fritters, eager to share the taste of one of my favourite fruits with the children. Especially my son, who refuses to eat fruits. (Once, when he was three, as his aunt cajoled him to eat an apple, he had said, "Of course. As soon as you cook it.")
The taal had been picked up a couple of days ago and left to ripen in a warm place, a new bamboo basket bought to grate the fruit on and detailed instructions given by my mother. Peel. Grate. Mix. What is not in the instructions is that it is not as easy as it sounds. I have small hands and the fruit keeps slipping out of them as I try to grate it. There is a distinctive aroma, a kind of floral sweet; not overwhelming at all. It's the grating that takes the longest time. The mixing, unlike the cakes I am used to baking, has to be intuitive, with no clear measurements for reference. The frying is like any other fritter. By the time the taaler bora is plated I have a newfound appreciation for my mother.
The results of my day-long labour were polished off in a record 15 minutes.
My brush with taal in the kitchen remained a one-time thing. I missed the taal fritters but not enough to make them. And then we moved to a new neighbourhood where the children — and by extension I — made a lot of friends. One of these friends has a big fat Janmashtami celebration, complete with a luchi-chholar dal dinner for friends and packets of taaler bora to carry home. That is where the palmyra fritters for my breakfast had come from. The rain was a welcome accompaniment.