London's beating us at Indian food, says Karen Anand
Our celebrity chef, who would never eat Indian when abroad earlier, lists her current favourites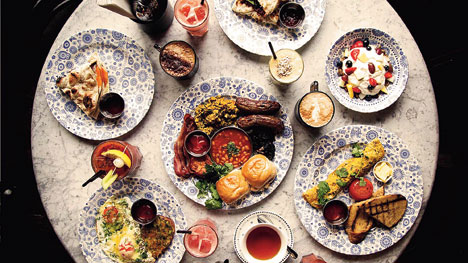 ---
Published 09.09.18, 12:00 AM
|
---
Indian is the new buzzword in London. Whether it's restaurants, snacking on the go, Ayurveda, pickles and papadums, yoga, coconut oil or chai latte… as cliche as it may be, you can now feel proud to be an Indian. No longer is Indian considered "vernacular" or "marginal". We are now mainstream.
In London restaurants, gone are the flock wallpapers and smells of curry wafting through the doors of 'Taj Mahal'. Today Indian is chic. It could be Michelin star fine dining or feisty street food… whatever your budget, you'll find great desi fare in just about every nook and corner of the city.
I never used to touch Indian food in London. In recent years, I have found flavours and recipes often far superior to what you can find at home. These are some of my favourite Indian experiences in the city.
Kadiri, Karahi to Dishoom
Kadiri's in Willesden opened over 40 years ago near the Brent Cross Shopping Centre in northwest London. It used to be what the British would call a "caff"… a basic, functional sort of place, only known to local Indians and a few adventurous Brits. Today it is a smartish restaurant with tablecloths and proper service but alcohol is not served. The owners are from a small Muslim community in Sankeshwar on the west coast of India and reproduce old family recipes. Kadiri's still serves probably one of the best biryanis in London today. Their fish biryani is the one to try along with authentic falooda and kebabs.

A stone's throw from the North Wembley tube station is Karahi King. The best thing by far and by several hundred calories is the lamb seekh kebab made with roughly ground mince, rolled into large freshly-made Peshawari-style naan made by a chap in the corner. Ignore the plastic tables and chairs… Karahi King is spotlessly clean but basic. You are not here to admire the furniture. The only agenda is food. They clearly do brisk business in takeaway, judging from the queues around the counter.

Dishoom, which is described as "a Bombay Cafe in London", must be the success story of the decade with five branches in central London since they opened their first in 2002 in Covent Garden. Their latest in Kensington is based on the Art Deco architectural style of Bombay in the 1940s and is as "cool chic" as you would find, with live jazz — Bombay-style — from Wednesday through Friday. The menu is a mix of straightforward tasty comfort food with punchy flavours… grills, biryani, wraps and a very mean spicy lamb chop which also includes such quintessential Bombay favourites as keema pav, Bombay omelette and chilli-cheese toast. It is open from breakfast. Try the very unusual (and very good) sausage or bacon naan roll with a mango-and-fennel lassi. Do not miss their range of specially created award-winning cocktails — the house punch, Chaijito, hot toddy and the stupendous Cafe Mary (a spicier version of the Bloody Mary). Prices are ludicrously reasonable for central London. The menus are the same in all the branches, except for one house special — the nihari in Kings Cross, prawn moilee in Covent Garden, raan burger in Shoreditch, salli boti in Carnaby St. and now the lip-smacking mutton pepper fry in Kensington.


In the Michelin echelon
As we go up the ladder and move into the fine dining space, there are more and more options in central London today. Oddly enough, these cater to Londoners who really want a fine dining experience with some creative Indian twists. Interestingly, the ambience in most of these establishments remains decidedly Western and contemporary with some Indian elements. One of my favourites and one of the oldest in this field is Cinnamon Club in Westminster. Popular with MPs since it is literally next door to the Houses of Parliament, the restaurant is situated in the old Westminster Library and has retained the bookshelves and the wonderful high ceilings. CEO and executive chef Vivek Singh now oversees five restaurants in the Cinnamon stable to deliver "modern Indian cuisine". Dishes change every season and could include Wild Spencer Gulf King Prawns with mango coriander sauce, rice vermicelli, Balmoral Estate Tandoori Venison Loin, black stone flower reduction and fenugreek potatoes, and pigeon, pumpkin and peanuts, with cucumber raita.
If you are looking for something more traditional but still up there in the Michelin echelon, then I would choose Quilon, next to St. James Crowne Plaza Hotel, not far from Buckingham Palace. Chef Sriram has been there since its inception. He was the man behind the food at Karavalli in Bangalore many moons ago and brings to Quilon the same expert knowledge of South Indian coastal food with the added advantage of some very exotic ingredients available in Europe. If you are dying for (at a price of course!) a mini masala dosa or a Malabar biryani, this is the place. The Quilon fish curry with raw mango is to die for… pure indulgence made with thick coconut cream which is extracted from fresh coconuts every day. The kori gassi (Mangalorean chicken curry) and spinach poriyal are traditional to the core. There doesn't seem to be any compromise on ingredients or flavours at all. I even spotted the Indian ambassador a few tables down.

Mayfair is the home to some new Indian fine dining literally within steps of each other. I had the bream with tomato kachumber and a potato chaat at Gymkhana. I wasn't moved to tears by the food I must say but I simply loved the cocktails. The quinine sour with curry leaf and ginger was truly one of the best cocktails I have ever had and paired remarkably well with Indian food. The Lutyens Vesper with Sipsmith gin and vodka and coriander and mustard seed bitters was truly inspired. Jamavar from the Leela Group and the award-winning Indian Accent have opened down the road but I have yet to try those.
Popcorn machine in the room
Where to stay when you're trying all this desi fare in central London? I stay at Hotel Cafe Royal. It's lavish and so conveniently located and so, so central, at the bottom of Regent Street near Piccadilly Circus that you need not take a taxi or public transport at all. Everything is literally walking distance. And despite the hullabaloo outside, you won't hear a thing in the comfort of your oversized room. The soundproofing works. Previously the haunt of famed patrons, from royalty and celebrities, to the creative and the notorious, Cafe Royal has been an established and iconic landmark on the British capital's social scene for a century and a half. In its recent reincarnation as the luxurious Hotel Cafe Royal, it remains an established favourite for locals, while becoming a global destination.

What I really appreciate, apart from the great Green Bar and magnificent afternoon tea at the Oscar Wilde lounge, is the service. The fantastic team of butlers led by Santhosh Samuel (who happens to be from Bangalore) can create bespoke dinners and make the most difficult customer happy... well beyond the usual butler's pantry. I had friends and family dropping in for drinks one evening and I was asked the age group. When I mentioned teenagers, a popcorn machine was placed in the room. Some healthy types? No problem. They found cold-pressed juices. There was plenty of ice for the bubbly and two marvellous platters of hot and cold Lebanese appetisers. I picked up biryanis from Dishoom just in case anyone was hungry (can I ever stop my urge to feed people). I thought the butlers would turn their nose up at food from outside the hotel. Not at all. They emptied the contents into Le Creuset casseroles and served them piping hot. I'm sure they would have gone out to source it if I had asked. Hotel Cafe Royal is my pick of central London hotel. It's definitely worth the splurge.
Karen Anand is a culinary consultant, food writer and entrepreneur. In recent times her name has been synonymous with farmers' markets. Follow her on www.facebook.com/ karenanand