Brussels is home to both daring cuisine and avant-garde art
If you get a chance, do stop in Brussels, for a weekend of culinary indulgence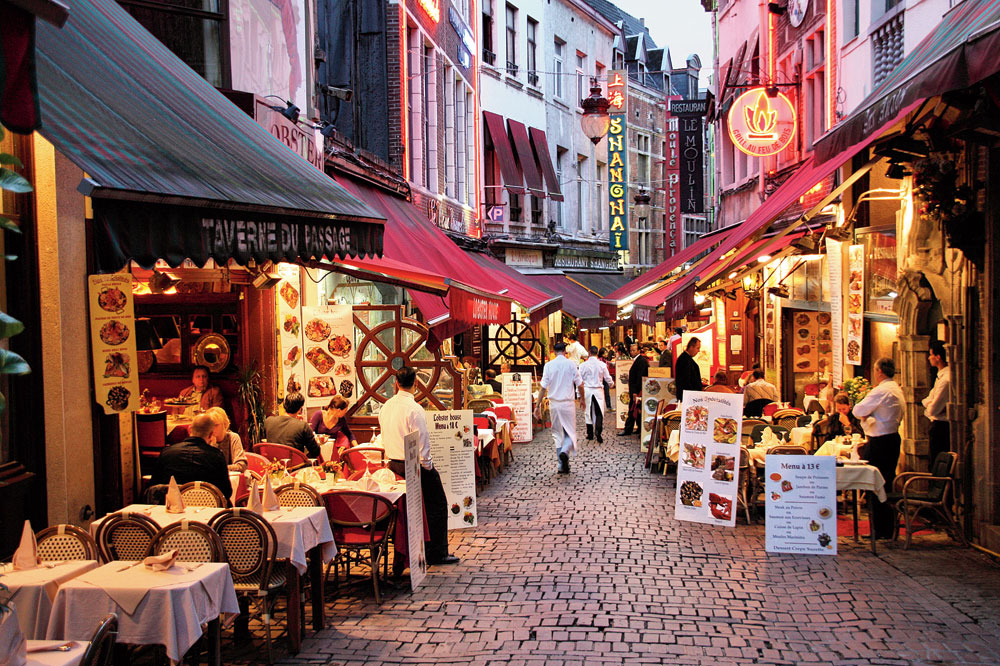 ---
---
Dine like King Leopold III
That evening was the first of my gastronomic restaurant experiences. For a small city, Brussels has many, many fine restaurants, mainly serving traditional Belgian and French food. Belgian beer is, I was told, something I must try but frankly not being a beer drinker, the subtleties and nuances of a spontaneously fermented beer compared with a top fermented beer, were a bit of a mystery to me. There are, it seems, more than a 100 different types and over 350 actual beers in Belgium! They even have several main course dishes cooked in beer, like beef casserole (carbonnade), rabbit stew and pork chops.
When in Belgium, mussels must be the order of the day. We ordered them in white wine. They open as they are cooked; quite scrumptious and always accompanied in Belgium by perfectly crisp French fries. We were at Chez Vincent, a 1905 brasserie on a cobbled street five minutes from the Grand Place. The walls are covered with decorative tiles made to form a seascape on one side and a landscape on the other. Despite this riot of colour, nothing detracts from the wonderful homely food and the almost cinema-esque waiters. The posh starters on the menu are referred to as "refined starters" and consist of things like oysters on the half shell (raw), goose liver pate and lobster.
The traditional Belgian starters include pickled herring, shrimp croquettes and things in mayonnaise and aspic. Menus are French in inspiration with German portions. Mussels come in a variety of ways — with cream and mushrooms, with garlic butter and with tomatoes! Most menus in this city have a huge variety of seafood — sole, cod, turbot, eels, salmon and monkfish — and many meats are served flambeed at the table… something you don't even see in France today.
Leading off Galeries St Hubert in a lively little quarter known as Ilot Sacre is the famous Rue des Bouchers. Whether you decide to eat at one of the many seafood restaurants here or not, this pedestrian cobbled street is a spectacle not to be missed. Both sides of the street are packed with tables for dining throughout the year — overhead heaters keep frostbite at bay in winter.
We dine at Aux Armes de Bruxelles, started in 1921 by Calixte Veulemans who first worked in Brussels as a waiter and eventually started his own restaurant as a business. It is still a family business today and resembles an old-fashioned 'Orient Express'-style railway compartment with wood panelling and booths. Veulemans is credited with serving mussels in individual bowls, which later became the trademark of this city. He is also said to have created the famous dish, Moules a L'escargot — mussels in garlic, butter and parsley like the famous escargot or snail dish. King Leopold III was a regular here and always ordered the Sole Meuniere (lemon, butter and parsley) and the mussels. The other dishes on the menu are more or less classic French — Salmon with Bearnaise Sauce, Sting Ray with Capers, Steak Tartare, Sole "Bonne Femme", Rack of Lamb with Gratin Dauphinois and French Beans… and, of course, desserts — waffles (gaufres), crepes, creme caramel, rum baba, apple tart, chocolate fondant and the most magnificent profiteroles with custard filling and warm chocolate sauce.
If you get a chance, do stop in Brussels, for a weekend of culinary indulgence.
Valrhona, which is actually a French chocolate house, also has a shop near the Grand Place. I highly recommend their almonds, covered with dark chocolate and dusted with cocoa. Quite dreamy and sold characteristically in bags, not boxes. However, if you really want to go that step further, then Pierre Marcolini is the creme de la creme in this city.
Belgian born of Italian descent, Marcolini is the wunderkind of Belgian chocolate makers, whose pralines include melt-in-the-mouth ganaches (chocolate cream-filled moulded chocolates) made from exotic teas. Other Marcolini innovations include quirky bunny-eared Easter eggs. I walked into the inner sanctum sanctorum in jeans and boots expecting a snobbish rebuff from the beautifully-dressed staff. The few customers in the shop were also immaculately dressed and all seemed to know the assistants in person and more importantly, what they wanted. Thankfully, the service staff was friendly, unassuming and gentle. I explained that I really wanted to taste what they considered their "signature"… and I did. And yes, they were sublime. And yes, it did burn a hole in my pocket. Hallelujah for credit cards!
That afternoon, chocolates done and under my belt (literally and otherwise), I "did" the museums. Brussels must have some of the most wondrous collections anywhere, one amazing museum after the other on or around the Place Royale. The Royal museums include the Modern Art Museum, Museum of Fine Art, Magritte and so on. I was told about the Victor Horta museum, a short bus ride from the Royal museums, and it was well worth the trek. He is considered the architect of the Art Nouveau movement and his personal home on the rue Americaine is a testament to his work.
Famished, I stopped for a Belgian waffle on the way back home. Waffles are available all over the place, from street vendors and little shops. Although they can be kept for weeks without spoiling, they are best made and eaten fresh, preferably on the spot. The waffles at the eatery where I stopped were about two inches thick — a mix of flour, sugar, egg yolk, whisked egg white with butter and a little cream, so that they come out fluffy but crisp on the outside. You can eat them with a sprinkling of cinnamon or with any one of the mouthwatering toppings on offer — I chose a wicked thick caramel sauce and whipped cream. I also picked some up at the fine food store at Brussels airport. Although packaged, they were pretty good.
Strange it would seem to spend only a weekend in Brussels but that's exactly what I did en route to the UK. The centre of Brussels is pretty small and it would be wise, if you have a choice, to stay anywhere near the central railway station (quite a charming neighbourhood unlike the areas around most big railway stations in Europe) or near the magnificent 12th century Grand Place. You are then definitely within walking distance or a short tram/bus or taxi ride of most places you would want to visit on a short trip.
The creme de la creme
Grand Place itself is a good place to start. It certainly is 'grand' with its collection of baroque guildhalls, the town hall, cellar restaurants on the main square and masses and masses of chocolate shops, which brings me to probably the most famous Belgian indulgence — the chocolate and, in particular the praline, that unctuous almond paste almost synonymous with Belgian chocolates.
In most countries, the names Godiva, Leonidas and Neuhaus would be considered the kings of chocolate. In Brussels, largely due to the level of connoisseurs and the high level of demand (this is the home of the EU and many important international agencies and embassies), these brands are considered quite pedestrian compared to Pierre Marcolini and Wittamer on the Place du Grand Sablon.
Having said that, Leonidas have some mouthwatering pralines and Godiva do the best chocolate orange confit sticks in the world. All the former three chocolate houses not only have shops all around the city but at the airport too, so you can safely pick up anything just before leaving and please carry them by hand preferably in a cool bag. These chocolates tend to melt in the heat of a suitcase.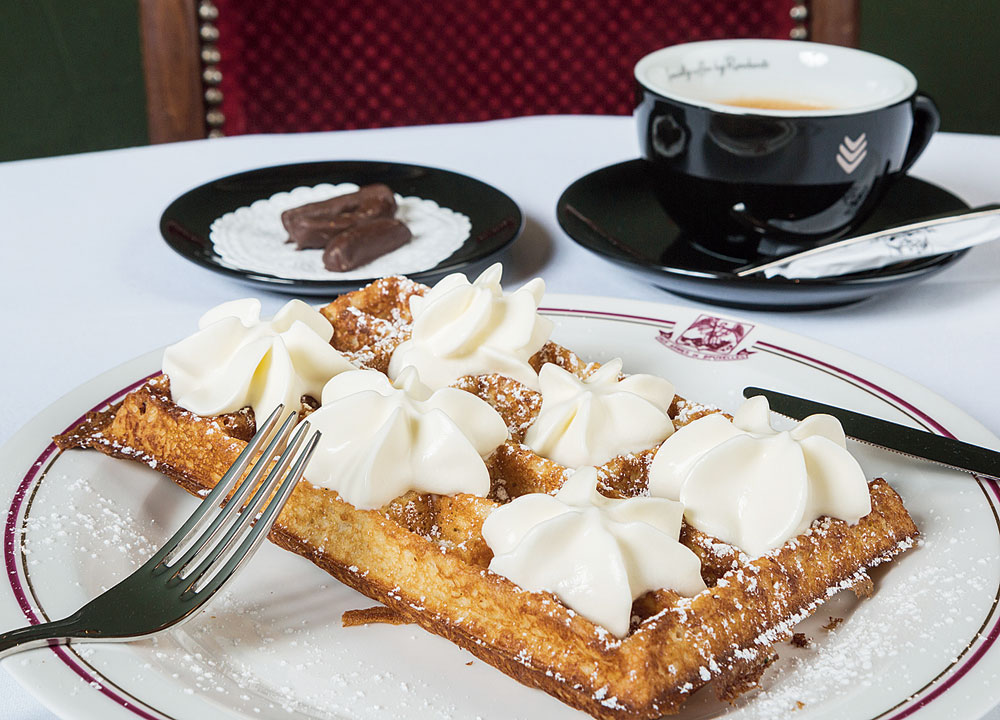 Karen Anand is a culinary consultant, food writer and entrepreneur. In recent times her name has been synonymous with farmers' markets. Follow her on www.facebook.com/karenanand