That irrepressible, luminous lady
Zohra! is written with affection, skill, impartiality, and a deep faith in upholding the bigger picture which makes it possible for the artist to grow and glow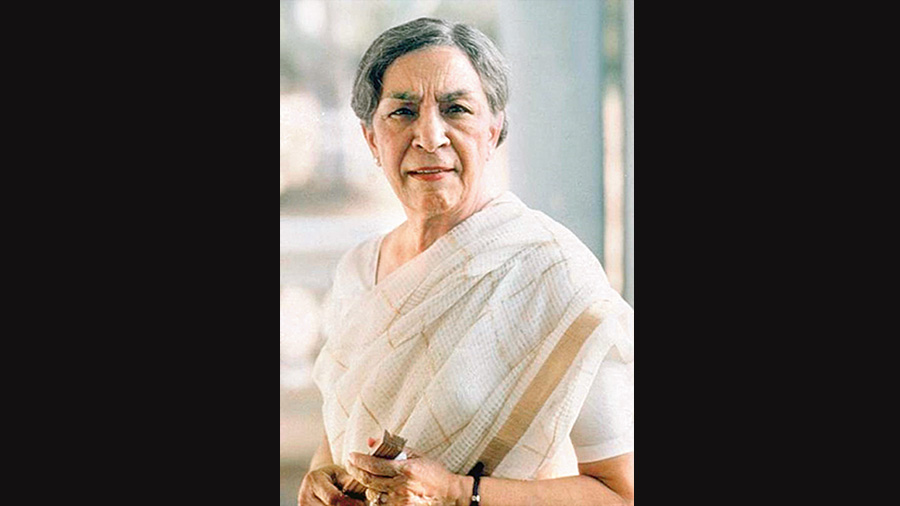 Zohra Segal in 'The Jewel in the Crown'.
YouTube screengrab
---
Published 17.12.21, 01:54 AM
|
---
Book: Zohra! A biography in four acts
Author: By Ritu Menon,
Publisher: Speaking Tiger
Price: Rs 599
Zohra Segal lived a phenomenal life not only on account of its longevity — straddling more than a century (1912-2014) — but also her participation in a variety of art forms, including dance, theatre and acting for both big screen and television. Born to privilege and affluence in a North Indian nawabi family, she was expected to walk the beaten track of comfortable conformity. Zohra, however, proved to be a non-conformist from the beginning. While still in her teens, she showed a mind that eschewed family and societal demands. She lost no time in making it known that she would work and live on her own terms.
Although there were voices of disapproval, Zohra was fortunate in having the blessings and the active support of her cultured father and a favourite uncle in the pursuit of her varied artistic endeavours. Zohra lost her mother early; this may have been partly responsible in making her a stubborn and independent-minded person. But it was, by and large, her loving family and a small army of devoted friends that contributed in the shaping of her luminous personality. At least three extraordinary individuals may be said to have substantially contributed to the making of Zohra, the artist and the human being, her forceful attitudes and her never-say-die aspirations. From Mary Wigman, a radical, modern danseuse based in Dresden in the pre-Nazi era, Zohra learnt to defy convention when it came to giving creative expression to the female form. The bohemianism continued in her active association for years with the restless genius, Uday Shankar, at his cultural centre in Almora till he suddenly disbanded it for want of resources. Perhaps it would not be incorrect to say that Zohra really came into her own during her long and, at times, difficult stint with the iconic Prithvi Theatre, the brainchild of Prithviraj Kapoor, fondly called 'Papaji' by one and all. Zohra learnt much about the arts, frequently the hard way, from these outstanding people but in the final analysis it was her own genius for the bizarre and the outlandish which made her the unique figure she was all through her long and distinguished innings as a dancer, theatre, film and television actor, a raconteur par excellence, and an inspiration to the young. Arguably, the most important lesson she effortlessly imparted to all those around her was that life was meant to be lived with enthusiasm regardless of setbacks and black moods. She had her personal share of tragedies, including the suicide of her gifted but eccentric husband with whom she had a son and a daughter, but she never allowed it to sour her stay on earth.
This book is a beautifully-crafted tribute to a beautiful life which should find a place of affection and pride in any personal collection. Ritu Menon has put in years of painstaking application, successfully evoking the grandeur of not just an artist and an individual in perpetual motion but also the earthshaking times in which that life was lived complete with the salt of tears and the breath of hope. Zohra! is written with affection, skill, impartiality, and a deep faith in upholding the bigger picture which makes it possible for the artist to grow and glow.