Harsh reality
Barasat Kalpik's 'Galper Matoi' is an assortment of real-life incidents that unfolded for the underprivileged section of India since the lockdown was imposed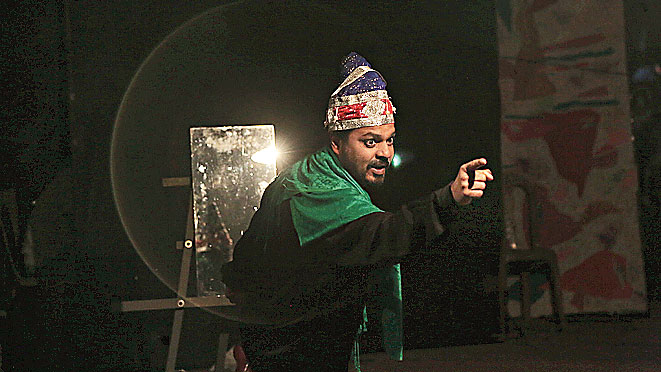 A moment from Galper Motoi.
Anshuman Bhowmick
---
Published 14.08.21, 09:52 AM
|
---
Crisis is redefining the state of theatre in West Bengal at present. Theatre — recently overlooked in all state government notifications — is crawling back to normalcy; that, too, at the expense of proscenium theatre auditoriums that have defined theatre in the post-Independence era. The search for alternative performance spaces had gathered steam in recent years, and the results are showing in the pandemic-affected times.
Barasat Kalpik, a young group known for challenging proscenium conventions, has transformed its rehearsal space at Satyabharati Vidyapith — located on Barrackpore Main Road — into a performance arena. On August 4, a typical monsoon day, it staged Galper Matoi (Like the Story) before a sparse audience. As this reviewer caught the action at the school gate, he was welcomed by a group of young actors rehearsing popular patriotic songs like "Muktir mandir sopan tale" and "Bharat amar Bharatbarsha" till two women in army gear intervened. Evidently young actors, they scolded the audience for coming to a theatre performance in these difficult times and eventually led them to the semi-lit arena when the main action started.
Conceptualized and directed by Debabrata Banerjee, Galper Matoi is an assortment of real-life incidents that unfolded for the underprivileged section of India since the lockdown was imposed. It finds an out-of-work daily wage earner submitting himself before the keepers of law and order. It makes a case for a petty thief, now in dire straits. It empathizes with a jatra actor who fails to negotiate beyond the world of make-believe. It presents a casual critique of a private health system run by unscrupulous people. 
Banerjee presents them with a certain degree of detachment, but makes creative use of lights and background score. When the Hindi-speaking wage earner — played effortlessly by Ajoy Biswas — decides to hang himself from a tree, he is welcomed by the spring blossoms, and the song, "Baharon phool barsao mera mehboob aaya hai", is played in the background. Such uncanny moments lift Galper Matoi and renew our faith in human perseverance, irrespective of State indifference.