Rare gem
Virahagatha is an Urdu/Hindi rendition of Kalidasa's Meghdootam in the form of dance-intensive ancient Indian theatre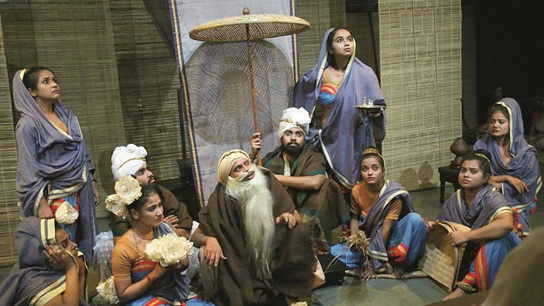 A moment from Virahagatha.
Dipankar Sen
---
Published 23.01.21, 01:55 AM
|
---
Performances that approximate perfection are rare; going out on a limb, this reviewer will claim for Virahagatha, produced by Chidakash Kalalay and created by Piyal Bhattacharya, the 'tour de force' appellation. Complementing Bhattacharya's fascinating concept of performing an Urdu/Hindi rendition (by Ranapratap Gannouri, Tripurari, Krishna Mohan and Mrityunjay) of Kalidasa's Meghdootam in the form of dance-intensive ancient Indian theatre is his splendid ability to design a scenography in which each visual element emits potent meaning. However, in theatre it is ultimately execution that breathes pulsating life into concept and design, and Virahagatha attains excellence because the supremely talented and thoroughly trained performers act, sing, dance and play an array of musical instruments with singular passion and precision. 
An exhaustive critical analysis requiring more space than this column offers, only a few crucial aspects of Virahagatha will be touched upon. Creative exploration of the sonic possibilities of a given space is a rather neglected area of theatrical practice. The soundscape of Virahagatha (designed keeping in mind the acoustics of Padatik Theatre) takes one on a stimulating journey through whispers, muted tinkling of ankle bells, soft plucking of stringed instruments to standard pitching and finally to percussive explosion. A heartening syncretism underlies the blending of visuals of screens and curtains and lotuses in bloom and the intermeshing of Urdu and Sanskrit to narrate what is ultimately a human tale of love, loss and longing. 
The translucent screens that detach characters (while allowing limited connection) highlight the lovers' pangs of separation and also evoke the misery that distancing has inflicted upon us in our corona-ridden times. The Hindi used to express the rustic cacophony of the marketplace also effortlessly carries a poignant contemplation of the plight of the lovers. Throughout, the mellifluous motion of dancing bodies captures the essence of sublime love, while details of trembling fingers or the tingling of a patch of naked skin touched by a raindrop create moments of intimate theatre. The mentors, Azhar Alam and Amit Banerjee, have indeed held Bhattacharya's hand very well to have him create a gem of a production in Virahagatha.