Offering over-subscribed on Day One
Zomato's $1.3 bn IPO fully subscribed on Day One
Zomato's public offer to raise Rs 9,375 crore is the country's biggest this year, and its blockbuster opening augers well for unicorns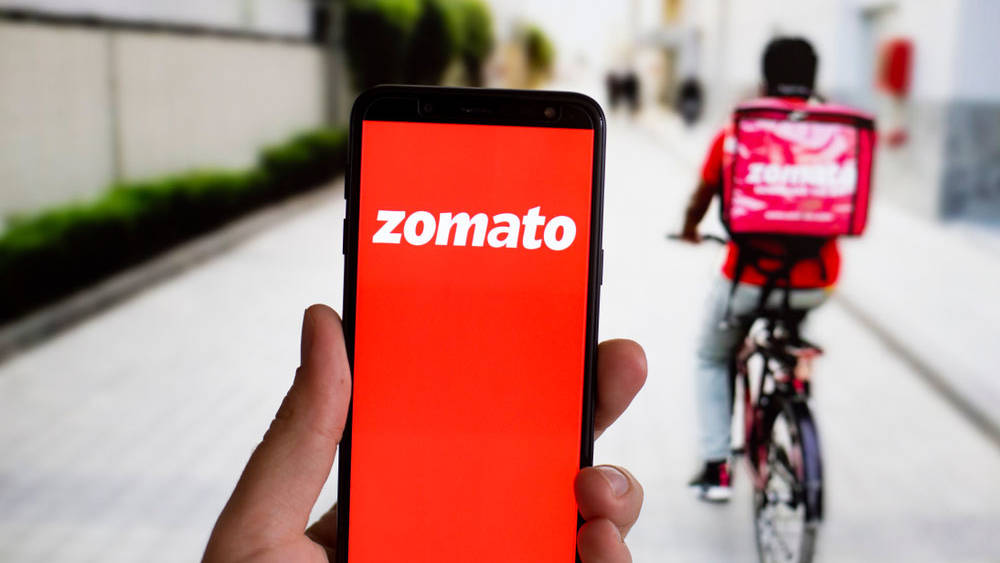 ---
New Delhi
|
Published 14.07.21, 10:14 PM
|
---
Giant food-delivery startup Zomato was fully subscribed by investors on the first day of its blockbuster $1.3-billion initial public offering, giving a big confidence boost to a string of other Indian unicorn start-ups waiting in the wings to list on Dalal Street.
Investor enthusiasm for the the IPO of Zomato, which is backed by Chinese billionaire Jack Ma's Ant Group, bodes well for the looming mega-IPO of unicorn fintech startup Paytm, analysts say. "Over a dozen companies are planning IPOs now, so this is only the start," says Pranav Pai, founding partner of the VC firm 3one4 Capital. 
Zomato is the country's first online food delivery company to go public in India's blistering IPO market. The first-day sellout showed investors are willing to buy into Indian start-ups still haemorrhaging cash and what analysts called -- in Zomato's case -- its pricey $9-billion valuation. 
Financial institutions and retail investors on Wednesday bid for 749 million shares of Zomato against the 719 million shares on offer, making the IPO 104 per cent oversubscribed. "On the back of Zomato's success, we should see some of the other IPOs also go through," says Arun Natarajan, founder of Venture Intelligence and an advisor to financial institutions and corporate law firms. 
Zomato's IPO to raise Rs 9,375 crore is the country's biggest this year and the latest in a string of public listings planned by the country's fast-multiplying unicorns -- startups that have a value of at least $1 billion. (According to Bloomberg, India is spawning unicorns at the rate of three a month). In fact, while many businesses hit rock-bottom during the devastating Covid-19 second wave, India added 11 new unicorns, bringing its total to 48.
"A combination of rapid total addressable market expansion, increased consumer awareness and demand shifting to digital, and a bottom-up emergence of talented founders with domain expertise to craft meaningful solutions has resulted in India becoming the third-largest startup ecosystem after the US and China," says Pai.
Online companies have become increasingly popular with investors as the pandemic has shifted more consumers onto the Internet. "Over 2020 and 2021, record-setting amounts of global capital has also entered to capture this opportunity. With a dozen start-up IPOs planned over the next few quarters, this exit cycle will also lend more optimism and should support additional reinvestments back into the ecosystem," says Pai.
Analysts also say that the stretch between company launches and IPOs is getting shorter as India's start-up ecosystem matures.  "The accumulation of larger amounts of dry powder in VC funds every year clearly demonstrates the many significant steps forward taken by the ecosystem. We expect Indian VC to become a mainstay asset class for allocators in India, as well as top-tier global allocators. Our estimates indicate that Indian start-ups should raise between $15 billion to $20 billion, on average, every year this decade," says Pai.
If all goes well and the shares sell at the top of the Rs 72-Rs 76 price range (the IPO closes on Friday), Zomato will be worth Rs 64,365 crore or $8.6 billion -- not bad for a company that lost Rs 812 crore in the last financial year. Those losses, though, were down by 65 per cent from the previous year. Zomato's also flipped its performance on each order to earn an average of Rs 20.5 on every order in the last financial year from a loss of Rs 30.5 in the previous financial year, thanks to improved efficiency. 
Analysts have been keeping a close eye on the fate of Zomato's listing with the expected IPO of digital payment startup Paytm that's also backed by Ant Group that's expected to seek to raise as much as $3 billion.  Shareholders include Japan's SoftBank and Warren Buffet's Berkshire Hathaway have reportedly approved a plan to sell Rs 120 billion. Another company Mobikwik has also issued the draft red herring prospectus for an IPO.
Paytm which is also losing money, posting a consolidated loss of Rs 17 billion for the 2020-21 financial year. But the pandemic which has made many more consumers carry out their buying, banking and other transactions online has made Internet-based consumer companies a must-have in many investor portfolios.
Still, though, "how Indian institutional investors take to the IPOs of Zomato and Paytm, given their massive losses alongside hyper-growth, will be interesting to see and probably crucial for other B2C (business-to-customer) online services companies lining up for domestic IPOs, says Natarajan.
The Indian public markets have seen successful listings of pure-play Internet and mobile companies like Info Edge, Matrimony, JustDial and IndiaMART, but these were mature ventures from the 2000 era and had a track record of profitability, points out Natarajan.  Still, Zomato co-founder Gaurav Gupta is brimming with confidence about the company's prospects: "There's a large opportunity to build out," Gupta told ET Now.
"If Zomato was a movie, you have only watched the trailer, the movie hasn't even started" he said. 
The pandemic has given 13-year-old Zomato's operations a big boost with Indians stuck at home and now, even with Covid curbs easing, hesitant to eat out. Zomato delivered some Rs 40 crore worth of meals last year. Still, Zomato recognises the pandemic "bump" may not last forever, warning in its prospectus "the accelerated growth of our business stemming from the effects of the Covid-19-pandemic may not continue in the future. And there's growing competition.
Amazon is going for growth in its delivery food activities and Zomato's battling rival Swiggy for customers. Swiggy is reportedly in advanced stages of talks with SoftBank for an investment of up to $450 million into food delivery startup, which will peg its valuation at $5 billion. 
But even with strong competition, on the bright side, analysts believes that the Indian food delivery market is still vastly underpenetrated (it comprises just 6-8 per cent of the overall food services market). The Indian online food delivery industry is projected to grow at a staggering compound annual growth rate of 28.84 per cent to $21.41 billion by 2026, according to one estimate. Zomato fattened itself before the pandemic by acquiring Uber Eats India (Uber now holds a close to 10 per cent stake in Zomato as a result). 
It's already been a blockbuster year -- in fact the busiest in 12 years -- for IPO listings on Indian exchanges with $5.6 billion raised so far from investors in the red-hot Indian share market that has defied gravity throughout the pandemic. Analysts project that the total capital raised this year from IPOs could be close to $10 billion. 
And for investors in IPOs this year, they're smiling all the way to the bank with their shares up by an average of 62 per cent, according to Bloomberg.
Still, analysts are wary of what they call the "punchy valuations" of Zomato while it still has to earn a profit. Brokerage KR Choksey says it's not at ease with what it calls Zomato's "sky-high valuation." Other analysts say Zomato is a "longterm growth story" and is best for investors with "long-term investment horizons.
Zomato was valued at $5.4 billion after its last fundraising round in February 2021 from marquee investors that also include Tiger Global Management and Glade Brook Capital Partners.  
Can anyone explain to me -

Top 20 hotels including global Indian hotel brands - Total Market cap - 44,000 crs

Top 6 QSR chains serving millions of consumers - Total Market cap- 60,000 Crs

ZOMATO - Continuing huge losses. Hold my vadapav! Market cap - 60,000 Crs ??? pic.twitter.com/N1RAlThyni

— Harsh Goenka (@hvgoenka) July 11, 2021
RPG Group chairman Harsh Goenka has been even more outspoken on Zomato's valuation. "Can anyone explain to me - Two top hotels including global Indian brands - total market cap Rs 44,0000 crore. Top 6 QSR chains serving millions of customers - total market cap - 60,000 crores; Zomato - continuing huge losses. Hold my vadapav! Market cap - 60,000 crores???" he tweeted.
It's definitely a case of "watch this space."