SBI back in the black after 3 quarters in red
With modest net profit, India's largest lender says it now has complete control over 'demon of NPA'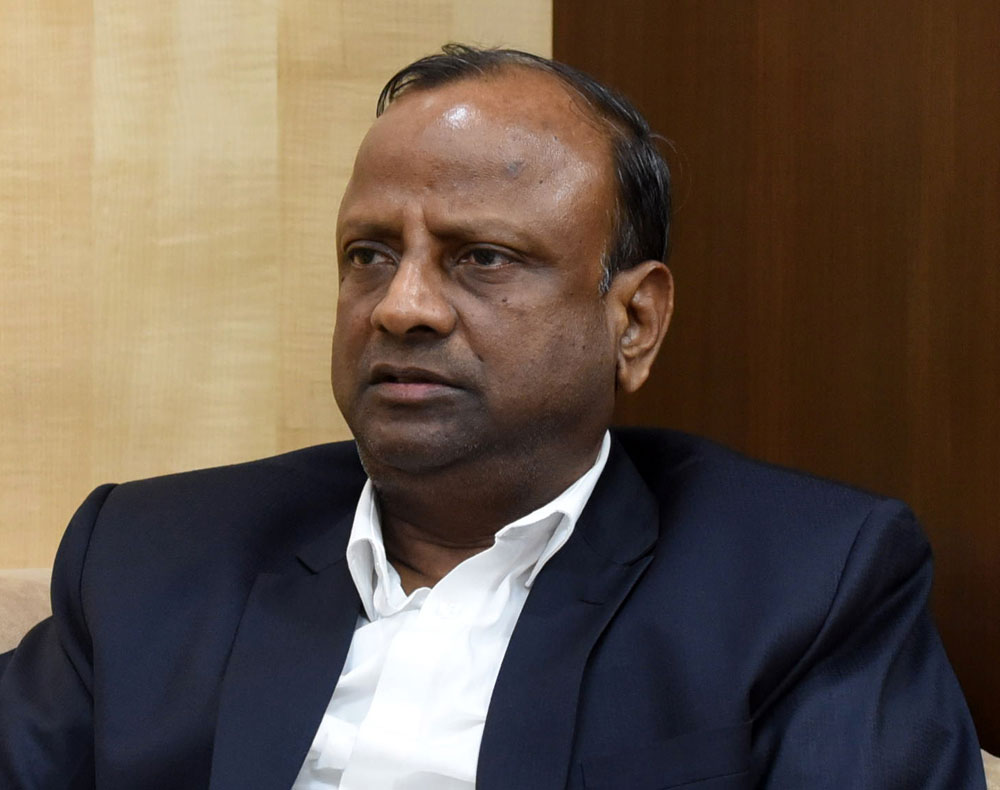 ---
|
Mumbai
|
Published 05.11.18, 09:56 PM
---
While net NPAs came down from Rs 99,236 crore to Rs 94,810 crore during the same period, the gross NPA ratio at 9.95 per cent saw a sequential drop of 74 basis points.
During the quarter, while slippages (fresh bad loans) grew to Rs 10,725 crore from Rs 9,984 crore in the preceding three months, recoveries and upgradation came at over Rs 4,000 crore. The SBI chairman indicated that the bank was expecting recoveries of Rs 6,000 crore from the NCLT accounts.
Late last month, banks had approved ArcelorMittal's bid for Essar Steel. IL&FS exposure
Replying to a query, Kumar said the SBI's exposure to special purpose vehicles (SPVs) floated by IL&FS were a little over Rs 4,000 crore, apart from another Rs 250 crore to the holding company.
Adding that this exposure was not a cause of concern, he also disclosed that the SBI had bought loans of Rs 5,250 crore from non-banking finance companies (NBFCs) in October and that another Rs 15,940 crore of such loans were in the pipeline. It may be recalled that the lender had earlier said that it will acquire loans of up to Rs 45,000 crore from NBFCs.
The bank said its good performance on the bottomline was helped by a domestic credit growth of 11.1 per cent over the same period last year. Credit rose to Rs 17,78,321 crore from Rs 16,00,546 crore on September 2017. Retail advances (including SME, farm and individual) grew 8.91 per cent to Rs 10,33,022 crore from Rs 9,48,479 crore.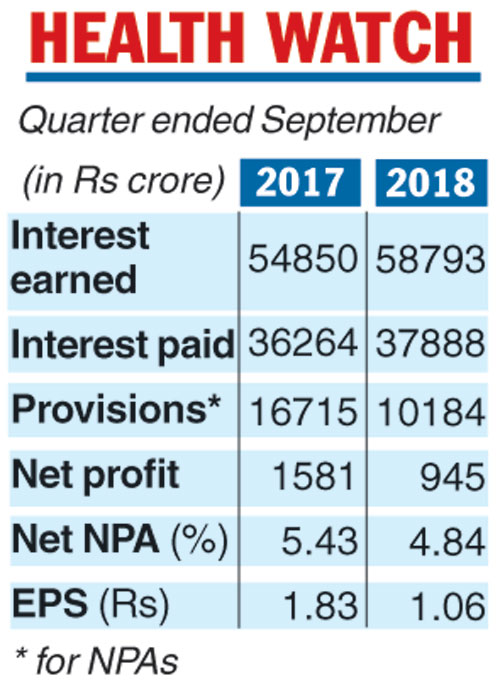 The State Bank of India (SBI) was back in the black in the September quarter after three consecutive quarters in the red as the lender reported a net profit of Rs 945 crore, thanks to a one-time gain even as provisions dropped.
Though profits were lower by 40 per cent from the comparable period last year, it came above analyst expectations. This quarter the key highlight was, however, an improvement in the asset quality at the bank. On Monday, chairman Rajnish Kumar said the bank now has complete control over "this demon of NPA''.
"This number (net profit) may be modest, but there is no looking back... The number is going to get bigger and bigger hereafter,'' Kumar said.
The net profit of Rs 945 crore came on the back of an exceptional item of Rs 1,087 crore on account of the sale of its merchant acquiring business and Rs 473 crore because of a stake sale in SBI General Insurance.
Moreover, provisions also dropped to Rs 12,960 crore from Rs 18,418 crore in the corresponding period last year.
However, in what could cheer the Street, gross non-performing assets at the SBI declined from Rs 2,12,840 crore in the June quarter to Rs 2,05,864 crore as on September 30.