JSW Steel calls for export duty waiver
The company stressed that it would not cut capital expenditure for capacity expansion at Vijaynagar in Karnataka or in Odisha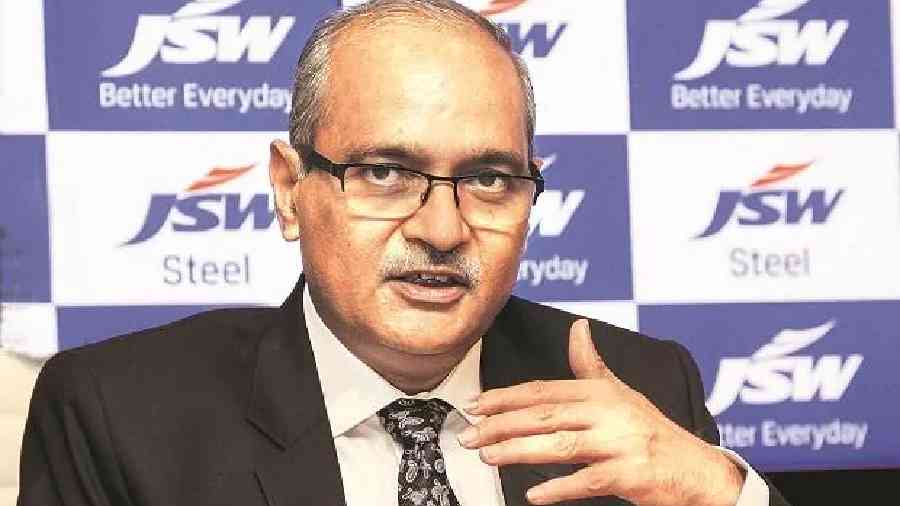 ---
Calcutta
|
Published 25.07.22, 02:14 AM
|
---
India's largest steelmaker JSW Steel is expecting margins to recover from the third quarter of FY23 aided by softening coking coal prices, stabilisation of rupee against the dollar, demand uptick and higher volume.
The company also stressed that it would not cut capital expenditure for capacity expansion at Vijaynagar in Karnataka or in Odisha, even as overall capex would be lower by Rs 5,000 crore this fiscal.
In an interview with The Telegraph, Seshagiri Rao, joint managing director and group CFO of JSW, argued that steel prices are not contributing to the inflation in India and hoped that the Centre would lift the 15 per cent export duty by the festive season.
"Waiver of export duty would be a very very important factor that would play out in the second half," Rao said.
Festive hope
The company had faced headwinds on account of lower export, mark-to-market forex loss, falling steel prices and rising coking coal prices in the first quarter when net profit slumped 85 per cent compared with Q1FY22.
It had to suffer Rs 1,880 crore additional cost mainly due to forex and coking coal inventory losses. The export duty, if lifted, will not only allow JSW to fully utilise full capacity, it will also provide a natural hedge against rising dollar in foreign currency loans.
It had accounted Rs 747 crore as forex loss due to 4 per cent rise in dollar against rupee and Rs 813 crore due to high cost of coking coal inventory.
With the hope of rupee stabilising at 80 compared to the dollar and coking coal prices remaining range bound between $200 and 230 a tonne, down from $600 a tonne, margins are likely to improve.
However, the company continues to carry high-cost coking coal, a major raw material fully imported, in the second quarter and hence the impact of falling coal prices will be reflected in the profit and loss account from the third quarter.
JSW operated at 93 per cent capacity utilisation, built a large inventory of finished products as exports slumped 35 per cent quarter on quarter.
"India's production fell by 2 per cent, exports fell by 26 per cent, consumption fell by 5.6 per cent. We lost the opportunity to export and it was leveraged by China," Rao said.
Rao said Indian steel prices have gone down 7.6 per cent from June 2021 to June 2022 and it had fallen 20 per cent from the high of April.
The prices of benchmark hot rolled coil now stands at Rs 59,000 a tonne. He hoped the impact of the falling steel prices would be reflected in the wholesale price index soon, justifying import tax lift.
Trade and retail segments, which stopped procuring from May 22 onwards, the day export duty came into effect, hoping domestic steel prices to fall, are expected to start restocking from September onwards.
Coupled with demand from auto, renewable energy,government related infrastructure projects, demand should be robust too.
Capex cut
Rao said the company's expenditure on account of expansion by 5 million tonne(MT) at Karnataka and 2.25 mt in BPSL are on track.
"We are not cutting back growth capex. The sustenance capex is also very crucial and will be maintained," he said However, JSW Steel will hold back special projects —PCI grinding unit and top gas recovery units — for now. 
The export duty came soon after JSW commissioned a 5mt expansion at Maharashtra. It had guided a production target of 25mt and sales of 24mtin FY 23. 
Rao said it would be possible to meet production shortfall during the next three quarters but meeting sales target would be contingent upon how soon the export duty is lifted.
Debt target
JSW's net debt went up Rs10,571 crore in Q1 mainly on the back of higher working capital requirement (Rs 7,874crore) due to inventory buildup.
Rao said it would be his endeavour to bring it back by end of FY23 by releasing working capital during the year.