Hope fades for boy who fell into Patna drain
Divers searched for 4 days without updated maps of sewerage; civic body flushed drain but no sign of any human body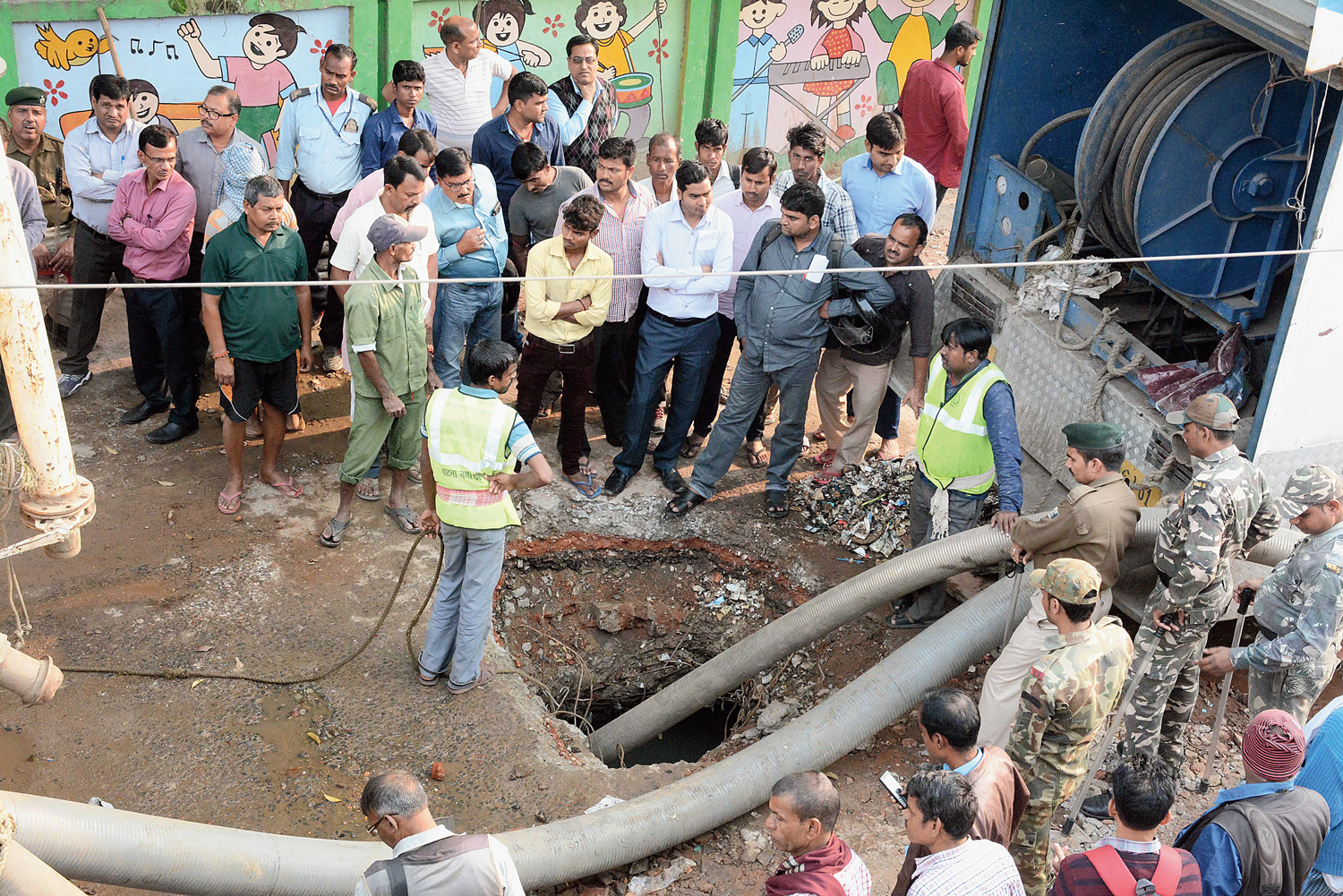 ---
|
Patna
|
Published 21.11.18, 06:42 PM
---
SK Puri police have lodged a case of unnatural death on the basis of a statement by the father of 10-year-old Dipak Kumar, who fell into an open drain adjacent to Punaichak locality on Saturday.
Despite round-the-clock efforts by Patna Municipal Corporation (PMC) staff and rescue teams of the National Disaster Response Force (NDRF) and State Disaster Response Force (SDRF), the boy could not be traced even on Wednesday and the family now believes there is little chance of his survival.
Sources said Dipak could not be traced because there is no updated map of the sewer network. But on Wednesday the rescue team resumed operations in the drain channel connected from Mohanpur sump house.
In the morning, water was released from the Mohanpur sump house drain by switching on the motor pump. It flowed to SK Puri near Zee Media office which is around 300m away. "Volumes of water were released at the site where the boy fell accidentally, near the sump house," PMC executive engineer Avinash Singh said. "The water gushed through the drain, passing through Zee Media office near SK Puri. With the water flowing in one direction we are sure there is only one drain channel. The water gushed outside the drain as it was filled with garbage and mud. We have cleaned 200m of the 300m distance from where the boy fell. The drain was filled with mud, garbage and animal carcass in jute bags. The rescue team recovered two jute bags containing carcass of a calf and a goat. Garbage is being removed from the drain's remaining 100m-stretch using a sucker machine."
"After PMC removed garbage from the 200m stretch, our divers entered the surface through a rectangular-shaped drain, but the boy was not found there either," SDRF deputy commandant S.S. Yadav said. "If the boy has fallen in the same drain, then he could be in the remaining 100m stretch, as it is not possible for any body or heavy object to move beyond it with the drain becoming narrower. Because of accumulation of garbage, the drain becomes narrower and narrower, till it is just 6-8 inch in diameter, impossible for a body to pass through."
On Tuesday, the rescue team threw a dummy of roughly Dipak's size into the drain to track it. The dummy was filed with stones. It didn't match Dipak's weight and got stuck somewhere else.
Dipak fell in the sewer on Saturday. The boy from Punaichak area was on his way to deliver food to his father when he had an encounter with a cow. He made several moves to dodge the animal but fell into the 4-ft-deep sewer while doing so.