Cong's Rs 5-cr Puja Dhamaka
Prize for anybody who can name of 35 new airports built under Modi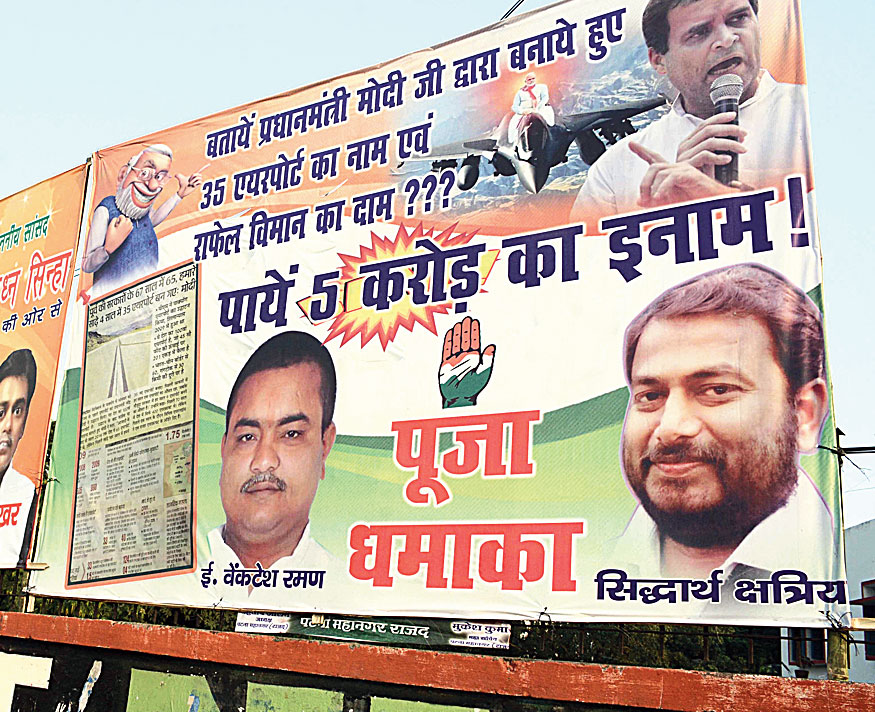 The big question: The poster put up by the Congress at Income Tax roundabout in Patna.
Nagendra Kumar Singh
---
Patna
|
Published 16.10.18, 07:15 PM
|
---
The Congress is offering everybody a "Puja Dhamaka". It will give Rs 5 crore in prize money to anybody who can correctly name the 35 new airports Prime Minister Narendra Modi has built as well as the price of a Rafale fighter aircraft.

Posters announcing the prize money appeared on Tuesday morning at prominent places in the city, like Dakbungalow crossing, Income Tax roundabout and Hartali Mor and soon became the talk of the town.
Commuters and pandal hoppers who saw the posters stopped by for a while, took photographs of the posters and shared the same with friends over social media, making it viral. "Please tell the name of 35 airports built by Prime Minister Modi and the price of Rafale aircraft and get Rs 5 crore in prize," the poster said in Hindi.
The poster is the brainchild of Bihar Pradesh Congress Committee (BPCC) secretary Siddharth Kshatriya and BPCC delegate from Patliputra, Venkatesh Raman.
Siddharth said he and Venkatesh were inspired by a poster put up by some BJP-backed organisation in Uttar Pradesh. "It had placed a reward of Rs 1 crore on the head of Alpesh Thakor, our party's MLA in Gujarat, falsely accused of fanning violence against Biharis living in Gujarat. But we decided to opt for something non-violent," Siddharth said.
"The Gujarat violence is a ploy by the BJP to divert attention from the pressing issues ravaging the country. We tried to be creative and bring the attention back to the lies being spread by the Prime Minister and the Rafale aircraft deal scam."
Modi, while inaugurating an airport in Sikkim recently, had said that the BJP-led government at the Centre has constructed 35 airports during its four-year rule in the country.
Asked from where they will give the prize money if somebody does answer the two questions correctly, Venkatesh laughed and said that it won't ever happen.
"Only three persons in the country know the answers to the questions. They are the Prime Minister, BJP president Amit Shah and defence minister Nirmala Sitaraman. Nobody else in the country knows about the answers are. So we are safe when it comes to money," Venkatesh said.
The poster has also caught the attention of ruling party members in the state. BJP leader and deputy chief minister Sushil Kumar Modi said: "Let Congress president Rahul Gandhi bring whatever lottery or 'Puja Dhamaka' he wants to. it will have no impact because the people have not forgotten the misrule and corruption fostered by his party."