AIIMS reaches another first
Docs remove 3cm tumour with minimum incision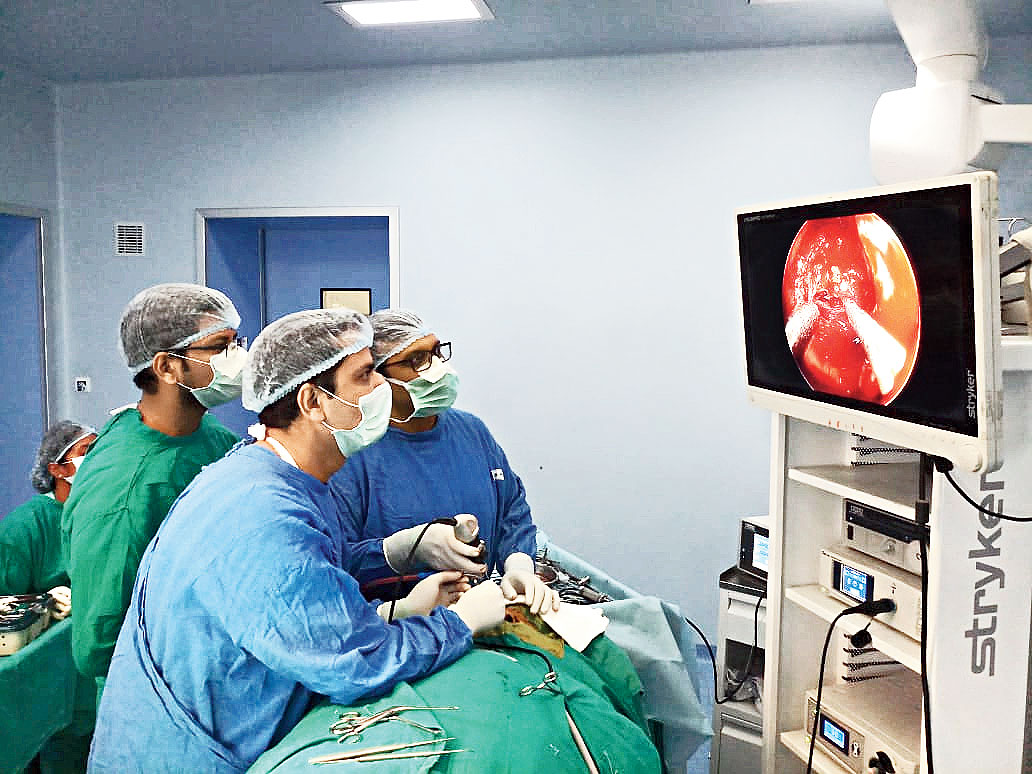 AIIMS doctors conduct the endoscopic brain surgery on the 60-year-old patient on Friday.
Telegraph picture
---
Patna
|
Published 27.10.18, 06:48 PM
|
---
AIIMS-Patna doctors has performed an endoscopic brain surgery on a 60-year-old patient who had complained of severe headache for the past one year.
A team of neurosurgeons led by Dr Vikas Chandra Jha performed the surgery on Friday, which AIIMS-Patna has claimed is the first in Bihar.
In an open brain surgery, incision is made in the skull area, but in an endoscopic surgery, the procedure is conducted through the nose without making any external incision. An endoscope is inserted into the patient's nose, a small 1cm incision made in the sphenoid bone to reach inside and remove the tumour.
The 60-year-old patient from Bakhtiyarpur who was operated upon also complained of poor vision.
"During the surgery on Friday, the tumour was removed from the patient's pituitary gland which is responsible for the secretion of hormones. The tumour was 3cm long," said Dr Jha, who recently joined AIIMS-Patna after working with AIIMS Bhopal.
He added that the patient was doing well and would be soon discharged.
Dr Jha said an endoscopic brain surgery is a lot more beneficial than a conventional open brain surgery. "The surgery is done through a button hole incision and that too is not externally. So, it looks more like cosmetic surgery as there are no visible scars. The duration of hospital stay also comes down in such cases, as the patient recovers quickly because of minimum incision and blood loss. Chances of complication are also less, as doctors don't interfere with tissues in the brain as in an open brain surgery," he said.
The neurosurgery team said the hospital will conduct a lot of never-done-before surgeries in the state.
"The endoscopic technique can also be used for surgeries in brain haemorrhage patients. It is relatively new for such cases. Very few doctors in the country are doing this. We are soon going to start it here at AIIMS-Patna," Dr Jha said. "At AIIMS-Bhopal where I was posted earlier, I had performed around 70 endoscopic brain surgeries."