White House again threatens Acosta's pass; CNN seeks hearing
Jim Acosta's pass was revoked after Trump denounced him as a 'rude, terrible person' during a conference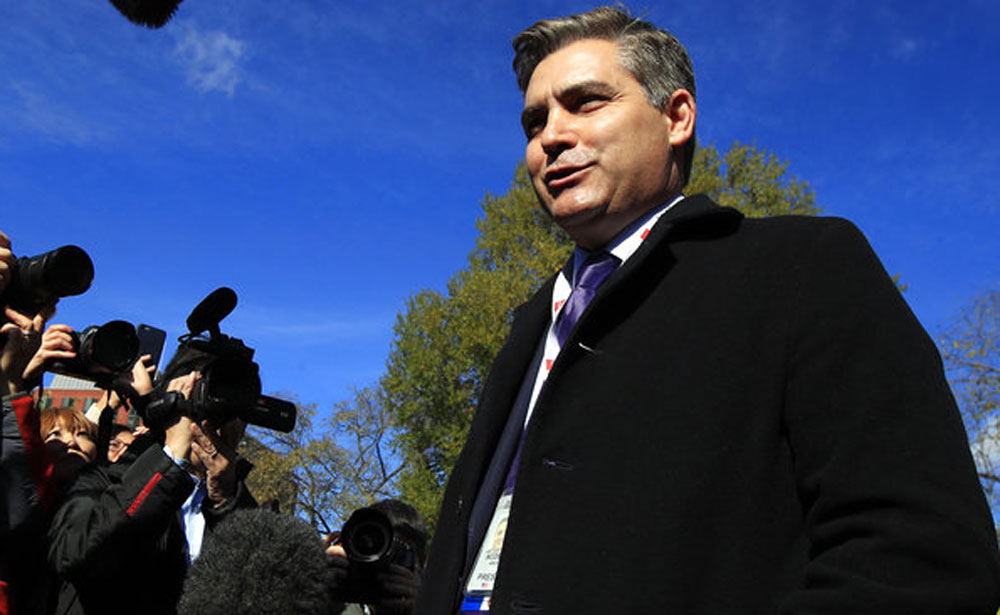 CNN's Jim Acosta speaks to journalists on the North Lawn upon returning to the White House in Washington on Friday.
(AP)
---
Washington
|
Published 19.11.18, 09:05 PM
|
---
CNN on Monday called on a federal court to hold emergency proceedings after the White House said it would again revoke press access to correspondent Jim Acosta despite a temporary restraining order on Friday to reinstate him.
Acosta's credentials were revoked after Trump denounced him as a "rude, terrible person" during a November 7 news conference. CNN challenged the move in court and on Friday won a ruling that temporarily reinstated Acosta while the court considers the news network's lawsuit over the ouster.
In a filing on Monday, CNN and Acosta asked for an expedited hearing next week after top White House communications officials told Acosta in a letter late on Friday that it had already decided to suspend his press credentials once the two-week restraining order expires.
The White House opposed the request for an emergency hearing, writing in response to the court: "Not only is there no 'emergency' right now, it is impossible to know at this point whether next steps are necessary, much less what those steps should be."
It said the White House expected to make its final decision on Acosta credentials by 2000 GMT on Friday.
White House spokeswoman Sarah Sanders and White House communications chief Bill Shine had earlier told Acosta that it had made a "preliminary decision" backed by Trump.
When US District Judge Timothy Kelly temporarily restored Acosta's credentials, he said the White House had failed to provide due process. He did not address any alleged violations of free speech, protected by the US Constitution's First Amendment.
Trump, who has long blasted the media and often targeted Acosta, said on Fox News Sunday that the judge's decision was "not a big deal" and that the White House would establish rules for the press. Asked what they would entail, he said: "We're going to write them up right now... we'll have rules of decorum, you know, you can't keep asking questions." Despite the filing, Acosta and CNN said they "remain hopeful" the dispute could be resolved outside of court, they wrote.
At the contentious news conference a day after Trump's Republicans lost their majority in the US House of Representatives, Trump erupted into anger when Acosta questioned him about the investigation of Russian meddling in the 2016 presidential election and a migrant caravan traveling through Mexico.