Joe Biden issues sweeping mandates for Covid vaccine shots
The actions are the most expansive he has taken to control the pandemic and will affect almost every aspect of society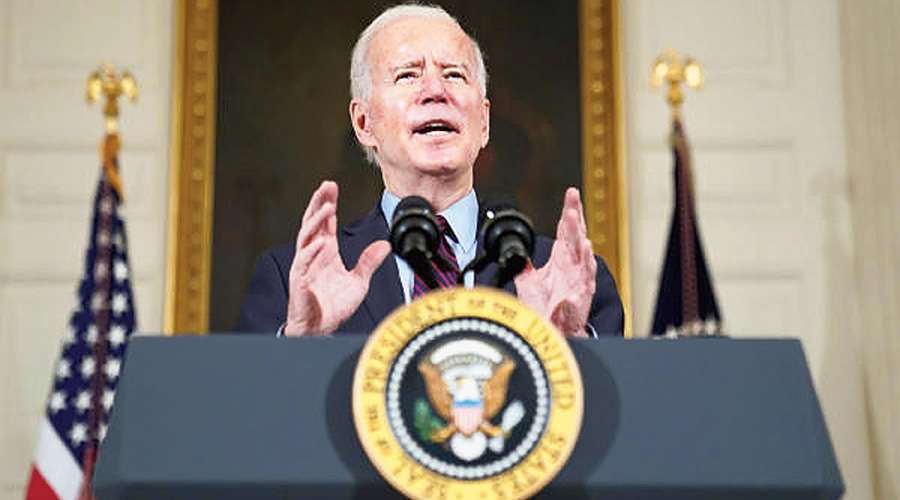 ---
Washington
|
Published 11.09.21, 12:42 AM
|
---
President Biden on Thursday used the full force of his presidency to push two-thirds of American workers to be vaccinated against the coronavirus, reaching into the private sector to mandate that all companies with more than 100 workers require vaccination or weekly testing.
Biden also moved to mandate shots for health care workers, federal contractors and the vast majority of federal workers, who could face disciplinary measures if they refuse.
The sweeping actions, which the President announced in a White House speech, are the most expansive he has taken to control the pandemic and will affect almost every aspect of society. They also reflect Biden's deep frustration with the roughly 80 million Americans who are eligible for shots but have not gotten them. "We've been patient," Biden said in a sharp message to those who refuse to be vaccinated.
"But our patience is wearing thin. And your refusal has cost all of us."
Initially reluctant to enact mandates, Biden is now moving more aggressively than any other President in modern history to require vaccination, experts say. In his remarks, he promised to "protect vaccinated workers from the unvaccinated".
"We can and we will turn the tide on Covid-19," he said.
Even so, Biden conceded that the mandates would take time to "have full impact". They are also all but certain to be the subject of legal challenges; already, the largest union representing federal workers has raised questions. It is also unclear how many workers subject to the new mandates have already been vaccinated.
Biden is acting through a combination of executive orders and new federal rules.
Biden speaks to Xi
Biden spoke by phone with his Chinese counterpart Xi Jinping for about 90 minutes on Thursday, a senior U.S. official said, with both leaders discussing the need to avoid letting competition between the world's two largest economies veer into conflict.
Relations between Washington and Beijing have been at their lowest point in decades and it was only the second call between the leaders since Biden took office in January.
A White House statement said the two leaders had"a broad, strategic discussion," including"areas where our interests converge, and areas where our interests, values, and perspectives diverge."
New York Times News Service