Russia-Ukraine conflict: Missiles shatter Lviv peace
Smoke could be seen rising from the city's west, in the general direction of the airport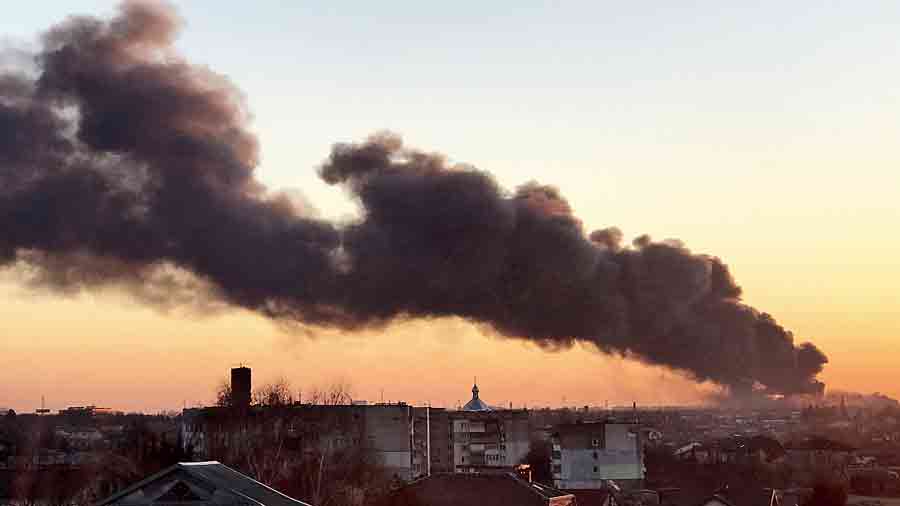 A cloud of smoke rises after an explosion in Lviv on Friday. The mayor of Lviv said missiles struck near the city's airport early on Friday
AP/PTI
---
Lviv, Ukraine
|
Published 19.03.22, 01:17 AM
|
---
The western city of Lviv, about 50 miles from the border with Poland, has been a harbour for Ukrainians fleeing violence since the war began. But on Friday morning, a missile strike about four miles from the city centre shattered its relative peace, the city's mayor said.
Mayor Andriy Sadovy said several missiles had struck an aircraft repair plant at the airport complex in Lviv, destroying the buildings. He said that work had previously stopped at the plant and that no casualties had been reported.
Smoke could be seen rising from the city's west, in the general direction of the airport.
Attacks in western Ukraine have been rare since the war began, and Lviv itself has seen few if any. But a Russian airstrike on Sunday at a military base near Poland's border brought worries of more to come.
As the Russian military focused its attention on the south, the north and the area around Ukraine's capital, Kyiv, the relative security of the west made it both a destination for internally displaced people and a hub for the inflow of western aid.
The strike may have been an attempt to target the capabilities of Ukraine's air force. According to a local news article from January, the plant at the airport had a contract to fix and modify MiG-29 fighter jets and was "the only enterprise in Ukraine that refurbishes MiG-29s for the Ukrainian Air Force".
Maksym Kozytsky, the regional military administrator, said in a news conference that six missiles had been shot from a plane over the Black Sea towards Lviv, two of which were shot down.
No one was killed and one person was injured, he said.
When the air-raid siren went off mid-funeral on Tuesday there was no pause from the priest and scarcely a blink from mourners, who ignored the threat of Russian missiles to bury loved ones killed by them two days before.
 Inside the baroque Saints Peter and Paul Garrison Church in Lviv, hundreds assembled to pay their respects to four soldiers, including one who had buried his brother only days before.
 All were among the 35 killed by a Russian air strike on Yavoriv military base on Sunday, in which missiles penetrated farther into Ukraine than at any time during the three-week conflict, landing just 20km from the border with Poland.
(New York Times News Service and Reuters)
3 Rosneft workers say no to rally
Three employees of Russian oil giant Rosneft said they had resisted pressure to attend a celebratory show in a Moscow stadium on Friday to mark the eighth anniversary of Russia's annexation of Crimea from Ukraine.
The sources said they were unwilling to take part because they saw the event as an endorsement of the war in Ukraine.
In a statement issued after Reuters reported staff reluctance to attend the Crimea show, Rosneft said that it supported staff who wanted to attend: "We are proud of them and proud of our president." "The company fully supports the policy of the president of the Russian Federation aimed at protecting the sovereignty and ensuring the security of our country and its citizens," it added. (Reuters)