Trump ribs Putin: Don't meddle in election
US President makes clear he doesn't take the issue as seriously as Democrats and many Republicans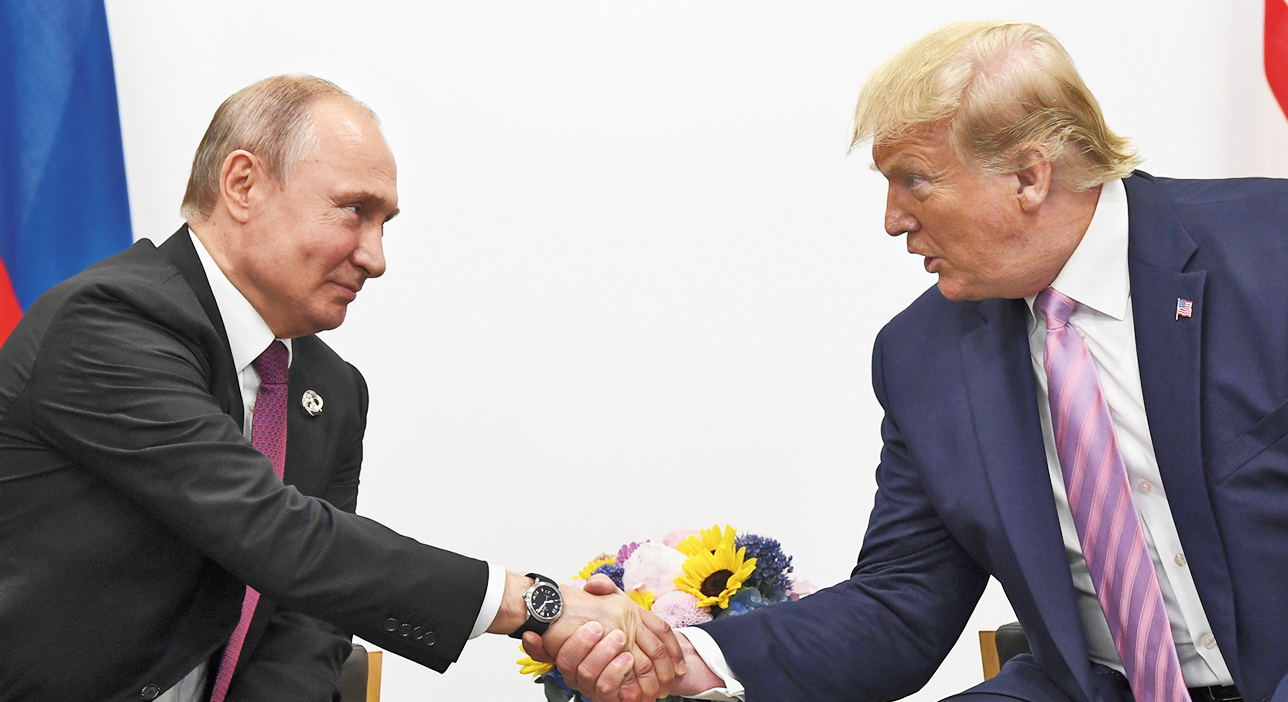 ---
|
Osaka
|
Published 28.06.19, 08:39 PM
---
For more than two years, friends and foes alike have pushed President Trump to tell President Vladimir V. Putin of Russia not to interfere in American democracy. As the two leaders sat side by side on Friday for their first formal meeting in a year, Trump obliged — but in his own distinctive way.
The topic did not come up in either man's opening remarks, which in Trump's case were filled with flowery talk about their relationship. Only when a reporter shouted out a question, asking Trump if he would tell Russia not to meddle in American elections, did the President respond, and then by making light of the matter.
"Yes, of course I will," Trump said.
Turning to Putin, he said, with a slight grin on his face and an almost joking tone in his voice, "Don't meddle in the election, President."
As Putin also smiled, Trump pointed at another Russian official in a playful way and repeated, "Don't meddle in the election."
Once again, Trump made clear that he did not take the issue as seriously as Democrats and many Republicans back home do. And once again, he refused to publicly cross Putin with so much as a word of disagreement, much less reproach.
In doing so, he risked another domestic political backlash like the one he endured after the leaders' last official meeting in Helsinki, Finland, when Trump, standing at Putin's side, challenged the conclusion of his own intelligence agencies about the Russian election operation and credited the Kremlin leader's "extremely strong and powerful" denial.
In the interim, the special counsel, Robert S. Mueller III, issued his report concluding that Russia mounted a "sweeping and systematic" operation to influence the last presidential election on Trump's behalf, and he made a public plea to American leaders to pay attention to the threat.
While he established no criminal conspiracy between Trump's campaign and Russia, Mueller documented extensive contacts between the two sides and noted that they shared the same goal in 2016.
Undaunted, Trump has interpreted Mueller's report to mean there was "no collusion". In several recent instances, he even insisted that the special counsel's investigation found that his campaign had "rebuffed" the Russians, which in the main it did not.
The President stirred outrage even among Republicans by saying "I'd take it" if Russia again offered incriminating information about an election opponent, and he scoffed at the idea of calling the FBI about such an approach, before switching gears and saying that he would inform the authorities.
Trump hoped that the release of Mueller's report would allow him to finally put the issue behind him and focus on improving ties with Russia.
He sees the relentless talk about the 2016 campaign as an unfair, partisan scheme to undermine his legitimacy, and he argues that, regardless of what happened three years ago, it is in the interest of the US to have a more productive, less hostile relationship with Moscow.
Trump's encounter with Putin in Osaka, Japan, at the annual Group of 20 summit meeting, was his first opportunity to recalibrate the relationship.
The two seemed in good spirits, strolling into the summit photo session together, their arms nearly touching as they chatted amiably.
During their later meeting, they shook hands, smiled and seemed to joke about the pulsing throng of journalists who were allowed in the room for less than five minutes.