Troops sent to US border
Forces to deploy ahead of migrant caravan's arrival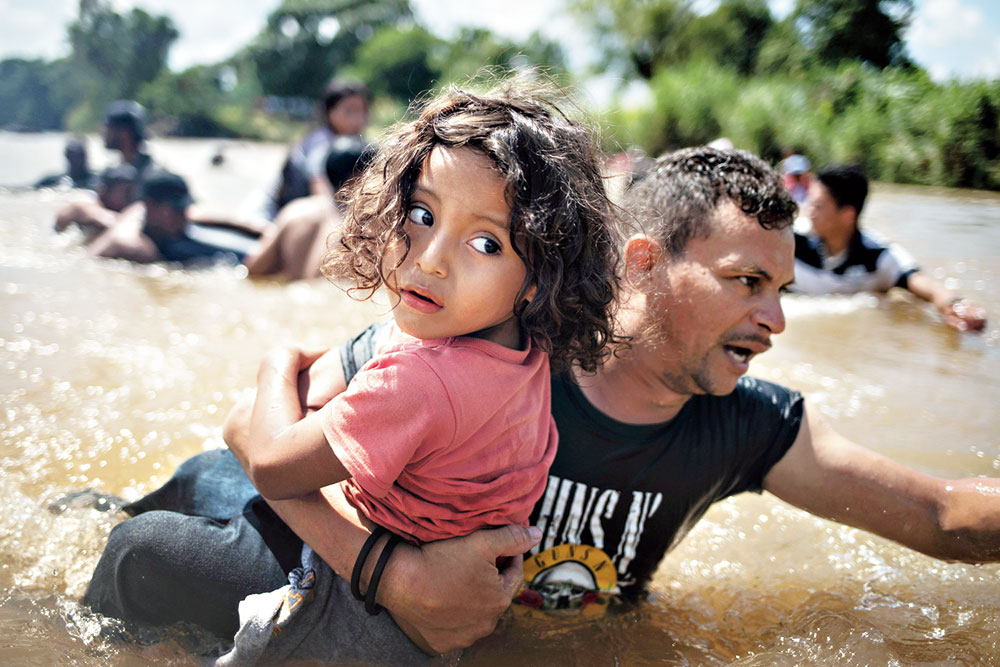 A man, part of a caravan of migrants from Central America en route to the US, carries a girl through the Suchiate river into Mexico from Guatemala.
(Reuters)
---
Washington
|
Published 30.10.18, 08:13 PM
|
---
More than 5,000 active-duty military troops will deploy to the southern border by the end of this week, defence department officials said on Monday, an escalation of a mid-term election show of force against a caravan of Central American migrants that President Trump has characterised as an "invasion of our country".
The massing of American troops comes as Trump has seized on the caravan as a closing political message in the final week before the mid-terms, warning darkly — and without evidence — that "Middle Eastern" people are part of a dangerous mob of migrants threatening to surge into communities here.
But the caravan, which has shrunk from 7,000 people to less than 3,500, is still weeks away from reaching the US. The rare use of the active-duty military to bolster Trump's campaign message has intensified criticism that the President is using the military for political gain.
"This is using the troops as props," said Jason Dempsey, who served as an army infantry officer in Iraq and Afghanistan and is now an adjunct senior fellow at the Center for a New American Security. "We're using a bunch of people to waste their time while they backstop the Border Patrol."
The military buildup is the culmination of Trump's efforts in recent weeks to appeal to his most fervent supporters and to focus the nation's attention on the migrant caravan.
In an interview on Fox News late on Monday, Trump said the caravan amounted to an invasion by "a lot of bad people" and gang members, and said the migrants are wasting their time because the troops will block their entry.
The President said his administration will build "tent cities" to indefinitely hold any migrants who try to seek asylum in the US, in apparent defiance of court orders that prohibit long-term detention of children or families.
"We are going to put tents up all over the place," Trump said during an interview on Monday night. "We are not going to build structures and spend all of this, hundreds of millions of dollars," he said. "We are going to have tents. They are going to be very nice, and if they don't get asylum, they get out."
Trump has repeatedly cited reports on Fox News as evidence of the gathering threat, though even some commentators on Trump's favourite TV network have called into question the need for such an aggressive military response to the caravan.