Top gun 'contributed to Delhi, UK plots'
Trump said that Soleimani had been perpetrating acts of terror to destabilise West Asia for the last 20 years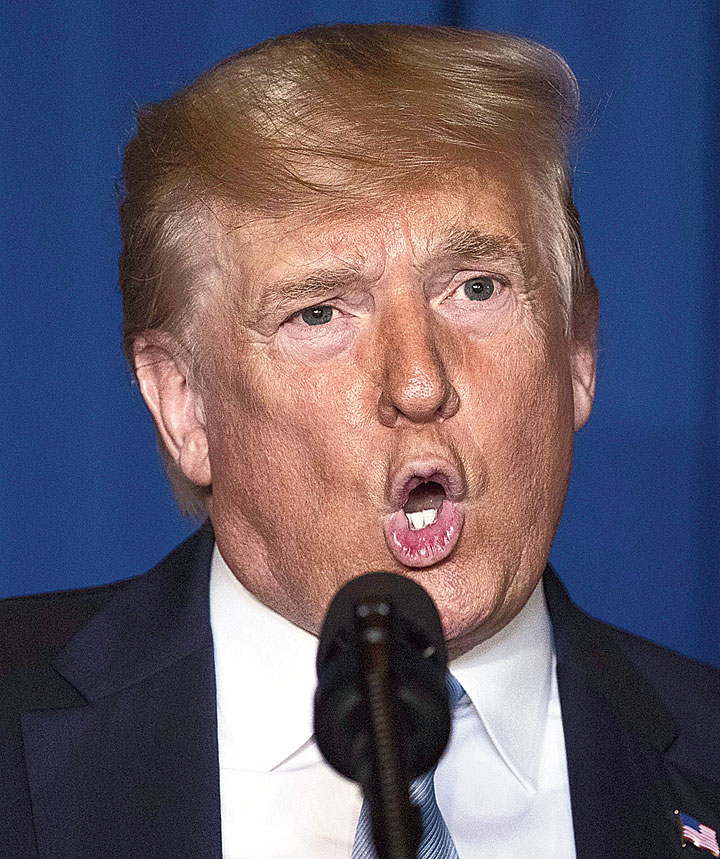 US President Donald Trump.
(AP)
---
Washington
|
Published 04.01.20, 10:23 PM
|
---
US President Donald Trump has said Major General Qassem Soleimani had made the death of innocent people his "sick passion" and contributed to terrorist plots as far away as New Delhi and London, a day after ordering the drone attack that killed the powerful Revolutionary Guards commander in Baghdad.
Soleimani, 62, the head of Iran's elite Quds force and architect of its regional security apparatus, was killed when a drone fired missiles into a convoy that was leaving the Baghdad International Airport early on Friday.
In his first comments since the killing of the Iranian military leader, Trump said that Soleimani had been perpetrating acts of terror to destabilise West Asia for the last 20 years.
"The recent attacks on US targets in Iraq, including rocket strikes that killed an American and injured four American servicemen very badly, as well as a violent assault on our embassy in Baghdad, were carried out at the direction of Soleimani," Trump told reporters at his personal Mar-a-Lago resort in Florida on Friday.
"Soleimani made the death of innocent people his sick passion, contributing to terrorist plots as far away as New Delhi and London. Today we remember and honour the victims of Soleimani's many atrocities and we take comfort in knowing that his reign of terror is over," he said.
Trump said what the US did on Friday should have been done a long ago.
"A lot of lives would have been saved. Just recently Soleimani led the brutal repression of protesters in Iran, where more than 1,000 innocent civilians were tortured and killed by their own government," he said.
Amidst escalation of tension with Iran, Trump claimed Soleimani's killing will not lead to war.
"We took action last night to stop a war. We did not take action to start a war. I have deep respect for the Iranian people. They are a remarkable people with an incredible heritage and unlimited potential. We do not seek regime change."