Sajid out, Rishi is new chancellor
Former minister refused to sack his advisers as demanded by Boris Johnson
---
|
London
|
Published 13.02.20, 08:15 PM
---
Rishi Sunak is Britain's new chancellor of the exchequer, the highest position that has ever been held by an Indian in British politics, after he unexpectedly replaced his Pakistani origin boss, Sajid Javid, in Boris Johnson's cabinet reshuffle.
Meanwhile, Suella Braverman, who is also of Indian origin, is the new attorney-general, taking over from Geoffrey Cox.
Javid, the 50-year-old son of a Pakistani bus driver, was widely expected to remain chancellor with a budget to deliver in four weeks' time but he resigned after refusing to sack his political advisers at the treasury as demanded by the Prime Minister.
On the eve of St Valentine's Day, Boris's reshuffle turned out to be a mini-massacre as he sacked Geoffrey Cox as attorney-general; Julian Smith as Northern Ireland secretary; and Andrea Leadsom as business secretary — she was replaced by yet another Indian, Alok Sharma, who was moved from international development secretary in what is seen as a big promotion.
Sharma will also be in charge of the crucial COP26 climate change conference in Glasgow in November.
Theresa Villiers, who lost her job as environment secretary, tweeted philosophically: "What the Prime Minister giveth, the Prime Minister taketh away: just over six months ago, I was delighted to be invited by the Prime Minister to return to government after three years on the backbenches. This morning he told me that I need to make way for someone new."
Esther McVey was fired as housing minister, Chris Skidmore as the universities minister, and Nusrat Ghani, the daughter of parents from Pakistan-occupied Kashmir, was dismissed as a junior transport minister. All in all, it was not a good day for the Pakistani contingent.
Summing up the reshuffle, Indian-origin Tory peer Rami Ranger, deputy treasurer of the Conservative Party, told The Telegraph: "Indians now control the cabinet. The chancellor is Indian. The business secretary is Indian. And the home secretary, Priti Patel, is Indian."
But Ranger, co-chairman of Conservative Friends of India, who organised a celebratory dinner for Javid when the latter became home secretary under Theresa May in 2018, expressed sadness at his resignation. "He is a close personal friend — I like him."
"But this is politics," added Ranger.
He spoke before Braverman's appointment as the country's most senior law officer was announced. Sue-Ellen Cassiana "Suella" Braverman (née Fernandes), 39, was born in Harrow, north London, to a Goan father and a mother from Mauritius, Christie and Uma Fernandes.
Her early education was at the Uxendon Manor Primary School in Brent and the independent Heathfield School, Pinner, on a scholarship. Braverman read Law at Queens' College, Cambridge, and completed a Master's degree in European and French Law at Pantheon-Sorbonne University.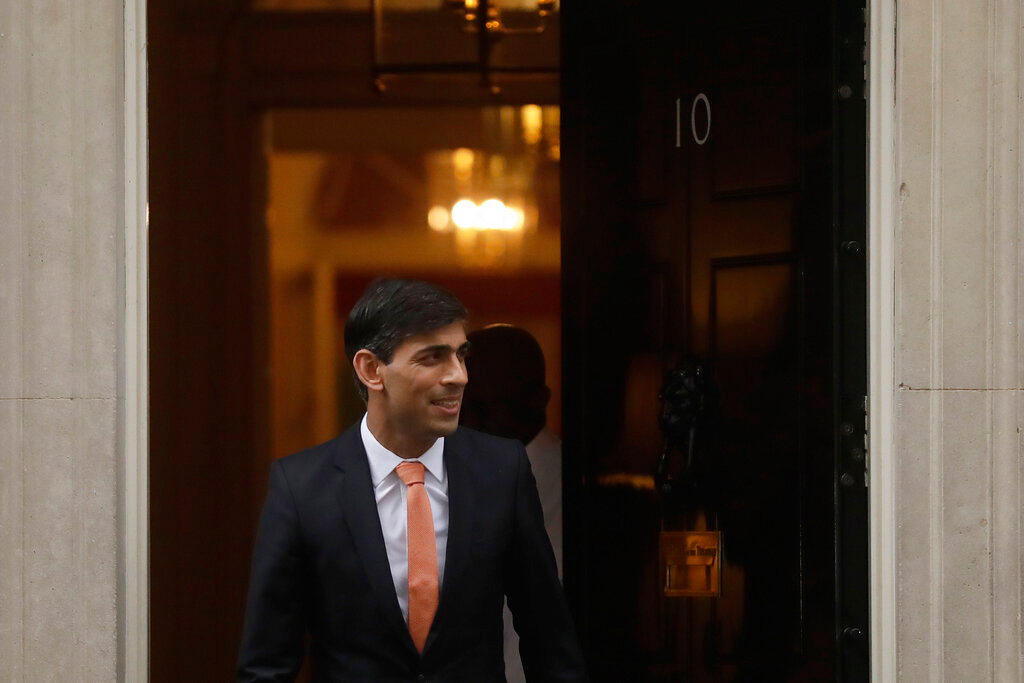 During her undergraduate studies, she was president of the Cambridge University Conservative Association. Between 2005 and 2015, Braverman practiced as a barrister.
She has been a hardline Brexiteer.
Meanwhile, Javid will be in a state of shock. As recently as December 5, Boris attended Javid's 50th birthday party and signalled the chancellor's job was safe. But there have been increasing tensions between Javid and Boris's chief of staff, Dominic Cummings, who fired one of the chancellor's trusted aides, Sonia Khan, in August last year, without telling her boss and even had her frogmarched out of 10 Downing Street, by armed police.
After his resignation, a source close to Javid, who had not expected Thursday's ultimatum, revealed: "He has turned down the job of chancellor of the exchequer. The Prime Minister said he had to fire all his special advisers and replace them with Number 10 special advisers to make it one team.
The chancellor said no self-respecting minister would accept those terms."
The special advisers at 10 Downing Street, and at Number 11, the chancellor's residence, will now be part of one pool.
The source added: "They wanted to take control of the whole operation. There was going to be a whole new set up and they wanted to be in charge of it. Sajid didn't know it was coming and said no."
No one has risen more swiftly in British politics than 39-year-old Sunak, who is married to Infosys founder N.R. Narayana Murthy's daughter, Akshata, whom he met at Stanford after he had completed his education at Winchester College and Oxford. He was headboy at school and took a First in PPE at Oxford.
The couple, who have two daughters, Krishna and Anoushka, have a country mansion in the sprawling rural constituency of Richmond in Yorkshire, where he took over as the Tory MP from former foreign secretary William Hague only five years ago.
His father was a general practitioner and his mother a pharmacist where he helped out behind the counter. After a successful career in investment banking, he became an MP and took his oath on the Bhagavad Gita.
Describing himself as belonging to the "NHS family", he said: "From working in my mum's tiny chemist shop to my experience building large businesses, I have seen first-hand how politicians should support free enterprise and innovation to ensure our future prosperity."
During the general election campaign, it was clear he was highly regarded because he stood in for Boris in three high profile television debates.
Minutes after being elevated to chancellor, Sunak walked to the treasury, telling reporters he was "delighted to be appointed" and there was "lots to get on with".
He did not respond when a reporter shouted: "Are you going to be the prime minister's puppet?"
The reshuffle was dominated by Javid's ouster.
Labours shadow chancellor John McDonnell commented: "This must be a historical record with the government in crisis after just over two months in power.
"Dominic Cummings has clearly won the battle to take absolute control of the Treasury and install his stooge as chancellor."
Tim Shipman, political editor for the Sunday Times, said that Javid and Cummings "have been daggers drawn for months".
"People around Boris Johnson, Dominic Cummings included, believes Javid was trying to get him fired," he further speculated.
On the hiring of Sunak, he said: "The speed with which Sunak was appointed means that this was precisely the plan they had. Sunak won't be a yes man but he's certainly someone who's more closely on the same page as this regime."