Austin speaks with his Russian counterpart
US Defence Secretary pushes for an immediate cease-fire in Ukraine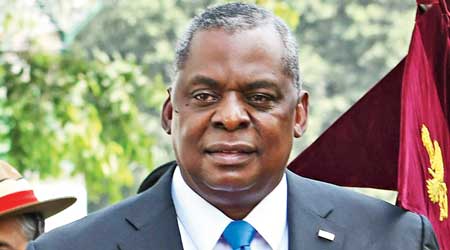 Lloyd J. Austin III
File Picture
---
Washington
|
Published 15.05.22, 01:19 AM
|
---
The American secretary of defence on Friday spoke with his counterpart in Moscow for the first time since Russia invaded Ukraine in February and plunged Europe into its most dangerous crisis since World War II.
The defence secretary, Lloyd J. Austin III, had last talked with Russia's defence minister, Sergei K. Shoigu, on February 18 — six days before the invasion. The call comes as fighting in Ukraine seems to have settled into what one American intelligence official described as "a bit of a stalemate".
In Friday's call, Austin pushed for an immediate cease-fire in Ukraine and emphasised the importance of maintaining lines of communication, according to John Kirby, the Pentagon spokesman.
Russia's defence ministry said in a statement that the call between Austin and Shoigu was "at the initiative of the American side", which two senior US officials confirmed. Top Pentagon officials, including Austin, had repeatedly tried to contact their Russian counterparts in the aftermath of the invasion.
"What motivated them to change their mind and be open to it, I don't think we know for sure," one senior Pentagon official said, speaking on the condition of anonymity to describe a confidential call. He said the hour-long conversation was "professional", but broke no new ground.
"The call itself didn't specifically solve any acute issues or lead to a direct change in what the Russians are doing or saying," the official said, adding that Austin nevertheless hoped it would "serve as a springboard for future conversations".
The conversation between Austin and Shoigu was the highest-level contact between US and Russian officials since March 16, when President Biden's national security adviser, Jake Sullivan, spoke with the secretary of the Russian security council, GeneralNikolay Patrushev, and reiterated the US's strong opposition to Russia's unprovoked invasion of Ukraine.
New York Times News Service