Pakistan govt seizes Saeed seat of power
'Provincial governments have taken in their control the management and administration of 182 seminaries'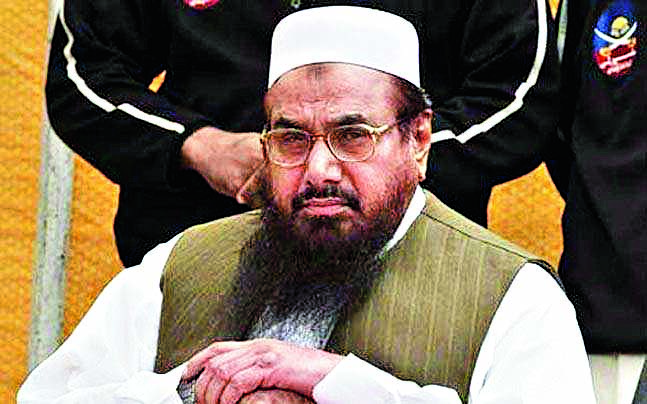 Hafiz Saeed's (in picture) request to be allowed to give the Friday sermon at the mosque was rejected since the premises had been sealed.
Telegraph file picture
---
Islamabad
|
Published 07.03.19, 08:22 PM
|
---
Pakistan intensified its crackdown against militants on Thursday, sealing the headquarters of the Jamaat-ud-Dawa in Lahore and barring its founder and Mumbai attacks mastermind Hafiz Saeed from delivering the Friday sermon at the mosque on the premises.
The government announced it had taken control of 182 madarsas and detained more than 100 people as part of its push against banned groups. The interior ministry said law enforcement agencies had placed 121 people in "preventive detention" as part of the crackdown that began this week.
"Provincial governments have taken in their control the management and administration of 182 seminaries (madarsas)," the ministry said in a statement.
It is perhaps the first time in years that Saeed will not deliver the Friday sermon at Jamia Masjid Qadsia, the JuD headquarters, despite being present in Lahore.
"Under the National Action Plan, the government has taken complete control of the banned JuD and (its charity wing) Falah-i-Insaniat Foundation headquarters in Lahore and Muridkey," a statement issued by the Punjab home department said.
A senior official of the Punjab government said Saeed and his supporters did not protest when the administration and police took over the control of the building. They left for Saeed's Jauhar Town residence, he added.
The official said Saeed's request to be allowed to give the Friday sermon at the mosque was rejected since the premises had been sealed.
Pakistan is facing pressure from global powers to act against groups carrying out attacks in India, including the Jaish-e-Mohammed, which claimed responsibility for the February 14 Pulwama terror attack that killed 40 CRPF soldiers.
Pakistani officials say the crackdown is part of a long-planned drive.
What to do with madarsas is a thorny issue in Pakistan, where religious schools are often blamed for radicalisation of youngsters but are the only education available to millions of poor children.
Many banned groups such as the Jaish run seminaries, which counter-terrorism officials say are used as recruiting grounds for militant outfits.
The Jamaat-ud-Dawa, which operates hospitals and a fleet of ambulances, is estimated to run about 300 madarsas across the country. Pakistan banned the group this week.
The JuD calls itself a humanitarian charity but the US state department has designated it a "foreign terrorist organisation" and calls it a front for the Lashkar-e-Toiba, a militant group accused of orchestrating attacks in India, including the 2008 Mumbai strikes that killed 166 people.
The JuD called the crackdown unfair and said it would seek to counter the government action in courts. "The whole nation is asking that what message the government wants to send by sealing welfare organisations and kicking students out," said JuD spokesman Yahya Mujahid.