Over three million Texans face power outage amid arctic blast
Carbon dioxide poisoning increases across state, many dead amid harsh weather conditions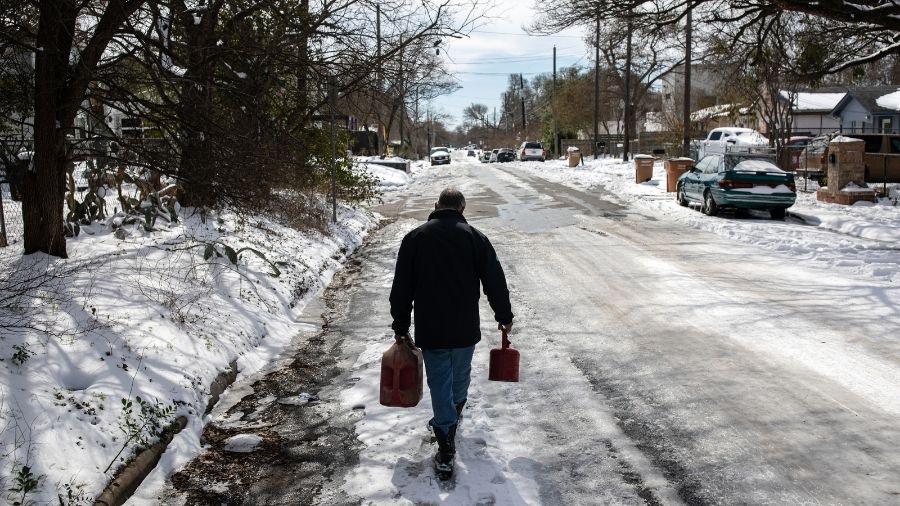 A man goes out to fill fuel for his generator amid freezing weather conditions in Austin, Texas on Tuesday.
New York Times News Service
---
Houston
|
Published 17.02.21, 05:09 PM
|
---
More than 3 million Texans waking up Wednesday morning went to bed still without power after a winter storm increased consumer demand for electricity while pummeling the state's grid.
Now the state is bracing for yet another arctic blast, with a winter storm warning in effect for dozens of counties in the Fort Worth-Dallas area until Thursday morning. Ice accumulation and 1-3 inches of snow are expected, with up to 6 inches of snow northeast of the metro region.
There was little respite Tuesday night from the previous storm, with freezing rain across much of Central Texas and several inches of snow north of Dallas. Winter weather has left at least 23 people dead across the country since last week, along with bitterly cold temperatures.
More than 180,000 people in Oregon remained without power Tuesday night, and tens of thousands were without electricity in Kentucky, West Virginia and Louisiana, according to poweroutage.us, a website that tracks electricity outages.
But the worst outages were in Texas, which enters its third day of widespread distress. Gov. Greg Abbott has declared an emergency reform of the Electric Reliability Council of Texas, which manages the state's electrical grid and is struggling to restore power.
The council ordered Austin Energy to shut off some power Tuesday night, according to the utility's Twitter account, which might affect people who previously had it restored. Mayor Steve Adler urged residents to use electricity as sparingly as possible in hopes of staving off further shutdowns, using flashlights and candles if able.
"If you have power, please try to live almost like you don't," Adler said. "If you have heat, run it low. Run it lower."
But efforts to stay warm that did not require power carried their own risks.
Two Houston emergency rooms treated about 100 cases of carbon monoxide poisoning over a 16-hour period from Monday to Tuesday — a huge spike, a hospital system spokeswoman said — as residents of the city resorted to dangerous methods of keeping warm.
The Houston police said a woman and a girl died after a car was left running in a garage to generate heat, and doctors said they were concerned about running out of treatment options if the rush of patients continued. People with severe cases of carbon monoxide poisoning must be placed into a hyperbaric chamber to receive oxygen, and Houston emergency rooms only have a handful available.
The Houston Fire Department responded to more than 90 calls for carbon monoxide poisoning in a 24-hour period, Chief Samuel Peña said at a news conference Tuesday afternoon. "It'll punch victims when they least expect it," he said, "especially in their sleep."
Peña said people in Houston were turning on their vehicles to stay warm, and cautioned against doing so inside a garage, even with the door open. There were still about 1.3 million people without power in the Houston region Tuesday afternoon, Mayor Sylvester Turner said at the briefing.
In Houston, a homeless man was found dead at an overpass. And a man who was found dead on a median in midtown Houston on Monday was suspected to have died from the extreme cold, the Harris County sheriff said.
A grandmother and three children were killed in a house fire in Sugar Land, Texas, early Tuesday in a neighborhood that was without power, according to local news reports.