No Iraq troop pullout: US
Iraqi lawmakers voted on Sunday to expel US forces after the American drone strike killed 10 people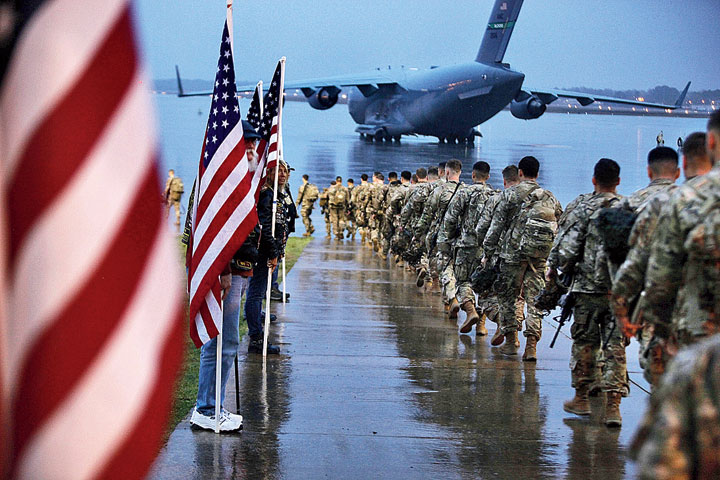 ---
---
The state department on Friday rebuffed the Iraqi government's request to begin discussions on pulling out troops, saying that any American officials going to Baghdad during a state of heightened tensions would not discuss a "troop withdrawal", as the Iraqi Prime Minister had requested.
Instead, discussions would be about the "appropriate force posture in West Asia".
The statement from Washington was a direct rebuttal to Prime Minister Adel Abdul Mahdi of Iraq, and was certain to add to the friction between the two nations.
The Prime Minister said earlier on Friday that he had asked secretary of state Mike Pompeo to send a delegation from the US to discuss steps for the withdrawal of the approximately 5,200 American troops from his country, in the aftermath of a deadly American military strike ordered by President Trump that many Iraqis say violated their country's sovereignty.
"We are happy to continue the conversation with the Iraqis about what the right structure is," Pompeo said at a news conference after the state department had made its announcement. He stressed that the mission of the US in Iraq is to train Iraqi forces to fight the Islamic State, and "we're going to continue that mission".
"But as times change and we get to a place where we can deliver up on what I believe and the President believes is our right structure, with fewer resources dedicated to that mission, we will do so," he added.
Iraqi lawmakers voted on Sunday to expel US forces after the American drone strike that killed 10 people in a two-car convoy — Major General Qassem Soleimani, a top Iranian commander, four of his Iranian aides and five Iraqis, including a senior militia leader, Abu Mahdi al-Muhandis.
The Prime Minister has not signed the bill yet, but had been criticising the American troop presence in Iraq since a series of recent actions by the US military.
The killing caused widespread outrage in Iraq, where neighbouring Iran has great influence, and its consequences continue to ripple across West Asia. Iraqi officials said the US had violated the sovereignty of their nation, both with that attack and with airstrikes on December 29 on five sites in Iraq and Syria that left at least 25 members of the militia dead and at least 50 wounded.