Nepal shoots at Indian farmer looking for cow
Incident comes amid escalating bilateral tensions between the neighbours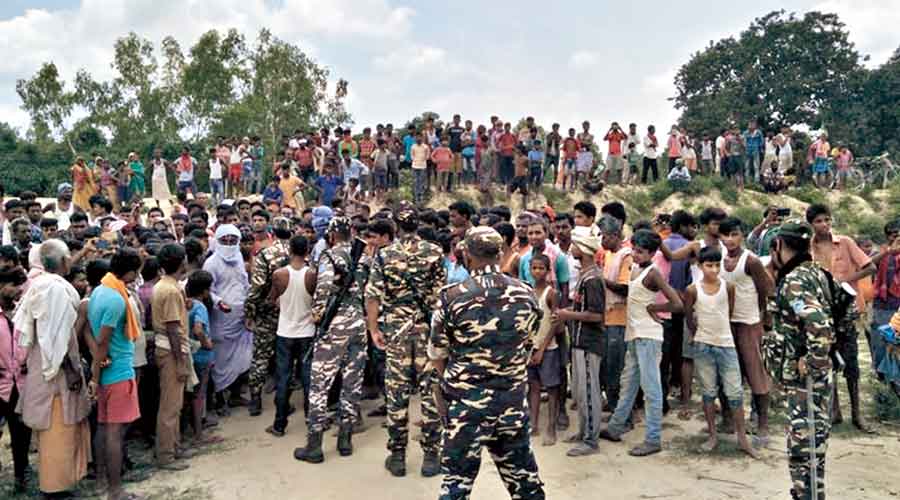 Five weeks ago, Nepal's border guards' firing had killed another man from Bihar
File picture
---
Patna
|
Published 20.07.20, 12:50 AM
|
---
Nepal's border guards shot and injured a farmer from Kishanganj in Bihar who was apparently searching for his cow across the frontier on Saturday evening, five weeks after their firing killed another man from Bihar.
The incident comes amid bilateral tensions kicked off by the inclusion of India-claimed territories on a new Nepal map last month, and marked by Kathmandu's objections to road and flood-protection projects in Bihar close to the border.
A series of peace meetings have been held between officials of the two countries' border police — India's Sashastra Seema Bal (SSB) and Nepal's Armed Police Force (APF) — some of them attended by Kishanganj district officials and residents of the local Fatehpur village.
A district official said the injured man, a 24-year-old Fatehpur resident named Jitan Singh, had crossed over into Nepal in search of his cow amid the lockdown.
"An Indian citizen bicycled across the border to look for his cow," SSB inspector-general (Siliguri Frontier) S. Bandopadhyay, whose jurisdiction extends to the border along Kishanganj, told The Telegraph.
"The APF misbehaved with him, tore his clothes. After that 10 to 15 other people assembled (in Fatehpur) and went there (across the border). Two APF men fired two rounds each. A bullet struck a man in the hand. He's in hospital."
Kishanganj district magistrate Aditya Prakash gave a slightly different account of the incident. "Three people from Fatehpur had entered around 300 metres into Nepal, claiming their cattle had strayed across," he said.
"According to reports that we have sent to the state headquarters, APF personnel stopped them. The villagers told them they were looking for their cattle, but on the assumption that they were cattle traffickers, they (APF personnel) fired at them."
Prakash added: "A man named Jitan Singh has suffered a hand injury. We conducted a peace committee meeting on Sunday evening, at which APF and SSB personnel and local villagers were involved, so that there's no further escalation at the border."
Prakash is scheduled to talk to his counterpart from Jhapa district of Nepal on Monday.
Jitan has been admitted to a private hospital in Purnea. The cow has not been found, villagers said.
On June 13, the APF had fired and killed an Indian after villagers from Bihar's Sitamarhi district crossed over to meet family members living on the Nepali side, flouting lockdown restrictions.
Over the past month, Nepal has objected to road construction on the Indian side and prevented repairs and maintenance of embankments and barrages close to the border. Nepali villagers are accused of uprooting a border pillar close to Bettiah in West Champaran district, Bihar.