Nepal, China sign key land-link deal
The 70km rail link will connect Gyiron in Tibet with Kathmandu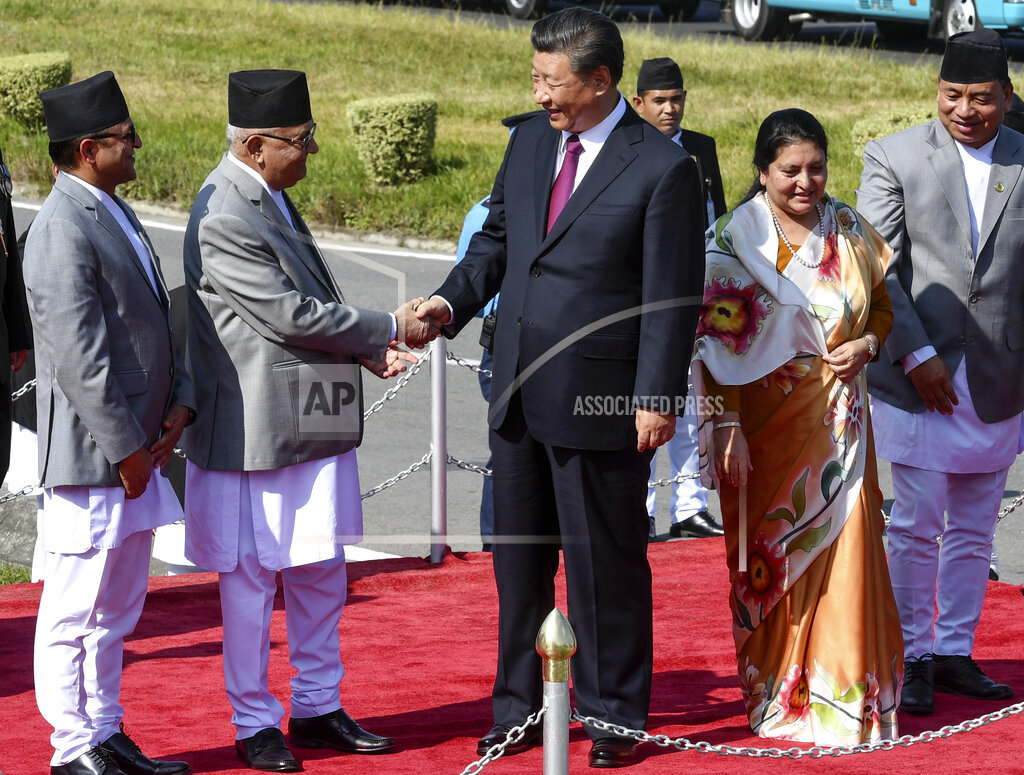 ---
---
Chinese President Xi Jinping wound up two days of meetings in Nepal on Sunday with deals for a rail link to Tibet and a tunnel, an official said, boosting the Himalayan nation's efforts to end an Indian dominance over its trade routes by increasing connectivity with Beijing.
The 70km rail link will connect Gyiron in Tibet with Kathmandu, making it one of the most ambitious infrastructure projects in the country.
A Chinese team has already conducted a preliminary study for the project, which will be part of China's Belt and Road Initiative, Xi's signature diplomatic and trade push that is attempting to recreate the old Silk Road joining China with Asia and Europe.
Alongside, a proposed 28km road tunnel will more than halve the distance from Kathmandu to the Chinese border, saving on time and cost.
"China will now conduct a feasibility study of the rail project and help construct the tunnel way," Rajeshor Gyawali, a spokesperson for Nepal's ministry of physical infrastructure and transport, told Reuters.
Nepal has sought to increase connectivity with China since a blockade along its border with India — by the Indian-origin Madhesi community— resulted in several months of acute shortage of fuel and medicine in 2015 and 2016. Kathmandu had alleged an Indian hand in the blockade but New Delhi had denied it.
"These facilities will give us alternative trade routes when we face border blockades," Gyawali said.
China and India jostle for influence over Nepal, the natural buffer between them, and are investing in infrastructure. India accounts for nearly two-thirds of Nepal's trade and is the sole supplier of fuel.
Chinese and Nepalese officials also signed 20 deals covering trade, water supply and traditional medicines at the end of Xi's visit, the first by a Chinese President in 22 years.
"We will help Nepal realise its dream of becoming a land-linked country from a land-locked one," Xi had said at a dinner on Saturday after arriving from India, where he had an informal summit with Prime Minister Narendra Modi.
Xi has said China will provide an assistance of Nepalese Rs 56 billion (Rs 3,500 crore) to Kathmandu over the next two years to help Nepal's development programmes.
The Chinese President held talks with Nepal President Bidya Devi Bhandari on Saturday, and with Prime Minister K.P. Sharma Oli on Sunday. Delegation-level talks too were held on Sunday.
"The meeting between President Xi and Prime Minister Oli focused on all aspects of Nepal-China relations," a local media report quoted officials as saying.
"We have model friendship in the world, and there is no issue between the two countries," Xi said at a state banquet hosted by Bhandari on Saturday.
He said China would provide further support to Nepal's post-earthquake reconstruction, promoting tourism, education and urban development in the country.
Bhandari reaffirmed Nepal's commitment to Beijing's "One-China policy" and said Kathmandu would not allow anyone to use its territory against China.
Nepal shares a long border with Tibet and is home to around 20,000 Tibetan exiles. Every year some 2,500 Tibetans illegally enter Nepal on their way to Dharamshala in India to meet the Dalai Lama.
Bhandari appreciated China's support for Nepal's development efforts and cooperation at international platforms.
Xi also met Sher Bahadur Deuba, president of the main Opposition Nepali Congress, and Nepal Communist Party co-chairperson Pushpa Kamal Dahal "Prachanda".
According to Dahal's office, the two leaders discussed ways to deepen relations between their countries and parties. Xi left for China in the afternoon.