Rajul Tejura faces accusation of being Narendra Modi supporter
Labour candidate's picture in front of a lifesize cutout of the Indian PM at an event she organised after his election victory has been shared widely on social media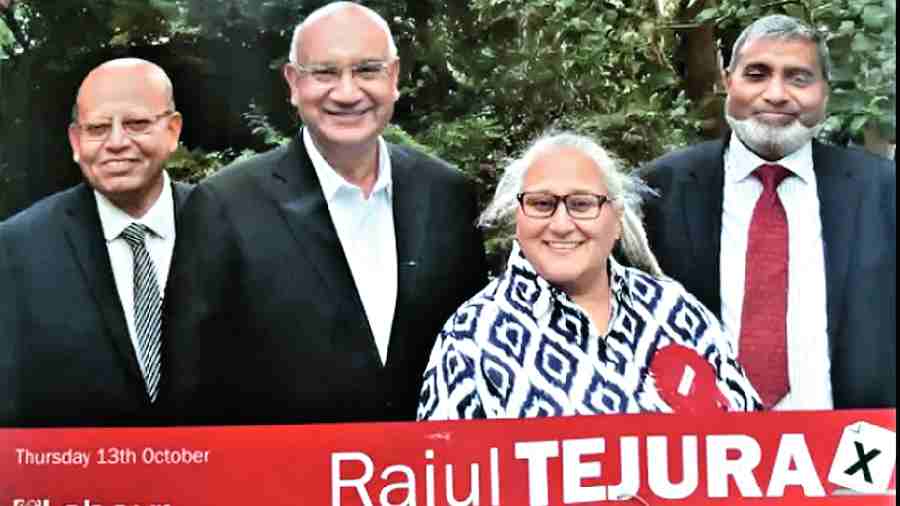 The election leaflet of Rajul Tejura
File Picture
---
London
|
Published 17.10.22, 02:04 AM
|
---
The Labour candidate in a byelection in the troubled city of Leicester, the scene of recent communal disturbances, has lost in what was previously a safe ward for the party after being accused of being a supporter of India's Prime Minister Narendra Modi.
The Guardian reported: "Labour's candidate Rajul Tejura has faced accusations she is a supporter of India's Hindu-nationalist Bharatiya Janata party (BJP) government, and a picture of her in front of a lifesize cutout of Narendra Modi, at an event she organised after his election victory in 2019, was shared widely on social media."
Council byelections, where the turnout seldom goes beyond 20 per cent, attract little or no media attention. But the turnout in North Evington ward in Leicester was exceptionally high — 49.6 per cent.
Tejura was backed by Keith Vaz, the former Labour MP for Leicester, who expressed incredulity she was accused of being an RSS sympathiser.
A spokesperson for Tejura said she was not a member or supporter of the BJP, adding: "Obviously it's a disappointing result compared to what we were expecting. It is clear that the (Labour controlled) council and the elected representatives have to do more to deliver for the people if they really want their vote.
"We felt we ran a campaign on some really strong issues around housing, the litter in the ward. We spoke to a lot of people on doorsteps about these issues, so hopefully they will get resolved by the new councillor.
"The elections for city mayor and the rest of the council are very close now, and we are confident that we will win seats back in May. But the biggest thing for not just us in North Evington and Leicester East, but for the Labour Party in the whole city, is it's a very big wake-up call, and I'm sure there'll be lots of discussion moving forward around how we resolve these problems."
The result showed a 32.7 per swing to the Tories at a time Labour is leading the Conservatives by 30 per cent nationally.
The victor was Sanjay Modhwadia, from Local Conservatives, a property investor who polled 3,441 votes. Tejura was pushed into third place with 1,563, after the Green party's Aasiya Bora, got 1,790. Jitesh Dave, from the Liberal Democrats, got 100, while Tessa Alison Warrington, from the Trade Unionist and Socialist Coalition, received 45.