Knife man killed by police in London
Black Friday attack terrorises UK capital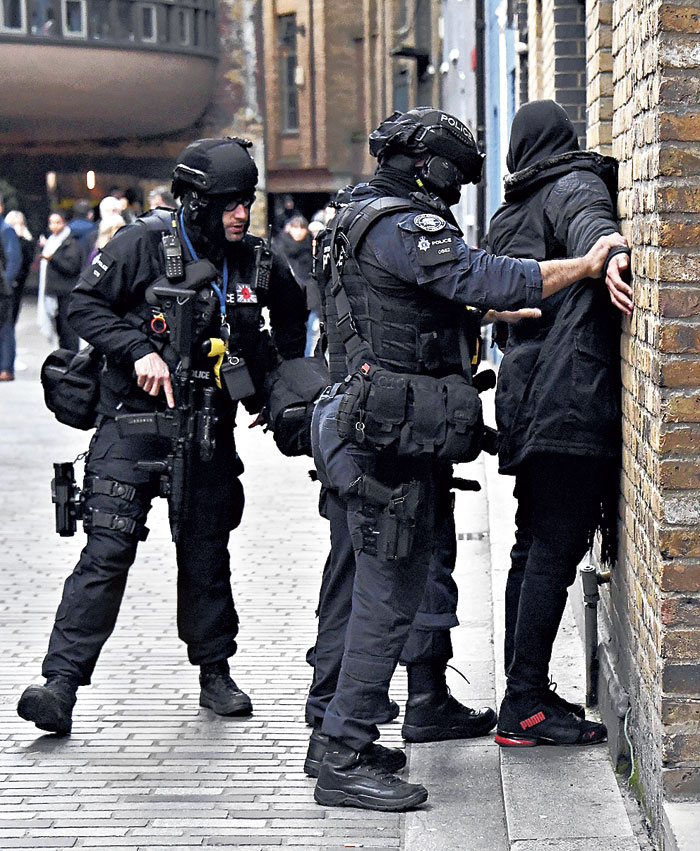 Police officers search a man on the south side of London Bridge on Friday
(AP)
---
London
|
Published 29.11.19, 08:53 PM
|
---
"Black Friday" in London, where shops have adopted the American practice of selling goods at discounted prices, really did turn out to be Black Friday after a man armed with a knife and wearing a "vest" was shot dead by anti-terrorist police on London Bridge.
The BBC reported that two members of the public were killed in what police have called a terrorist attack. Reuters was not immediately able to confirm the deaths.
Video footage showed remarkably brave members of the public piling on top of one man, with an officer worker walking away gingerly holding a large kitchen knife. Armed police then arrive and drag those on top of the figure on the ground before the latter is shot dead over fears that he is a suicide bomber.
It was reported that at least five people were injured, bringing back memories of the horrendous London Bridge attack in 2017 by three terrorists, one of them of Pakistani origin. Eight people were killed and 48 injured in that incident.
Neil Basu, head of anti-terrorism at Scotland Yard, provided the first confirmation of Friday's terrorist incident before rushing to 10 Downing Street, to brief the Prime Minister Boris Johnson, who cut short his campaign in his Uxbridge and South Ruislip constituency in the outer suburbs of London.
"At approximately 2pm today, police were called to a stabbing at a premises near London Bridge," said Basu, the son of a Bengali doctor from Calcutta and now the most senior ethnic minority officer in the country.
"Emergency services attended including officers from the City of London Police and Metropolitan Police," he said. "A male suspect was shot by specialist armed officers from City of London police and I can confirm that this suspect died at the scene.
"Due to reports that the suspect might have had an explosive device specialist officers attended the scene. However, I can confirm at this time we believe a device that was strapped to the body of the suspect is a hoax explosive device.
"We retain an open mind as to any motive. It would be inappropriate to speculate further at this time.
"A number of other people received injuries during this incident. As soon as we can provide further updates on their condition, we will. Our heartfelt sympathies go out to everybody who has been involved in this and is anxiously waiting for information on their loved ones."
This was also the first test for the Indian origin home secretary Priti Patel, who will no doubt be taken to task by the Labour Opposition because on November 4 she reduced the terror threat Britain faces from "severe" to "substantial".
"Very concerned by ongoing incident at London Bridge," she tweeted. "My thoughts are with all affected. I am grateful for the rapid response of our police and I urge everyone to follow their advice."
London's Pakistani origin mayor Sadiq Khan said: "We must — and we will — stay resolute in our determination to stand strong and united in the face of terror. Those who seek to attack us and divide us will never succeed."
Christmas shopping around London Bridge were interrupted by fear and panic on Friday afternoon.
Bus driver Mustafa Salih, 62, was travelling from Borough High Street towards London Bridge where he saw emergency vehicles and the police cordon. He told BBC London: "A police officer came up to me and said turn off your engine, get off and run. One woman was crying. It was all very scary."
That a few people can bring terror to a city was illustrated by the film, Hotel Mumbai, which is being shown in London. Starring Dev Patel, it tells of the Mumbai massacre of November 2008.
BBC correspondent Ben Brown reported from London Bridge, where the area was in "lockdown".
"It's quite an eerie sight," he said. "For people who live and work around London Bridge all of this brings back horrific memories of two years ago." The incident is likely to help Boris politically. He said: "I want to thank the emergency services and members of the public for their immense bravery in responding to this terrorist attack at London Bridge. This is an appalling incident and all my thoughts are with the victims and their families."