King Charles balm for Leicester
Charles will be peacemaker in a city that has been the scene of ugly communal clashes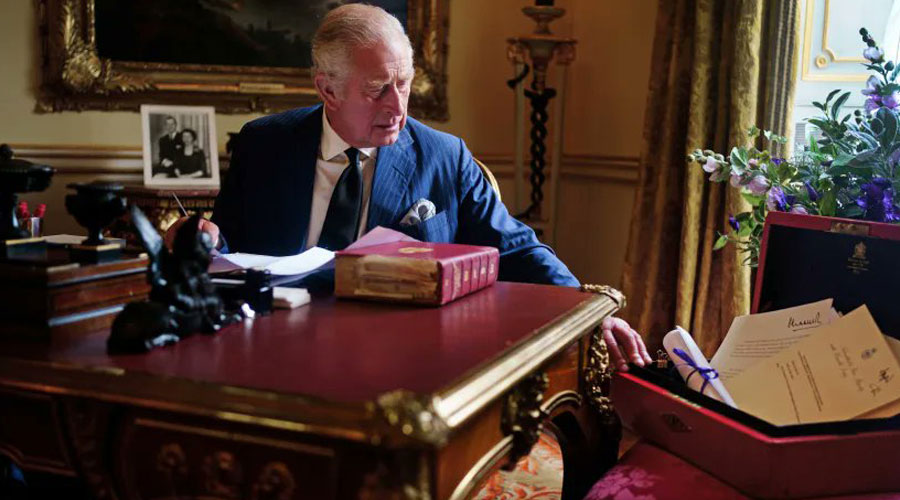 ---
London
|
Published 11.10.22, 01:38 AM
|
---
King Charles, who has long held a deep interest in promoting inter-faith relations, may visit Leicester as a kind of peacemaker in a city that has been the scene of ugly communal clashes. Diwali preparations in Leicester this year are said to be muted compared with the razzmatazz of previous times.
As a first step, Charles invited community leaders and senior police officers from Leicester to a reception he held last week at Hollyroodhouse, the royal residence in Edinburgh, for the British Asian Trust, another of his passions. One of those invited was the temporary chief constable of Leicester, Rob Nixon, who said that while no date has been set for a royal visit, he was "hopeful" one would be organised soon. Police have so far arrested 57 people in connection with the disturbances.
Nixon said: "He was obviously appreciative of what our role has been in terms of policing, and he was very, very interested in hearing the community voice and how the communities are working together to bring back harmony."
East Leicester Neighbourhood Policing Commander Inspector Yakub Ismail added that Charles "recognised the impact on the community and we are in a strong place and coming out of this". It is unlikely that Prime Minister Liz Truss would prevent Charles from visiting Leicester.
She has already stopped the king from going to the COP27 gathering in the Egyptian resort of Sharm elSheikh, even though the subject of climate change is close to his heart. He spoke about its dangers long before it was taken up by politicians. When Charles became king he said he would not have the time to remain personally engaged with all his charities but he would be loath to give up the British Asian Trust, for which he invariably holds an annual reception. It is at the British Asian Trust he learnt to call Camilla his "Mehbooba".
At the latest reception, he briefed himself on what was happening in Leicester by speaking to "representatives from the Federation of Muslim Organisations, the Hindu community, the Daman community and the Diu community" in the city. Some 300 British Asians attended the reception, where Camilla, Queen Consort, was also present. The guests included Shahid Khan, 41, a record producer who goes by the name of "Naughty Boy". He said: "My mum's in hospital at the moment and she said to tell the King he will always have a mum in her because she loves the royal family, and he said to send his love to her. "It was nice because it's human, and I really, really feel this King is like a people's King. It's quite evident. And that's what this country needs right now."