Is Kim ill? Seoul doubts it
Kim received a cardiovascular procedure at Hyangsan Hospital on April 12: Reports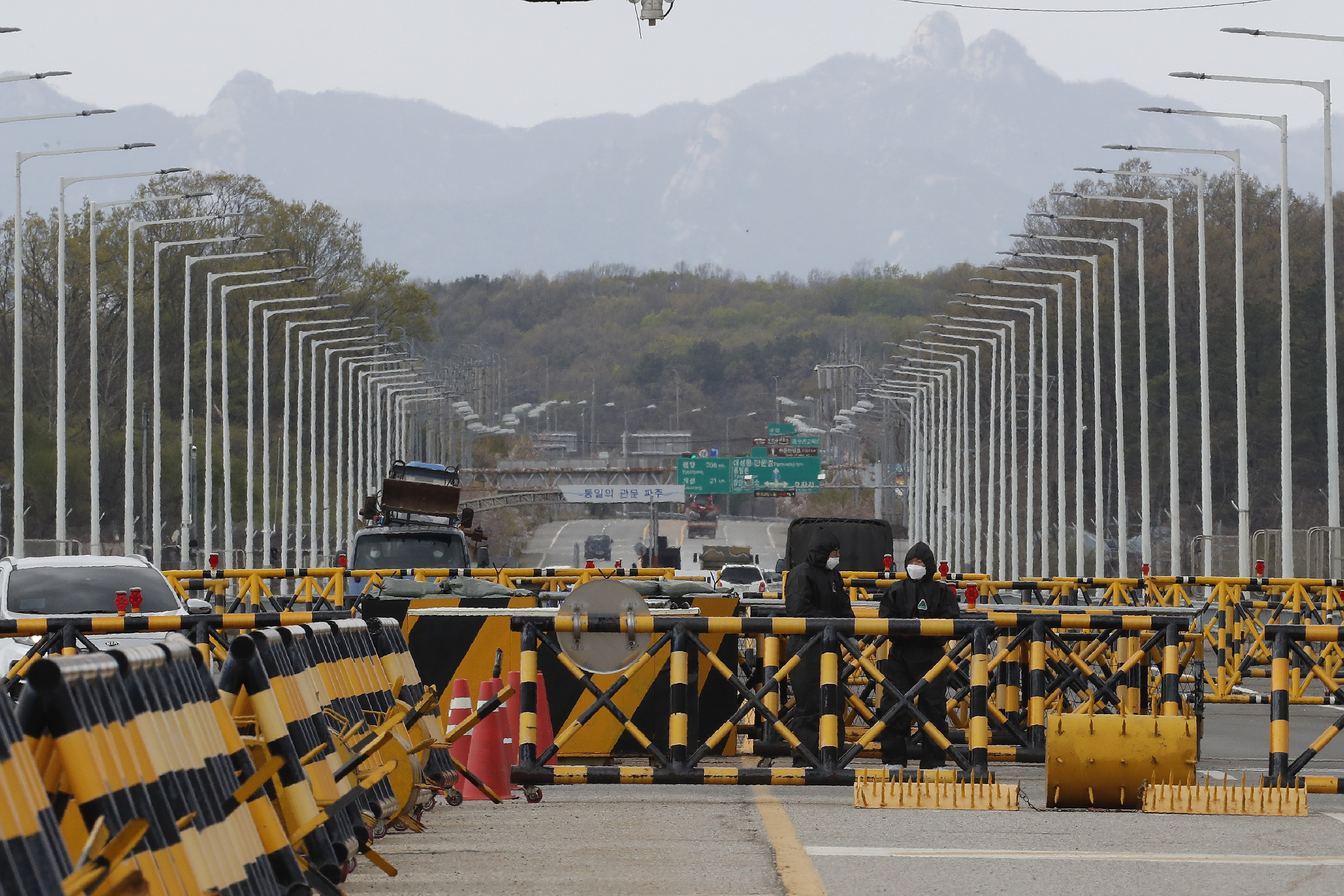 South Korean army soldiers wearing protective suits stand guard at the Unification Bridge, which leads to the Panmunjom in the Demilitarized Zone in Paju, South Korea
(AP photo)
---
Seoul
|
Published 21.04.20, 06:42 PM
|
---
South Korean officials on Tuesday disputed a news report that North Korea's leader, Kim Jong-un, was receiving treatment after undergoing heart surgery.
Daily NK, a Seoul-based website that relies on anonymous sources inside North Korea to report on the isolated country, said late Monday that Kim received a cardiovascular procedure at Hyangsan Hospital, a clinic dedicated to treating the Kim family, on April 12.
The website said Kim was recuperating at a villa near the hospital, which is on the foothill of Mount Mohyang, north of Pyongyang, the North Korean capital. Most of the doctors called in from Pyongyang to treat Kim returned to the capital a week later because Kim had recovered enough, the report said, quoting an anonymous source in North Korea.
Officially, the South Korean government said it had no comment. But government and parliamentary officials in Seoul privately questioned the veracity of the Daily NK report.
The office of President Moon Jae-in of South Korea had "nothing to confirm" about the Daily NK report, said Moon's spokesman, Kang Min-seok. Kang added that South Korea "has so far detected no special signs inside North Korea", a stock phrase the South has often used to cast doubt on unsubstantiated news reports on North Korea.
Yonhap, South Korea's national news agency, quoted an unnamed senior government official in Seoul as calling the Daily NK report "not true".
A member of the intelligence committee of the South's National Assembly said that the government's main spy agency also questioned the report.
Kim last appeared publicly in the North's state media on April 11, when he presided over a meeting of the Politburo of the ruling Workers' Party.
His absence from public view — particularly at an April 15 event honoring the birthday of his grandfather, Kim Il-sung, the country's founder — has raised speculation about his health. Kim has disappeared from public view for weeks at a stretch in the past, setting off similar rumors.
Both Mr. Kim's grandfather and father, Kim Jong-il, who had ruled before him, died of complications caused by heart trouble.
Reporting from inside North Korea is notoriously difficult, especially on matters concerning the country's leadership, given tight controls on information. There have been false and conflicting reports in the past on matters related to its leaders.