Hurricane Ian lashes Florida's Gulf Coast
Forecasters say Ian would unleash wind-driven high surf and torrential rains that may cause coastal flooding of up to 3.7 metres along with intense thunderstorms and possible tornadoes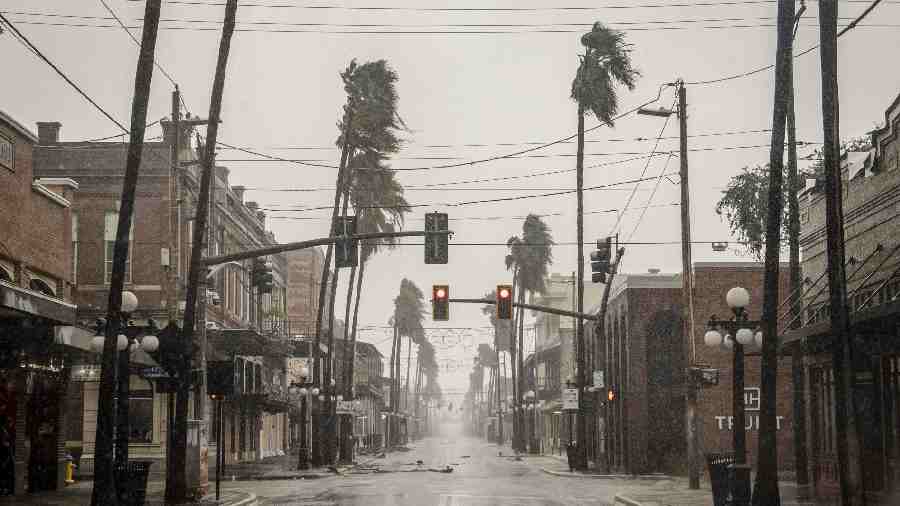 This is a powerful storm that should be treated like a tornado was approaching your home: Florida Governor
NYTNS
---
Sarasota, Florida
|
Published 29.09.22, 02:57 AM
|
---
Hurricane Ian on Wednesday began lashing Florida's Gulf Coast with powerful winds and drenching rain, prompting authorities to tell residents it was too late to evacuate as the eye of the storm inched towards shore with close to Category 5 power.
At 11am ET (1500 GMT), Ian was around 80km southwest of Punta Gorda, Florida, with sustained winds of 250kmph, the US National Hurricane Center said.
That was just shy of a Category 5 designation, which is the most severe storm classification with sustained winds of at least 252kmph, though Ian was expected to weaken after hitting land, the centre said.
Forecasters say Ian would unleash wind-driven high surf and torrential rains that may cause coastal flooding of up to 3.7 metres along with intense thunderstorms and possible tornadoes. The storm's outer bands were already bringing heavy winds and rains to much of the Gulf Coast on Wednesday morning. "I wish this wasn't a forecast that was about to come true. This is a storm that we will talk about for many years to come, a historic event," said Ken Graham, director of the National Weather Service.
The hurricane was expected to crash into Florida in Charlotte County, about 160km south of Tampa and just north of Fort Myers. The region is home to miles of sandy beaches, scores of resort hotels and numerous mobile home parks, a favourite with retirees and vacationers alike.
"This is a powerful storm that should be treated like a tornado was approaching your home," Florida Governor Ron DeSantis said. "This is going to be a nasty, nasty day or two days. This is going to be a rough stretch."
Earlier this week, authorities told more than 2.5 million residents to evacuate, but some, like Mark Feinman, a professional musician in St. Petersburg, chose to stay put.
"There's absolutely no one on the roads here," Feinman, 36, said early on Wednesday. "The sky is this weird, ominous grey, and you can feel the wind gusts and the rain hits every little while. You can feel it in the air. My ears popped."
Feinman said he does not regret his decision to stay; he feels his house is secure, and fortunately for him, the storm jogged to the south of earlier forecasts.