Germany aims to ease visa process for India's IT professionals
Berlin wants to encourage information technology experts from India to come and work in Germany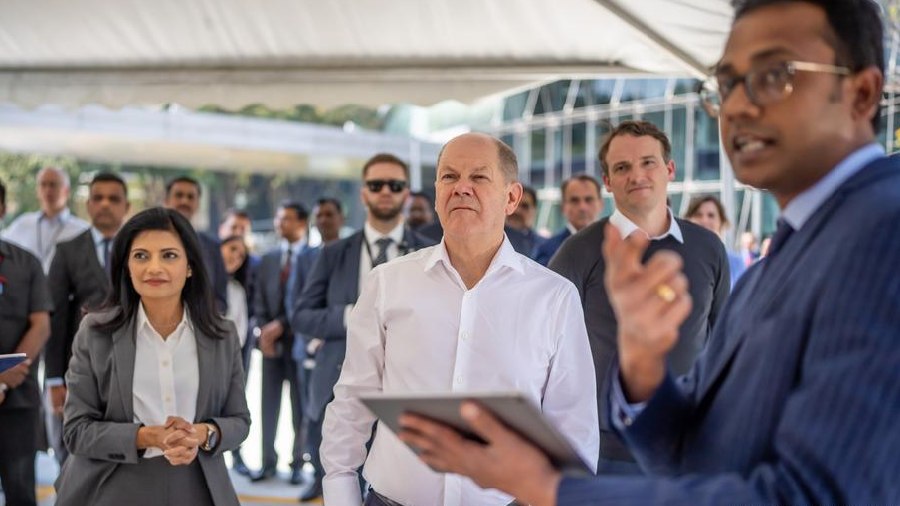 Scholz was visting the German company SAP's base in Bengaluru, India's technology hub
Deutsche Welle
---
Published 27.02.23, 10:15 AM
|
---
German Chancellor Olaf Scholz said on Sunday that his government wants to ease the path for information technology experts from India to obtain work visas in Germany.
While Germany faces a shortfall in skilled worker numbers, India cannot always provide jobs for its large, young population.
What did the chancellor say?
Scholz was making his remarks on the second day of his trip to India, his first visit to the country while in office.
"We want to simplify the issuing of visas," Scholz said while visiting India's Silicon Valley in Bengaluru. "We intend to modernize the whole bureaucratic process in addition to legal modernization."
"We will need many skilled workers to meet the demand for software development in Germany."
The plan would be to make it easier for the skilled workers needed in Germany to come to the country with their families, Scholz said.
He added that it should be possible, initially, for people to arrive in Germany without a concrete job offer.
Relaxing language requirements would also help to make Germany a more attractive destination to sought-after professionals who might otherwise be lured to English-speaking countries.
"It is clear that anyone who comes to Germany as an IT specialist can first easily converse with all his or her colleagues in English, because many in Germany can speak English," Scholz said, adding that German could be learned later.
"A lot of reform proposals have already been collected and we are continuing to work on them," Scholz added.
Scholz, accompanied by business representatives, was visiting companies in India's tech hub, including a site operated by the German software company SAP.
He also met officials and players from the Indian Premier League cricket team Royal Challengers Bangalore.
What is Scholz doing in India?
Scholz is keen to increase economic and strategic cooperation with India and reduce Germany's dependence on China while also helping New Delhi free itself from its close ties with Moscow.
Over the past 15 years, Europe's largest economy benefited from the rise of China and cheap Russian energy. However, concerns over Beijing flexing its muscle militarily and the war in Ukraine have spurred a need to decouple from both countries.
While New Delhi has articulated its position against the Ukraine war more robustly to counter criticism that it is soft on Russia, it has still not openly held Moscow accountable for the invasion. India has also not changed its policy on importing Russian oil and coal.
On the first day of his visit, Scholz was met by Indian Prime Minister Narendra Modi in the capital, New Delhi, where he received military honors.
Scholz is pressing for progress toward an India-EU free trade deal and an investment protection agreement, and told reporters he was in "favor of applying more pressure."
The chancellor is also pressing for Germany's Thyssenkrupp Marine Systems to build six submarines in India in a deal reportedly worth several billion dollars.
Germany is the ninth largest investor in India, with cumulative foreign direct investment inflows of $13.8 billion from April 2000 to September 2022.