Georgia anger over pro-Russia legislation
Opposition lawmakers and members of NGOs vowed to return to the centre of the city in bigger numbers later to protest the draft law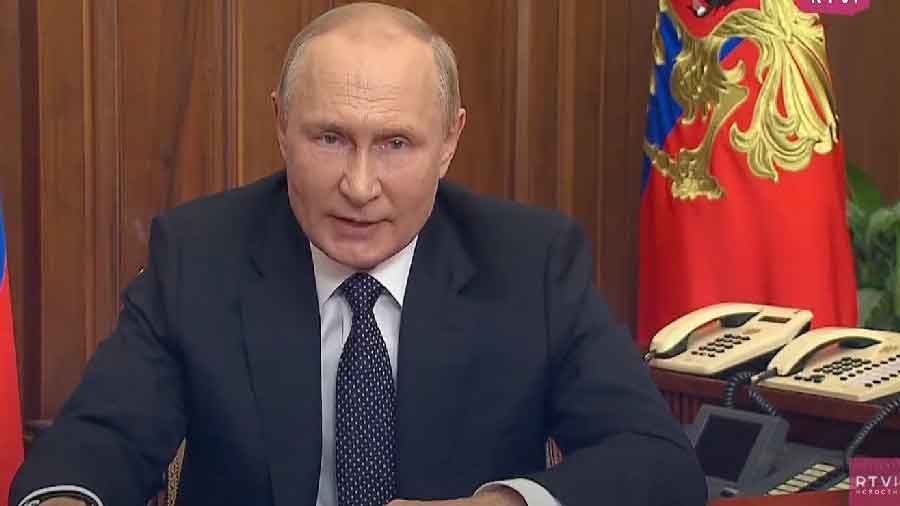 Vladimir Putin
File Photo
---
Published 09.03.23, 01:12 AM
|
---
Hundreds of demonstrators marched towards Georgia's parliament on Wednesday, protesting over a draft law on "foreign agents" that critics say highlights the country's democratic backsliding and pushes it closer to Moscow.
Waving Georgian and European flags, protesters chanted, "No to the Russian law!" as they walked down the main avenue in the country's capital, Tbilisi, towards parliament. The fresh demonstrations came one day after riot police officers used tear gas, water cannons and arrests to disperse a large-scale rally there.
Georgia, a mountainous country of 3.6 million people, is strategically positioned in the middle of the Caucasus, a region that for centuries has been the arena for geopolitical tug of war between Russia, Turkey, western states and Iran. The war in Ukraine has exacerbated the already polarised internal politics in Georgia, where the vocally pro-western Opposition has accused the governing party of siding with Russia.
Opposition lawmakers and members of NGOs vowed to return to the centre of the city in bigger numbers later to protest the draft law. 
Georgia's interior ministry on Tuesday accused protesters of using violence against the police. The ministry said in a statement that its officers had detained 66 protesters overnight and charged them with hooliganism.
Although Georgia's government enjoys a comfortable majority in parliament, the country's NGO sector and many major news media outlets side with the Opposition.
The draft law on "foreign influence" is widely seen by them as an attempt to replicate similar Russian legislation to exert pressure on the country's vibrant civil society.
New York Times News Service